Confirmed the KORG MS-20 is back – Mini MS-20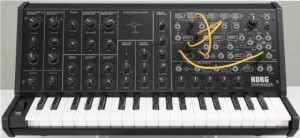 The news has just came in from winter NAMM 2013. Korg are officially reissuing in the MS-20 in a smaller, more compact size. It will be using mini-jacks (1/8″ instead of 1/4″) and have USB-MIDI as well as regular MIDI… all this while of course being fully analogue.
Price is a very reasonable €600 and will be shipping in late february 2013.
Let's hope it sounds as good as the original!
Comments