Cubic Audio Releases ProTon VSTi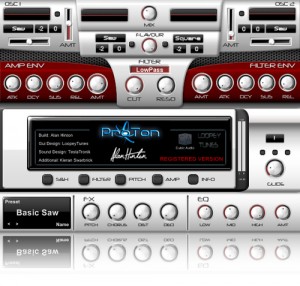 VSTi Soft Synth For Electro House Basslines, Fidget blips and 8bit arcade style effects, with its 4 oscillators, 4 filter types and several effects its a quick and simple way to get that very large bass sound which dominates in electro, with 128 ready made presets you wont be short of inspiration.
ProTon is a subtractive / Phase Modulation Soft-Synth with 4 oscillators, 2 of which can be used as PM for tonal like sounds. ProTon is aimed for making pure raw Bass sounds along with interesting 8 bit arcade type effects and sequences, this is helped along by 4 step sequencers, Modulation, Filter, Pitch and Amp. ProTon has five main effects, Pitch, Distortion, Chorus/Phaser, sample and hold and decimation along with an in-built EQ and 4 different filter types.
System Requirements
Windows
Pentium III 800 MHz
512 MB RAM
32 Bit / Windows XP/Vista/windows 7
VST 2.0 compliant host
ProTon is available now for purchase as well as a demo version at http://www.cubic-audio.info/…
Comments