Electronically Yours, featuring Joakim Montelius (Covenant), PAGE, Diskodiktator and more, in the media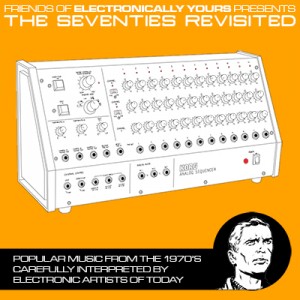 As reported on earlier, the electronica project 'Electronically Yours', is now being covered across several leading electronic music magazines, below are a couple of links, and if you are in Sweden on Dec 15th make sure to watch their live performance at ElectriXmas

It is a secret group on Facebook called Electronically Yours that has released an album featuring classic 70′s songs and remixed to fit an electronic audience of the 21st century. And it is not an anonymous bunch of musicians on this album – among the secret members you will find Joakim Montelius (Covenant) under his alter ego Tectonic Knights, Eddie Bengtsson with PAGE, Diskodiktator, computer and Steelberry Clones, to name but a few.
Side-Line reports:
You might know, or might not know that Joakim Montelius (Covenant) is a member of a secret society called Electronically Yours, a bunch of (mostly) Swedish geeks and electronic music aficionados. Some are famous, some are merely notorious. A few of them are both.
Sinzine reports:
Joakim Montelius (Covenant) and others featured on charity compilation 'Friends of Electronically Yours – The Seventies Revisited'
And for those of you who know Swedish there are two more in depth articles at HD and Zero Music Magazine:
http://hd.se/noje/2012/12/04/facebook-forenade-15-musiker/
Page, Diskodiktator, Compute, Covenant-Joakim och ett flertal andra kreativa artister på en och samma skiva? Elektroniska nytolkningar av sjuttiotalshits från bland andra Deep Purple, Sweet, Neil Young och Curtis Mayfield? Ett välgörenhetsprojekt som stöder världens barn? Samlingen Friends of Electronically Yours – The Seventies Revisited sprudlar av nytänkande och värmer frusna hjärtan i vinterkylan. Zero har pratat med Facebookgruppen bakom verket.
http://www.zeromagazine.nu/art.asp?id=359
Listen to snippets of the full length album by clicking the album cover in the right hand column >>>>>>>
Comments