Erasure – Beatport announces remix contest for I Lose Myself single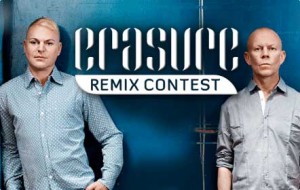 The monthly Beatport remix contests are a chance for producers out there to show their skills. This time Erasure and their song 'I lose myself' is ready to be remixed.
Here's all the details from the Beatport website:
Ready to get lost in the music? Beatport is proud to announce Erasure's "I Lose Myself" remix contest, featuring the pumping electro-disco single from the band's new album for MUTE, "Tomorrow's World."
If you a resident of US, EU, Switzerland, Iceland, or Norway, this is your chance to collaborate with two of synth-pop's veritable icons, Andy Bell and Vince Clarke (himself a founder of Depeche Mode and Yazoo), along with the pop producer Frankmusik; and the parts to the single lend themselves to a vast array of remix possibilities, from filthy dubstep to stadium-grade electro house.
The winning remix will rack up over $5000 in prizes including a TRAKTOR Scratch Pro 2, TRAKTOR S2, Novation Launchpad, Ableton Live 8, Elektron Octatrack, iZotope Stutter Edit, Sounds To Sample Elements Library and $200 in Beatport credits. The MUTE label team will narrow down their selections to 10 finalists; those 10, along with Beatportal's top 10 community-voted remixes, will then move on to the final round, with Erasure themselves selecting the grand-prize winner.
The submissions process begins on October 25, and the window for entries closes on Monday, November 11 10.00PM MST. Download the remix parts to get started.
More information:
Comments