FB383, Ableton + TouchOSC for iPad
"Just a short jam with ableton live controlling by FB383 analog TB303 clone. ableton is controlled using TouchOSC for iPad.
www.Voltage-Controlled.com"

Another monophonic analog TB-303 clone! The FB 383 is a re-packaged version of the MB33 with a special front-panel design as part of an exclusive deal with Turnkey music shop UK. Just like the MB33, the FB 383 offers all the same basic sounds and controls as the original TB-303 in a 1-unit rack module. It has just 8 basic knobs for the same basic 303-like control: tune, filter cutoff, resonance, envmod, accent and decay. Unlike the 303 however, the oscillator can be varied from sawtooth to square from a knob on the front! Also featured is an external audio input to the filter for processing other elements.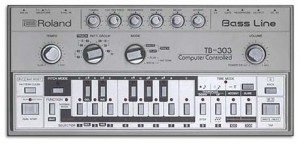 TB303 is a monophonic analog bass synthesizer married to a pattern-based step sequencer released in 1982. It features a single analog oscillator with two waveforms (ramp or square) and has a simple but excellent VCF filter with resonance, cut-off, and envelope controls. There are also knobs to adjust tuning, envelope decay, tempo and accent amount.
Comments