Forgotten Keys updates FK6: Roland CompuRhythm CR-78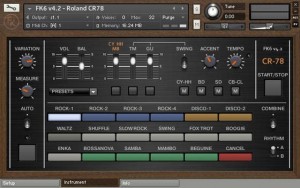 Forgotten Keys has updated the Roland CompuRhythm CR-78 drum machine sample library for Native Instruments Kontakt.
Roland CompuRhythm CR-78 library updated with Kontakt 4 style graphics, new samples taken at various accent levels, more control over individual sound parameters and a Presets menu. Kontakt 3 version also updated.
The CompuRhythm CR-78 library is available to purchase for £5.50 GBP.
More information: Roland CompuRhythm CR-78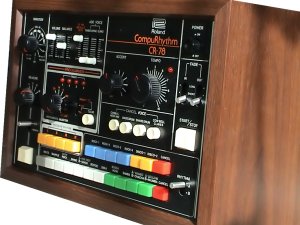 The Roland CompuRhythm CR-78 was released in 1978 and was Roland's first drum machine to feature user-programmable rhythms along with its 34 pre-sets. Each of the four programmable rhythm slots could hold either four sound tracks, or three sounds and an accent track.
There are 14 analogue instrument voices which have their own distinctive sound. One such sound is METALLIC BEAT which has its own volume slider and attempts to add a more realistic metallic attack to the CYMBAL sounds and always plays the same pattern as those sounds.
Roland also released a cut-down version of the CR-78: the CR-68. Although it had the same pre-set rhythms, it lacked programmability and was missing the METALLIC BEAT, TAMBOURINE and GUIRO sounds.
Famous users include Gary Numan (Mainly his Dance album and also live), Genesis (Duchess) Phil Collins (In the Air Tonight) and of course, the most famous of all: Many Others. Blondie (Heart of Glass intro) is often attributed to the CR-78, but a quick listen tells me that it isn't. The sounds are not the same. It's possibly the RHUMBA rhythm from a Home Organ or another Drum Machine.
The Model used to produce this Kontakt Instrument was an eBay purchase, and right at the top-end of the going rate. It is absolutely immaculate however. You could take it back to 1979, box it up and sell it as new. I'd take it back and give it to myself as a present of course!
Comments