Free preamp plug-in and a new analog flux synth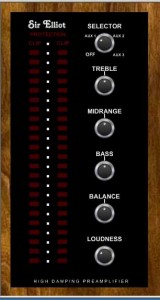 Sir Elliot has released the GPA-2VST plug-in for Windows, a preamplifier described as best suited for jazz, rhythm & blues and lounge music.
Sir Elliot tells us that the GPA-2 is designed to dampen the audio signal and that each Auxiliary input will offer its own tonal characteristic. The new features from the previous model are the following:
High Damping Factor
Cross talk
Output LED Display
Over Sample Rate Protection
Specifications
Frequency Bandwidth: +/- 3 dB 22.7 Hz – 22,000 kHz (44.1 kHz – 96 kHz)
Over Sample Rate Protection: 105 kHz and above
Cross talk: – 20 dB
Power Consumption: 7% on a single-core, 3 GHZ, Pentium 4 CPU residing on Windows XP SP3 using a 44.1 kHz white noise audio file.
Pricing and Availability:
Free download
More information:

Psychic Modulation tells us that Phonec is best described as an 'analog flux synthesizer'.
"Inspired by the mystique of video logo synth scores from worn out VHS tapes, Phonec was primarily designed with character in mind. However Phonec is capable of producing a wide range of sounds such as vintage analogue tones, lo-fi synthscapes, ethereal pads, minimal techno sequences, and synthwave leads and basses. Phonec has an intuitive GUI that attempts to strike a balance between form and function, making it a very usable tool that can be a real inspiration to work with. Apart from it's unique character and smooth workflow, Phonec has several interesting features that set it apart from the crowd."
Features
Dual oscillators that can be combined in various ways
Analog style oscillator drifting
A unique Melt feature that adds instant character to any patch
Arpeggiator
Accent Sequencer
3 LFOs (2 monophonic, 1 polyphonic)
HFO (High Frequency Oscillator)
2 Modulation Envelopes
Echoshifter Delay Unit
Universal Value Display
Double Click Parameter Reset
128 presets
Pricing and Availability:
Phonec is available for a special introductory price of $34.
More information:
Comments