Free Roland MC-202 Kick Drum Sample Pack By Robotik Audio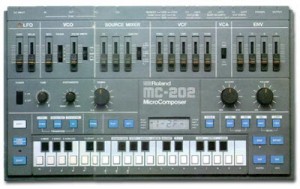 Robotik Audio has released a set of free kick drum samples recorded from the Roland MC-202 MicroComposer analog synthesizer.
The Roland MC-202 is capable – just like any other (monophonic) synth – of creating some very powerful kicks. Zeroing the oscillators using only a low freguency sine, resonance, envelope, ultra short attack, different decays and very little sustain and release. I've created my own little sample kit from it. The kit contains 26 dry WAV samples of the MC-202 with no normalizing or any eq'ing. Personally I really like the sound it produces so here you go.
The samples are available for free download via Robotik Audio.
This is an analog synthesizer/sequencer. It sounds very much like the TB-303 and SH-101 bass synths. Sometimes considered the "poor man's 303". It has a very evolved form of TB-303 like programming (more like the MC-4) and SH-101 like controls of the VCO, VCF, VCA, LFO, Envelope and Mixer sections. The LCD display is a great feature too.
The MC-202 was sort of a next-generation TB-303. So the idea was to program sequence/patterns into it internally which would give you those 303 basslines that we've come to love. But programming the MC-202 is a bit too intense and over done for the simple monophonic bass line. However you can control it externally by hooking up a MID-CV/Gate converter. Then you basically have yourself an SH-101!
The sequencer is actually a 2-channel CV/gate sequencer, with both channels being capable of driving a separate external synth. It's a very useful unit, also, for its DINsync capabilities; it can receive on one port, and send over two, and also can 'split' DINsync to branch a sync signal out to multiple devices.
This machine is best for those who want to get 303-like patterns (it has accent just like the 303) and basslines with an SH-101 sound. If you can handle programming the notes into its sequencer you can have a lot of fun.
Comments