Free step sequencer for live performances
Judging from the UI it appears to be very straight forward and easy to use. Just load your samples and run. Question remains around audio quality and real time use, but if any of you have or will try it feel free to leave your thoughts on it.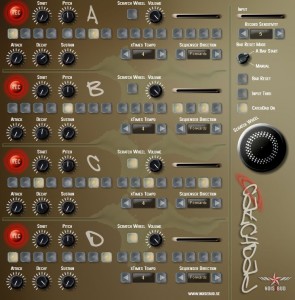 Noisebud has released CatchDad, a new plug-in created strictly for live situations.
With CatchDad you can catch 4 different sounds with just the click of a button and instantly start to program rhythms with the built in step sequencers.
Put it on a channel (or return track) in Ableton Live (or any other VST host that send time signals). Activate live monitoring if you like to record live sounds or run a loop trough CatchDad and start programming beats on the fly, or you could use loops as sound banks to change sound as you go or catch a live drummer and start to rearrange what he's playing in real time or just add hits here and there.
CatchDad is free and is available for Windows as a VST effect plug-in.
Visit: Noisebud
Comments