Jordan Passmore Demo of the Roland JX-10, Roland SH-2, Akai MPC-60
This is a demonstration of two Roland analog synths, a JX-10 and a SH-2, combined with the sequencer/sampler the MPC-60. The MPC-60 is loaded with Linn LM-1 samples (courtesy of ToneBldr, http://www.drivenmachinedrums.com ) and is also sequencing the JX-10 and SH-2. The SH-2 is doing the bass while the JX-10 is doing the melody; Jordan is playing lines over the melody on the JX-10 occasionally. All sounds are mixed on a StudioMaster mixer and there is an analog delay (Washburn Accellerator) on one send and a EH HolyStain on another.
"The MPC-60 is sort of out of shot so near the end I bring the camera around to show what I'm doing with that."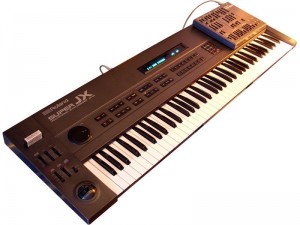 Released in 1985 the JX-10 (Super JX) combines two individual JX-8P's for an outstandingly warm, rich and analog sound which is still used in many modern studios all over the world. This synth was the first Roland Synth to be fitted with a quality 76 note keyboard with velocity and aftertouch. Two DCO's per voice, two ADSR envelope generators per voice, and a resonant lowpass & non-resonant highpass filters are only the beginning. It has a 12 voice polyphony for a total of 24 oscillators and it is by far one of the most programmable synths of its time! However, as on the JX-8P, knobs and sliders have been replaced by low-profile buttons and a nice LCD display. Although this may look sleek and elegant, it makes editing a chore. Assign parameters to the alpha dial for tweaking, one at a time, or get the optional PG-800 Programmer to provide traditional, hands-on, dedicated sliders for editing the JX-10's parameters.
The JX10 has a Chorus effect and a chase-play Delay function. The chase-play function allows programmable delayed repeats of voices by alternating patches of the upper and lower modules. The simple chorus effect is either off, slow or fast. It has two programmable sliders (if you don't use the PG-800) for some real-time control which can be recorded along with other effects and keyboard modes into one of the 64 Program Patches. This is in addition to its standard 50 preset and 50 user patch memory. A simple sketch-pad 1-track real-time sequencer is also on-board. It stores sequence data directly to an M16C card, or an M64C card for Patch/Tone OR sequence data. The M16C has a capacity of 400 notes, the M64C 1440, according to the manual.
The JX-10 also comes in a rack-mount version known as the MKS-70. It's worth noting that the JX-10 can not be edited via SysEx, however the MKS-70 can which is one reason many have chosen the rack version of the keyboard. The JX-10 can make bulk dumps of its sounds over sysex, but only with (discontinued) Roland M64C RAM cartridges.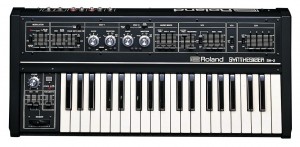 The SH-2 is one of Rolands' early synthesizers. It is very simple in design, look and function. It sounds much like the SH-101 synth, including the typical SH-style sub-oscillator. But the SH-2 employed 2 oscillators for a much fatter sound. It has the typical Roland SH sound – it's a monophonic bass synth that's flexible enough to provoke punchy analog basses, leads and squelchy sounds. The oscillators can be de-tuned as well, another feature the popular SH-101 lacks. But it isn't very pretty to look at as it shares the same design and layout as the SH09. Still it makes a simple and easily programmable mono-synth that can be used in place of the more common SH-101. However the SH-2 is harder to find and so it usually has a higher price than other SH-type synthesizers from Roland.
Comments