Kari Berg of Ashbury Heights takes on new projects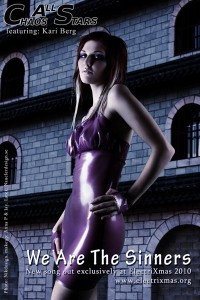 Model and singer Kari Berg, former singer of Swedish Ashbury Heights is now current with a variety of new projects.
In addition to various guest appearances in Ad Inferna, The Tot Cor and Psy'Aviah which releases with Karis vocal performance is in question in 2011, she is also part of the Chaos All Stars along with OlkK and Nik.
The trio is now current with new material on the legendary Nangijala Records has given new life.
In cooperation with Echolize is the introduction by two songs for free download – here! Enjoy!
Via ES
http://www.youtube.com/watch?v=vvFMV_NSfkY
Ashbury Heights – Invisible Man – live @ electriXmas 2010
Comments