KORG Mini MS-20 additional information and specifications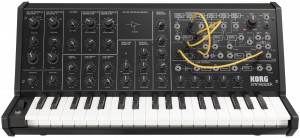 Korg is celebrating their 50th company anniversary this year, the MS-20 turns 35. This suggest paying homage to this cult synth. And indeed, on NAMM 2013 Korg presents a "real", fully analog MS-20, just as we know and love it.
Called Mini-MS-20, it is ca. 15% smaller than the original, and sports a MIDI In and a USB MIDI port. This isn't using surplus Legacy cases as some have speculated (which were 20% smaller) but instead individually designed cases, equipped with a specifically developed keybed. The main PCB is more or less euqivalent to the original, including the components selected to be as close to the original as possible. It is not yet known which filter variant has been chosen, although it may be assumed that, just with the Monotron, it will be equivalent to the Korg35 chip, with slight modifications.
BTW, project management were the same engineers who did the originals. As a consequence, the instruments include the original manual, including patch sheets. You don't have to be a seer to expect a golden future for the Mini MS-20. With a suggested price of 600 Euros, this will find many friends, and will make all those happy who couldn't afford a 'real' MS-20 due to their exorbitant 2nd hand prices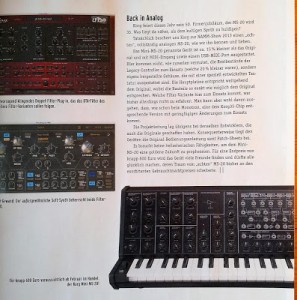 The MS-20 is reborn! 1978 original circuits come to life
Presented in 1978, the MS-20 monophonic synthesizer, thanks to its rich, robust sound, his powerful, iconic analog filters and flexible patching options to be popular today. The typical sounds of the original MS-20, the Korg MS-20 synthesizer plug-in the Legacy Collection and the iMS-20 app for the iPad, now attracting more than 300,000 users.
Now the sounds of the MS-20, MS-20 are in the mini wakes to new life. The same engineers who developed the 1978 MS-20, today's circuits reproduced faithfully and its physical size reduced to 86% of the original size, without changing the traditional and timeless look of the model or to waive details!
The MS-20 mini fascinated today with absolutely authentic analog synthesizer sounds of his ancestors.
Developer comments
The 50-year anniversary KORG we again engaged in an analogue synth and this effort to create flowing parameter settings that characterize analog synthesizer especially. The original specifications of the MS-20 should remain intact. The developed by us 35 years ago, analog circuits still deliver the same unbeatable, powerful sound, from the lowest bass to the extreme heights. To experience the depth of the MS-20 mini, you have to play it yourself!
Highlights
The MS-20 mini was realized by the engineers of the first MS-20 and used a complete reproduction of the original analog circuit
2VCO / 2VCA / 2VCF / 2EG / 1LFO structure
Self-oscillating high pass / low pass filter with a unique distortion
External signal processor (ESP)
Extremely flexible patching system
Reproduction of the MS20 at 86% of its physical size
Reproduces every detail of the original, down to the packaging, the manual in the original style, the template for the patch panels and patch cables
MIDI IN and USB port"
Update 3: some additional specs:
"Keyboard – control voltage output (exponential) (0 – +8 V)
Keyboard – trigger output (+5 V -> GND)
VCO-2-1 + VCO control voltage input (linear response) (0 – +8 V)
VCO-2 control voltage input (linear response) (0 – +8 V)
Second VCO:
VCO-1 + VCO-2 external frequency control input (OCT / V) (-5 V – +5 V)
Third VCF:
External signal input (max 3 Vp-p.)
External control input for the cutoff frequency of the high-pass filter (2oct / V) (-5 V – +5 V)
External control input for the cutoff frequency of the lowpass filter (2oct / V) (-5 V – +5 V)
4th VCO + VCF:
Total external modulation input (T.EXT) (-5 V – +5 V)
5th VCA:
External control input of the initial gain (0 – +5 V)
6th EC:
EC 1 envelope – Normal output (-5 V – 0 V)
EC 1 envelope – turned output (+5 V – 0 V)
EC EC 1 + 2 trigger input (-> GND)
EC 1 trigger input (-> GND)
EC 2 envelope – turned output (+5 V – 0 V)
7th MG:
Delta output (sawtooth positive – Triangle – Sawtooth inverted) (5 Vp-p)
Square-wave output (pulse width – rectangle – narrow pulse) (0 – +5 V)
8th Noise Generator:
Pink noise output (5 Vp-p)
White Noise output (5 Vp-p)
9th Sample and Hold:
Clock trigger input (-> GND)
Sample signal input (5 Vp-p max.)
S / H output (5 Vp-p max.)
10th Modulation VCA:
Control voltage input (0 – +5 V)
Signal input (-5 V – +5 V)
Signal output (-5 V – +5 V)
11th Game Help Manual:
Control Wheel-output (-5 V <-0 v=""> +5 V)
Non-locking switch output (-> GND)
Comments