KORG Polysix – Free Reason Refill from Lizard
Lizard has released yet another Refill for Reason – his previous releases has been highly acclaimed and I have used them a lot myself. I have not tried this one and judging from the ad below I am not sure what we are supposed to expect from this one.
This synthesizer was released in 1981, and features six voice polyphony (as if anyone didn't guess that by its name), a 5 octave keyboard (61 keys, not touch sensitive), 32 programmable memory slots, 1 VCO per voice, 24 dB/octave VCF's & normal ADSR controlled VCA, a cool arpeggiator and a quite useful effect section. The VCO is square, PW or PWM with controls for octave(pitch) and speed. The VCF has controls for cutoff, resonance, EG (envelope generator) intensity and keyboard tracking.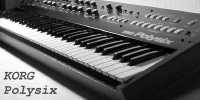 The Polysix is full of knobs and buttons, that gives you instant access to all of the parameters and effects. It was the last Korg to have that, since its successor the Poly-61 introduced DCO's and digital programming. No more hands on knobs when playing, and more tedious programming. The Polysix have 3 different play modes. Normal – as any polyphonic synth, Unison – makes all 6 voices play the same note, and Chord – memorizes a played chord and transposes this when a key in the desired pitch is played.
It also has a sub oscillator, like many single VCO synths, that adds depth to the sound. They say it sounds fatter and warmer then the 2 DCO Poly-61, although this synth has twice the number of oscillators.
The Polysix have SSM chips for its filters and envelopes, and some say this explains its warm sound. It also has a special self-tuning function. In unison mode the six voices are adjusted a little bit out of tune from each other, giving you a real fat monophonic lead sound. There are separate wheels for pitch bend and modulation. The Polysix was one of the last Korgs to have this instead of the (in my opinion) cheaper joystick.
Combinator HQ advertisement below:
This is a refill have been reluctant to release for a long time. There have been several reaons behind not doing so but primarily I felt it didn't offer much that Thor couldn't do. It was in partial completion stage when R4 was introduced and I had decided to shelve it at that time. And quite honestly, there are a few P6 refills out there already. The community risked being poly-ed out.
However this set of samples was dear to me since the Polysix was the very first synth I owned when I purchased it way back in 1983. In review of this work, I felt that it made a conscious effort to capture some of the abilities that the original unit had including unision/mono mode and chord memory. As it may not have a huge impact in the average refill library, it does offer authenticity, programing examples and a few interesting layered patches.
So now it's out there. I also had a few patches in there that were R4 and decided to omit them. This one I believe to be R3 freindly containing no devices that are native to the newest version of Reason. This has variances on 60+ sampled patches. Over 150 Combis in all. Hope it has some value to some one.
Comments