Moog Minitaur Analog Bass Synth with Critter and Guitari Pocket Piano
Here is the all new Moog Music Minitaur analog bass synthesizer being triggered by the Critter and Guitari Pocket Piano MIDI.
More on the Critter and Guitari Pocket Piano:
The Pocket Piano MIDI has all the functionality of a Critter & Guitari Pocket Piano synthesizer, now with MIDI capabilities! It can interact with many other MIDI devices: drum machines, sequencers, computers, synthesizers, and other Pocket Piano MIDIs. It is both a sound module and a controller, sending and receiving MIDI note messages, and MIDI clock signals.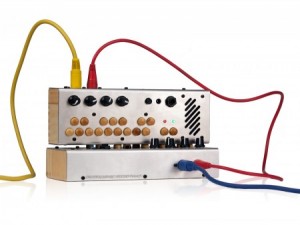 In addition to its intuitive interface, maple keys, built-in speaker, and aluminum and wood enclosure, it features the same six unique synth modes found on our original Pocket Piano:
• Vibrato Synth
• Harmonic Sweeper
• Two-Octave Arpeggiator
• Octave Cascade
• Mono FM Synth
• FM Arpeggiator
As a controller, the Pocket Piano MIDI sends out key presses as note messages, useful for triggering other synthesizers, samplers, or software. As a sound module the Pocket Piano MIDI responds to all 88 notes of a full size piano, so you are not limited to the 16 key range of the Pocket Piano. Using a full size controller, you can take advantage of the Pocket Pianos unique sounds and arpeggiators over a much larger range. Larger range = more fun !
But the fun doesn't stop there! The Pocket Piano MIDI also sends and receives MIDI clock, so you can synchronize the Pocket Piano's arpeggiators with your favorite drum machine, sequencer, or computer software. The Pocket Piano MIDI passes all received clock messages to its output, allowing you to chain many Pocket Pianos together to create an orchestra of Pocket Pianos.
Comments