NAMM Most Recommended: Nord Drum Virtual Analogue Drum Synthesiser
Here's a guest post from one of our followers – S. Williams, enjoy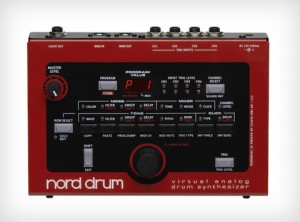 Looking back at NAMM 2012, there is much controversy in picking 'the best in show' but in terms of initiative and surprise we can all agree that the Nord Drum synthesiser is right up there. Nord cleverly created hype by releasing a few teaser pics a few days before NAMM but they may as well been pictures of a guitar as no one could of predicted what they had in store for us. It is not a drum machine in the traditional sense and is in-fact a virtual analogue drum synthesiser triggered by external devices. Nord promised that the virtual drum is " guaranteed to change your perception of what's possible with synthetic, sample-free percussion". And that's exactly what they have done, by creating a device that is totally brilliant and unique.
At the Nord stand at NAMM I was very much hoping to have a go on the drum but unfortunately I wasn't allowed. However I did get the best seat in the house and get a great view of a tutorial like the one below, but it's just not the same.
All it has done is make me desperate to play one and count down the days until its release date. Unfortunately I can't give you more information on a playing experience but I can forward what I know and my opinions.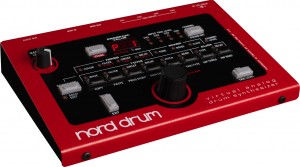 The Nord drum creates its sound through complex analogue waveforms and noise generators similar to that of a vintage Synth. It features lightening-fast triggering, and four trigger inputs allow MIDI equipped devices to connect. With this variety of connections we assume Nord intend to integrate the drum into an existing set-up or to be used as an electronic percussion module. With Nord making all the right noises describing the drum as 'retro-futuristic', it certainly ticks both boxes and is undoubtedly a great product. I can't really see it introduced in live sets just yet, but would certainly be useful in studio set-ups and home usage. It is due to be available very soon, so sign up to this newsletter for more information and to be kept posted.
When it is released I will certainly buy and review it again in more detail and give it a thorough test drive. So stay tuned to this blog and we'll see just what the Nord Drum is capable of.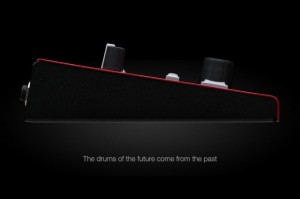 Comments