New multi-format sound library based on original DAT tape recordings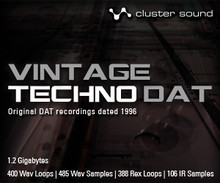 Cluster Sound has announced Vintage Techno DAT, a true vintage multi-format sound library based on original DAT tape recordings dated 1996.
Vintage Techno DAT is a huge loop collection extracted from personal DAT tape recordings dated 1996 and created by a young Antonio Dilillo, the man behind Cluster Sound.

The library consists of 1.2 Gigabytes of remastered basslines, synth loops, percussions, noises, effected kicks, HHats, snares and everithing you need to add a retro look to your techno tracks.
Vintage Techno DAT features
1.2 Gigabytes.
400 WAV Loops & Sequences.
388 REX Loops.
485 WAV Samples.
7 Kontakt Drum Kits.
7 Ableton Drum Kits.
106 IR Samples.
106 Kontakt Convolution Presets.
Vintage Techno DAT is available to purchase for 24.95 EUR.
Background : the 1996 was a very exciting year. Techno music passed beyond the "old school" era and producers diffusely started creating complex sounds, emotional athmospheres and rich structures. In that period the modern meaning of computer music was at its early stage and everyone tried to do his best with the few instruments at his disposal. The result took the form of hundreds of innovative labels (Primate, Soma, Nova Mute, Evolution, Plus8, just to mention few) that laid the fundations of modern techno music.
The source : The original loops and sequences had been created with several hardware synthesizers, drum machines and by sampling vinyls and radio signals. All the loops were initially sampled, edited and processed with a glorious Creamware TripleBOARD, the first "Hard Disk Recording" system for PC, and then recorded on a Tascam DA-20 (basically used as storage medium because of the small hard disc capacity).
Comments