Roland RE201 Space Echo
The Roland RE-201 Space Echo is truly a Vintage (1973) piece of music technology with lots of appeal even today. It's not a synth, but a Tape-Echo machine for creating true analog echo effects. The RE-201 is a simple system in which a small loop of tape records an incoming signal and immediately plays the recorded sound back over a couple playback heads before being erased over by new incoming audio. A real analog system with warm, gritty and almost noiseless operation, the Space Echo can provide warm, unpredictable and highly tweakable echo effects.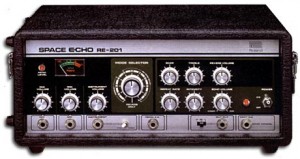 There are twelve settings to adjust various tape loop speeds, number of repeats, levels, intensity, etc… It can even generate some of its own feedback loops for instant sci-fi effects. It features a built in spring reverb for even more classic analog effects. The RE-201 not only has Vintage appeal but is still widely used to get those dubby, slightly unpredictable, musically analog echo effects.
Comments