This is the official video for Dupont´s "Entering the ice age" taken from the album with the same name released on Progress Productions. Directed by Einar Friðjónsson.
Rickard Svensson from Dupont having fun with the .COM.
The duo Dupont has since their debut in 1998 moved from classic EBM to darker electronica. As one of the initiators of the second old school EBM wave they have toured Europe several times and also supported Covenant in the early years of the millennium. Dupont has become known as a dynamic live act now with a broader audience than ever.
The latest album "Entering the ice age" has received excellent reviews and reached top positions at the alternative charts as for example no. 1 on GEWC in Germany.
"I'm afraid the audio-input on the camera got overloaded a few times during but I think it sounds ok."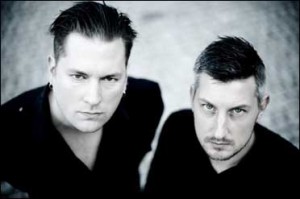 Following their last album "Entering The Ice Age" the Stockholm-based duo Dupont (Rickard Svensson and Daniel Jonasson) return with a new EP called "Dope Of Love". The EP will hold a totally re-recorded version of the titletrack as well as an exclusive B-side and remixes. A video for the track "Dope Of Love" has been directed by Le Monde de Leo who also did the video for the last Dupont video "New Dawn".