October 20, 2011 · Posted in
Uncategorized
·
Comments Off

on The Pain Machinery "Hard Cash"
Latest video from The Pain Machinery, enjoy
Details:
A music video I produced and directed for a friend of mine. Shot in July, edited the past few weeks.
Filmed on Panasonic AF101 and Canon 5D MkII, with a bunch of different Canon, Zeiss and Nikkon lenses.
The Pain Machinery on Facebook: facebook.com/​thepainmachinery
CC license applies to footage.
May 25, 2011 · Posted in
Uncategorized
·
Comments Off

on Pain Machinery are back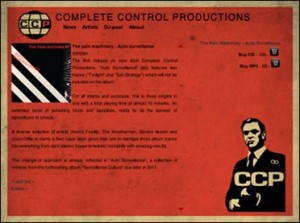 It's been a while since we heard anything from Pain Machinery but now they are back with new material. Sweden based label Complete Control Productions (CCP)  release the newest material from The Pain Machinery: "Auto Surveillance". "Auto Surveillance" is a collection of remixes from the forthcoming album "Surveillance Culture" due later in 2011.
Since their last album "Urban Survival", The Pain Machinery have embraced a more structured electronic sound with fewer building blocks 'but more punchiness' as they put it. You may expect a hybrid of early EBM, New Beat and Acid House.
Remixes have been provided by Necro Facility, The Weathermen, Severe Illusion and Jouni Ollila to name just a few. The first release on this new label also features two tracks ("Twilight" and "Exit Strategy") which will not be included on the album. Total playing time of this 14-track release is almost 70 minutes.
Track list:
Hard Cash (12″ Mix feat. Ted Barley)
Armed! (Jouni Ollila Remix)
Grinder (Ted's Acid Mix)
Twilight
Armed! (The Weathermen Remix)
Hard Cash (Severe Illusion Sober Mono Mix)
Grinder (12″ Mix)
Hard Cash (Necro Facility Remix)
Armed to the teeth!
Exit Strategy
Hard Cash (Testarossa Remix)
Grinder (Mix 2)
Hard Cash (Sebastian Rivas Acid Rave Remix)
Hard Cash (Performed by Ragged Bones)
Read more here
January 26, 2011 · Posted in
Uncategorized
·
Comments Off

on LIVE: The pain Machinery – Shine
A live version of a track taken from the upcoming The Pain Machinery album Surveillance Culture.
CCP003
The Pain Machinery: "Surveillance Culture"
The brand new album from electro punk heavyweights The Pain Machinery. These 15 tracks redefine TPM's sound, using punishing minimal sequencer patterns, driving rhythms and raw upfront vocals to hammer home their message: sometimes paranoia's just having all the facts.
Shared by CompleteControlP