So here's another one

Spook Keys is a free theremin VST for Windows, designed to re-create the typical sound of a theremin.
It supports control either using a MIDI keyboard or using the mouse to drag a glowing spot across the 'chart' for a "virtual theremin" playing style.
Download at the simple-media site.
Originally "I am very glad because I'm finally returning home" by Eduard Khil (1976).
Performed on the Moog Etherwave Pro Theremin by Jairo Moreno.
More info from Moog on todays offerings:
The Etherwave Pro is a professional quality theremin featuring classic theremin sounds, excellent playability housed in a beautiful eye-catching cabinet. It is designed as a solution for the gigging musician who wants the best theremin available in a portable package.
The Etherwave Pro also won the 2005 Excellence In Design Award (EID). This bold, beautiful theremin is designed for the gigging musician. Drawing on his 50 years of experience, Bob Moog has designed the next step in the evolution of the original electronic instrument, the Theremin. The Etherwave Pro is a step up both from the best-selling theremin of all time, the Etherwave Standard. The Etherwave Pro features professional quality response and sound in a package designed both for beauty and portability. Whether you're a seasoned thereminist or someone drawn to it's unusual sound and looks, you'll appreciate the quality of response and control this product offers.
GyroSynth is a music synthesizer for the iPhone 4, which takes full adventage of the gyroscope. You can play and modulate the sound by moving your hand through the air – just like the legendary Theremin instrument.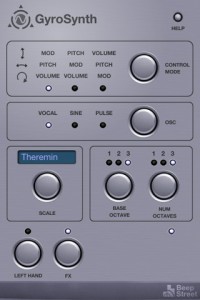 GyroSynth makes use of the gyroscope to measure true roll, pitch, and yaw and translates them to sound parameters like pitch, volume, modulation or filter cutoff. Thanks to phenomenal accuracy (2000 degrees), you can play melodies perfectly in tune.
FEATURES
– 3 types of oscillator: vocal (formant synthesizer), sine wave and square (PWM modulation)
– Several control modes
– Delay effect
– Included musical scales allow you to effortlessly play in several styles
I made a post last week on theremin and guess what a VST of course appears in my tip box
If you like it let me know

Spook Keys – Free VST synth http://www.vstplanet.com/Instruments/… Developer: simple-media.co.uk
and Moog still has it