Time machine – Korg Mono/Poly Analog Synthesizer (1981)
Time for a new vintage synth to be closer examined, this time it is the classic Korg Mono/Poly:
Arpeggiator, Poly-Mode, Chord-Memory. Unisono-Mode and different VCO, VCF, Envelope and Effect settings
The Korg Mono/Poly is one of the best monophonic classic analog synths but very underrated.
The sound of 4 real VCO`s , the great SSM filter, the Effect Sektion with Osc.-Sync and Crossmodulation is fantastic.
external fx. Dynacord VRS -23 delay/reverb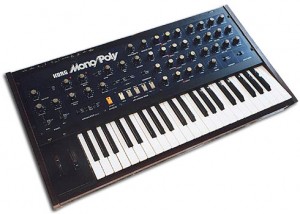 A cool analog monophonic/polyphonic from Korg. It has 4 VCO's which can be shared in 4-voice Polyphonic mode, or linked in Unison for a versatile monophonic lead. Each VCO has its own level, tune, and waveform type control. Waveforms include triangle, sawtooth, variable pulse wave. It has a great VCF filter section as well as 2 envelope generators (one for the oscillators and one for the filter). There are also 2 individual LFO's which can be used to modulate the Pulse Width, envelope and Arpeggiator independently.
A very flexible and fun synth. Other cool tricks up its sleeve include chord memory and an effects mode in which oscillators have a variety of ways to be synced. The built-in arpeggiator and sequencer can run all 4 VCO's at a time or cycle through each voice per note! There's also portamento, CV/Gate, VCF and VCO mod inputs, white noise generator, and the pitch/mod wheels can be assigned to control LFO, pitch or the filter. Its sound quality is nice and very Korg.
Comments