Exclusive interview with the Lightbringers – Covenant in the Studio
Last week I had the opportunity to spend some time with Eskil and Joakim from Covenant in their new refurbished studio. Covenant is definitely Sweden's number one export in the electronic music scene, with numerous ground breaking synth/EBM albums behind them, i.e. Sequencer, Shyshaper, Northern Light to name but a few. However, although I was curious on their new EP coming out in a couple of weeks, titled Lightbringer, my main purpose were to explore their working methods and their gear.
My first impression when I entered the studio was overwhelming. The first thing that came to my mind is the old saying – "the one who has the most gear when you die, wins". Look like the Covenant boys is aspiring for the final. Korgs, Prophets, Moogs, Viruses, Emus you name it, it´s all there stacked neatly on racks across the studio. Check out the pictures below to delve in to some pure synth porn.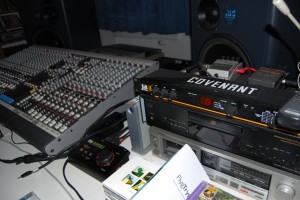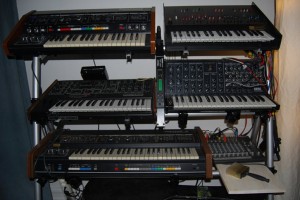 The new album and the state of the Synth scene
Even before Lightbringer is released we know it will be something different, since collaborations with other artists is not something that we are not used to. Lightbringer actually came as an idea from Necro Facility, rather then from Covenant, with the intention to have Eskil to sing on it. However it turned out to be something more. Eskil tells me that we will experience a different melody build up, then we are used to and that it's all about fear and loathing in Helsingborg, Sweden. I guess you cannot be more cryptic then that!
As Lightbringer will be released as a limited edition we came to discuss how vibrant the Synth scene is today and happily enough I can conclude that, although still a niche scene, Covenant has not slowed down on touring (note: Eskil just came back from a Gothic Cruise in the Caribbean). They say that the globalization that has come as a result from a better infrastructure (read Internet) in markets like South America and Eastern Europe really has resulted in that bands like Covenant continuously finds a new audience, and adds that they really find it exotic with synth music, creating a foundation for new sub cultures in those countries.
Speaking of sub cultures it was logical for me to ask about their various side projects like Cement (Eskil's noise project) and Joakim's joint venture with Ronan Harris (VNV Nation) exploring classical music from an electronic perspective. Eskil tells me that Cement actually came about, apart from the fact that he really enjoys noise music, as a wish of entering (and travel to) the Japanese music scene, where noise is big. But also to somewhat alter the common public image of himself, showing that there are more sides then just Covenant. Although Joakim's classical endeavor didn't continue I am pleased to inform you that Cement is alive and kicking. Major noise inspirations are Brighter than death, White house and Geometric, of course.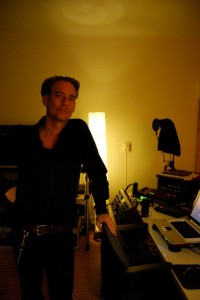 Comments