Kinetic – Played live Korg EMX, IPad Sunrizer, IPad ModAxis, FutureRetro Revolution
Cool video featuring a lot of blinking lights, blips and machines in action, enjoy

Korg EMX sequencing IPad Sunrizer for Pads, IPad also used to provide spacey effects with ModAxis app. Acid is on the FutureRetro Revolution.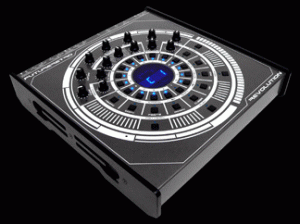 "The Revolution is our latest concept synthesizer with an intuitive interface that we feel most accurately represents the principles of time and music. From ancient sundials to modern day analog clocks, time has been represented as the circle, a cycle which never ends. Time itself is nothing more than our perception of the revolution of planets as they journey through their celestial orbit. It is this motion that we call time that can be measured, divided, and arranged to provide the foundation of music. This circular cyclic theme can furthermore be found throughout music in everything from song structure and repeating rhythms to the fundamentals of sound itself, being the sine wave. With this understanding we must conclude that music is cyclic and should so be represented in its natural form.
And so it is…the Revolution, a true analog monophonic synthesizer with an easy to use step-based digital sequencer, analog and DSP effects processing, and various interfacing for controlling MIDI, CV/Gate, and Din Sync devices.
Continuing in our tradition of building quality products, this unit is housed in a rugged aluminum chassis with aluminum side panels, a high contrast white on gun metal grey finish for superior viewing of controls in dark environments, and bright blue LEDs all around."
Comments