Pictures of the first production Boomstar synthesizer
Studio Electronics has released these photos of the first production Boomstar synthesizer – a Boomstar 4075. Earlier this year, Studio Electronics announced a new line of four Boomstar synthesizers, each with a different style of filter:
4075-classic Arp 2600
5089-classic Moog 24db ladder
SEM-classic Oberheim 12db
303-classic Roland TB.
The Boomstar synths are priced at $799.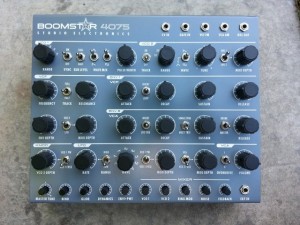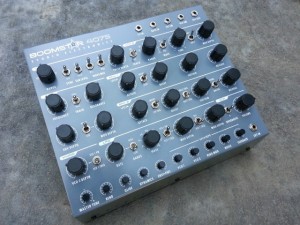 Official Description:
Back to the raw power and purity of non-programmable* discrete analog––where STUDIO ELECTRONICS started in 1985. The snap and punch of hardware envelopes drive the BOOMSTAR's brilliant voltage controlled circuits with unparalleled sonic integrity and versatility. BOOMSTAR is the ultimate desktop analog synthesizer for those who remember and desire still, the electronic Analog sound that changed the world and for seekers who have yet to discover that magic and delight… in their time.
This new blazing brainchild of STUDIO ELECTRONICS represents the design collective ethos of circuit and software "Saseong" Tim Caswell, tactile layout and lead feature specialist Greg St. Regis, graphic and sound consultant Marc St. Regis, art design wizard of vector truth, John Greczula, cool-headed concept leader Geoff Farr and our relentless and wise feature and functionality consultant, Drew Neumann.
Four Models/Filter types: 4075-classic Arp 2600, 5089-classic Moog 24db ladder, SEM-classic Oberheim 12db, 303-classic Roland TB.
This All-American-Made music machine's discrete voltage controlled analogoscillators, hand matched transistors in its filters and amplifiers and STUDIO ELECTRONICS' typically expressive programming feature realizes its name: Earth Grounding Subs to Deep Field Shimmers… BOOMSTAR!
Comments