Short video demo of the free 8bit drum app for the iPad
I have not seen any video featuring this little nice app that is available for free on AppStore for the iPad/iPod. So I decided to make one, check it out below:
This is a really nice little 8bit drum app with several drum patterns and accompanying chip tunes. In the video I have not tried to do any performance drumming just showing what some of the sounds sound like, so please excuse out of sync drumming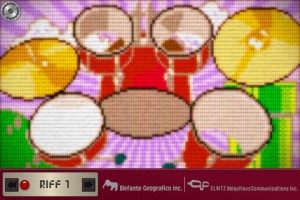 And best of all it is absolutely free
♬ 24 drum kit appropriate for 80′s Video game console,Home computer,Vintage Drum Machine,Rhythm Machine
(NES/FC,GENESIS/MD,GB-DBG,ATARI2600,C64,TR808/909,VL-1,Simmons SDS-V etc)
♬ 24 drum sets that is appropriate for Soul, Funk, R&B, and HIP HOP are prepared.
♬ 24 lesson riffs are collected.
♬ The drum can be played according to the accompaniment of iPod if it starts after it reproduces with iPod.
♬ Spec:
– Collection drum kit 24
– Collection lesson riff 24
* When the sound doesn't become it even if touching, it might be a manner mode as for the drum.
* Please confirm the volume setting of "Ring tone" by "Sound" of "Setting" application program when the lesson riff rings and it doesn't sound the drum.
Comments