Sneak preview of the new Moog Minitaur analog synth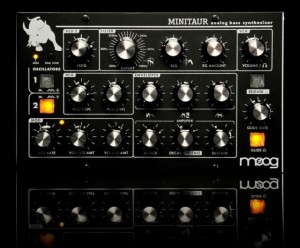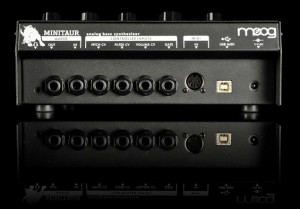 Winter NAMM appears to treat us with a nice analog surprise – a new synth called Minitaur from Moog. Here are the preliminary details:
100% analog audio signal path, based on Taurus I and Taurus III synthesizers.
2 Taurus VCOs with variable Glide amount
Sawtooth (original Taurus) or Square waveform selection for both VCOs
External Audio Input
Headphone out
2 Mixer VCAs for setting the level of the VCOs
1 VCF Moog/Taurus-style Ladder Filter w/ VC Resonance
1 VCA
Two Minimoog-style ADSR Envelope generators with the Decay and Release segments controlled by the Decay knob plus a Release On/Off switch
1 MIDI-syncable triangle wave LFO for modulating VCF/VCOs
DIN MIDI In and MIDI over USB out
As of right now these are unofficial photos of Moog Minitaur Analog Bassline Synthesizer! It is said to retail at around 599USD.
The Minitaur is a compact tabletop monophonic MIDI-and-CV-controllable analog bass synthesizer module, based on the design of the Taurus 3bass synthesizer. The front panel of the Minitaur is designed for maximum tweakability, with a knob-per-function design. Schwing!. This isn't a preset synth – but you can can create and manage patches via MIDI.
The Minitaur has several features added to the classic Taurus synth engine, including an external audio input.
More info will follow as soon as we get it

Comments