Synthporn Saturday – inside Jorge's studio
http://youtu.be/-pc4F-RQ9Xs
Well you can definately everything you need in this guys studio

One things that caught my eye was the Teisco 110F. In the beginning of the 80's Kawai began manufacturing synthesizers under the company name of Teisco. Their early designs resulted in synths like the S110-F above. The Synthesizer 110-F is an upgraded S60-F, with dual analog VCO's and an updated look. It has a small but usable 37 note keyboard. Classic analog sawtooth, square, and triangle waveforms plus noise are on-board and can be mixed with external sounds run through the 110-F's filters and envelopes. The oscillators can be de-tuned for duophonic textures or phatter leads and bass sounds.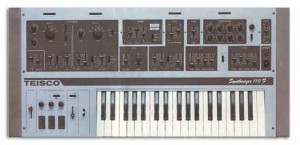 There's plenty of modulation ability and classic analog effects in the 110-F to really liven up the sound. There's an LFO which can modulate the VCO and VCF and can trigger the EGs. The VCF resonant low pass filter is great too. There's also a VCA section with Attack, Decay, Sustain and Release controls and finally there's a Hi-Pass filter. There is also a portamento effect, a ring modulator, vibrato and sample-and-hold for those classic analog synth effects and tricks! Lots of pretty blinking lights, a sleek and straight-forward layout and very nice analog bass, lead and synth sounds are all a part of the Synthesizer 110-F experience.
But also the Octave Cat. Octave released this analog classic – the Cat – during the era of the Minimoog and ARP Odyssey synthesizers. The Cat is actually very much like the ARP Odyssey, so much so that ARP had sued them in the late 1970's for cloning their designs. The Cat is a monophonic/duophonic analog synthesizer with 2 oscillators capable of square and sawtooth waveforms. VCO 1 also has a triangle waveform. Each of the waveforms can be played simultaneously and mixed together and there are additional sub-octave oscillators on each oscillator to blend new and interesting sounds.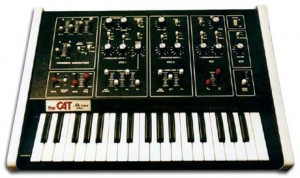 In this video:
Bob Weigel of http://www.sounddoctorin.com begins his month or so long journey to see former Bozeman residence the Wiest family in Sheriden, WY and former roommate Alfredo Pinto in Denver area. Also quick interview with Jorge about his awesome synth studio featuring a Jupiter 8, Teisco 110F, Prophet 5, Juno 60, Minimoog, Korg MS-20, (I said 10…) Roland SH-5, Octave Cat, etc.
Comments