Reactive Music Experiment.
Accelerometer on springy stalk flashing led to modulate sound from Thingamagoop .
The Thingamagoops are really just simple, analog type synthesizers that you control in a different way. The Thingamagoops have oscillators just like any synth. On analog synths the oscillator that creates the actual tone you hear is called a VCO or voltage controlled oscillator. The Bleeps work a little differently so we'll just call it the main oscillator. Instead of using a keyboard, the main oscillator in the Thingamas is controlled by a photocell. Here's what the waveform from the main oscillator looks like.
When there is a lot of light hitting it, the resistance across the photocell goes up and the oscillator yields a higher pitch. Less light lowers the resistance and pitch. When the switch on the right is up, the oscillator is in a high range and when it's down it's in a lower range. One neat thing about the photocell is that it reacts to different kinds of light. Florescent lamps and TV screens give the Thingamagoops a harsher tone while natural and incandescent light produce a cleaner one. Just like any analog synthesizer, the thing-a-ma-s have another oscillator that effects some variable. This is usually called a modulator or LFO. Here the modulator's waveform is pretty close to a square wave.
The modulator's frequency is controlled by the knob and the type of modulation is selected by the switch on the right. When the switch is up the modulator is effectively turning the output of the main oscillator on and off. This yields a simple beep beep beep at lower frequencies but at higher frequencies sidebands are created. Sidebands occur when the modulator is oscillating inside the audible range . This creates new frequencies that are multiples of the oscillator's frequencies.
When the modulator switch is down, the modulator is changing a variable in the LEDacle's circuit. Now you have some control over its rate of blinkatude. The LEDacle is a modulator too but instead of adjusting knobs and switches to change how it interacts with the main oscillator, you physically move it around to effect the sound. The light from the LEDacle can be pointed at the photocell to rhythmically change the pitch. Not only can you use the speaker inside the Thingamas to listen to crazy beeping nonsense, you can also use the 1/4inch ouput jack to plug it up to all kinds of things. Plug it into some guitar effects and an amp for some indescribable electronic madness.
For the past 2 years the market has more or less been swamped with tablet synthesizers, drum machines, vintage clones, ambient electronic instruments for tablets. At first it was more or less an iOS only business, Android has been struggling for a long time with its user experience and more importantly with its audio latency. But now there is movement also on the Android side with several music creation app developers porting their apps also on to Android, ie FL Studio, Caustic to name but a few.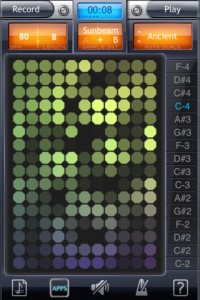 NOTE: We do not claim that this screenshot necessarily implies a poor music experience, it is for illustrative purposes only
All this is great in a sense but how much real music production is being done on these devices, sure there are bands and artists that claim that their entire new album has been done on a tablet, but seriously how many go beyond using them for leisure playing or perhaps inspirational journeys into the ambient worlds of many of these glossy and experimental tablet synthesizers. Of course in a studio environment you can hook these tablets up, attach necessary controllers and get it all in your DAW, but is it effective – will it actually transform how we create music, will it replace an acoustic guitar or piano to create a new tune or melody. As of right now it tends to be more an effects generator for adding cool sounds, ambient pads, chip sounds etc. To be honest music creation is much more than machines – in the end no song is better than the melody that forms the base of music creation – tablets will not change this.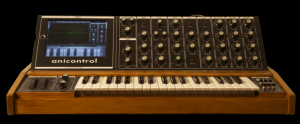 Just to be clear, we are not hardware fanatics in any way, most is done in a virtual studio environments. The question we ask, can tablets really take the jump from a toy or perhaps experimental control surfaces, to be effective tools in the music creation process. With crisp graphics and UIs you can run awesome looking vintage clones, like the iMS-20, but still comparing the feeling of twisting a virtual knob to a physical one – the sense of precision is not the same, sure you can hook it up to a keyboard and sure you can get a "real" KORG analog synth for the price of a couple of visits to Starbucks, but it is not the same as dealing with the real thing. But maybe this is good enough for a greater crowd and we have with tablets definitely pushed the envelope on what defines a music production environment. However, what can be seen now is that we only get more of the same – more ambient synths, more vintage clones, more cheap drum machines and sequencers, more experimental control surfaces and hybrid DAWs.
What will be the next step and will we ever take these guys below seriously


We sure do in one sense, but in another it still feels so 2012…
The Laptop Orchestra of Lake Forest Academy plays Radiohead's "Meeting in the Isle" as they open their Fall 2012 concert. 8 musicians play and project iPads on sound panels behind them while using a combination of apps including Animoog, iMS-20, iElectribe, Reactable, and Garageband.
Sound and science converge in Carsten Nicolai's installation work, which perform autonomously to embrace the tension inherent in accidents.
For more information:
http://thecreatorsproject.com/creators/carsten-nicolai
Electronic artist collective Machina has announced the MIDI Jacket – a wearable MIDI controller, being developed as a Kickstarter project.
The MIDI Jacket MJ v01 is designed to control digital music instruments, computers, and other devices. It allows users to control and make music kinetically (through body movements), through body sensors, and by detecting your acceleration and flexion.
The MIDI Jacket has multiple built-in controllers:
Four flexible sensors which can detect your finger's position
One accelerometer which can detect your arm's acceleration
A joystick
4 push buttons
All of these sensors and buttons can be configured by the user, but they come with presets and initial configurations. While the sensors are there, the jacket looks like a regular jacket, and can be worn under normal conditions.
Imagine being able to create music by using your body as an interface. Imagine being able to extend that jacket to make it work not only with music, but with whichever devices you have: A Kinect, an iPod, Nike Plus. We believe that the way we interact with our clothing is changing; clothing should not only be a way of covering your body while helping you get laid, our relationship with clothing should be much more than that: clothing should be an extension of our body, and we're using wearable technology to do that. 
We are working with the best musicians, DJ's and electronic artists worldwide to make this project a success. Our first product is the MIDI Controller Jacket. A MIDI (Musical Instrument Digital Interface) allows communication between digital music instruments, computers, and other devices (for example, using the jacket's sensors to send music notes to your DAW). It allows users to control and make music kinetically (through body movements), through body sensors, and by detecting your acceleration and flexion.
John Biggs interviews Mike Butera, Founder of Artiphon, onstage at CES 2013. Artiphon is a multi instrument that uses an iPhone as it's brain. This device can be a guitar, bass, violin, banjo, or drumpad.
An installation for used cassette players which looks on their obsolescence not as an ending, but as an opportunity to reconsider their functional potential. Superseded as playback devices, they become instruments in their own right. Replacing the prerecorded content of each tape with a microphone gives us the chance to listen instead to the rhythmic and resonant properties of these once ubiquitous plastic shells. Binatone Galaxy brings the framework within which a generation purchased their favourite records to the centre of attention, revealing the acoustics of the cassette and the voices of the machines themselves.
Science Fiction Children & Moritz Simon Geist live at CYNETART Dresden Hellerau 2012
The MR-808 is the first drum robot that reproduces the drum sounds of the 80s – in the real world! The robot installation MR-808 is a replica of the famous 1980s electronic drum machine TR-808 – with robots playing the drum sounds by Moritz Simon Geist.
—
Read on: sonicrobots.com/mr808-eng/
Artist Blog, Livedates: sciencefictionchildren.com
—
Instruments used:
MR-808 – mechanic sound robot (all drums, miced)
A mechanic relay controlled via arduino (bass sound)
Gameboy – Arduinoboy hardware (8 bit chiptune sound)
Everything was programmed in Ableton, only equing and compression has been applied.
—
Cameras: David Campesino, Konstantin Rinner hochkultur.com/
Music: Moritz Simon Geist
Production: Art Hustle
Background description below:
Here is a demonstration of a CV controller that I built. It is a simple pendulum with a magnet at the end. The magnets on the table can be moved and can either repel or attract the pendulum. More information can be found at www.artoftravelogue.com or more specifically here: http://artoftravelogue.blogspot.com/2012/02/magnetic-table-cv-controller.html
As falling sand interrupts the flow of a laser to a light-sensitive sensor (a photodetector), the circuit produces random oscillations of sound. It's the latest brilliant creation of the Dutch scientist Gijs Gieskes, the industrial designer-turned-musician whose inventions often center on some physical and mechanical apparatus. Just for good measure, the project is mounted to a clear frame so it can be fit to a Eurorack modular setup.