Making transmission with the mothership via the SOLAR SYNTH, the world's first handheld, solar-powered, synthesizer & theremin. Get yours only at chamberofsounds.com
This was commissioned by Jay Gambit, for use by noise collective Crowhurst.
It is a second generation pyramid synth in the style of the original designed by Pete Fowler, commissioned by XL Recordings for The Horrors. This unit contains a MFOS phaser and WSG.
More details here: www.nervoussquirrel.com/tronpyramid.html
Each synth contains a Sound Lab mark II, built from a circuit board sold by Music From Outer Space. This provides each synth with two very stable VCOs, a state variable VCF, two envelope generators, VCA, LFO, patchable sample and hold, white noise generator and an audio mixer.
There are plenty of switches and sockets for creative signal routing, and external inputs to process your microphone, guitar or electric ocarina. Control voltage inputs allow other synths and sequencers to control different parameters. Each pyramid also has a MFOS 8-stage phaser, built in speakers and 72 colour changing LEDs.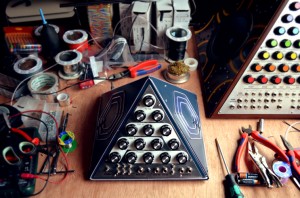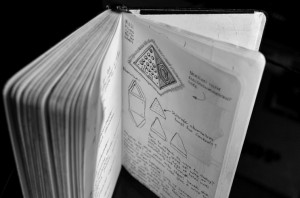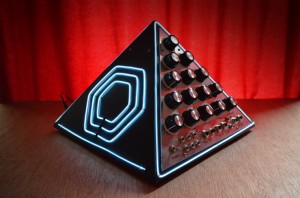 The Vo-96 can now be ordered on the Vo Inventions website, www.voinventions.com
An important moment in the development of Acoustic Synthesis. Learn how you can own a vo-96 Acoustic Synthesizer at http://www.kickstarter.com/projects/3…
The Vo-96 Acoustic Synthesizer is based on a key invention that enables accurate control of acoustic vibrations. I'm the inventor. My technology was behind the well-known Moog Guitar and the Moog lap steel — instruments based on the same key principle. Since then I've been advancing this invention towards its full potential. Now I'm going ahead with the Vo-96 Acoustic Synthesizer. It's my full 'inventor's version' product and will be produced by my design company Vo Inventions LLC.

The Vo-96 was never intended to be a retail type of product. It is a concept product that takes the technology to the max and demonstrates what's really possible with acoustic synthesis. It's the "inventor's cut" and it leaves nothing out — which makes it impractical to sell through the standard retail channels with their customary price mark-ups. Making the Vo-96 available through Kickstarter allows us to maximize the value to you and provide the most powerful product for the price; and there is simply nothing else available at any price that does what the Vo-96 does.

Our goal is to launch Acoustic Synthesis technology with a bang.  We want to put the most powerful instrument possible into the hands of as many forward-thinking guitarists as possible and listen to the new music you all create. This is where Kickstarter really shines! I'm thrilled to have found a way to offer the Vo-96 directly to you at the fairest price possible – about half what it would cost as a retail product!
This turntable based, free-time sequencer uses laser reflections to detect the distance of pegs as they pass by a camera and in turn trigger samples.
Programmed in Max/Msp, the PS3Eye camera calculates the distance of objects based on where the red dot reflection of the laser is on the y-axis of its lens. Up to 8 steps can be tracked reliably across the y-axis, with timing left completely free to the user to place pegs adhering to the visual grid or not.
Bonus Table 571 is a collaborative experiment in joining science, design and music. This project is part of Reclaim NYC's Collaboration show happening during NYCXDESIGN 2013.
Pure tones tuned to the natural resonant frequency of the wood result in vibrations, determined by the tabletop's size shape and density. The vibrations reveal a geometric pattern inherent to the wood.
The resonant pattern is etched away by an enzyme cocktail tailored to the molecular structure of the wood. This process is similar to acid-etching a metal plate, such as in printmaking. The difference is that this is based on a live process; using enzymes derived from forest floor microbes.
This piece is auto-collaborative, in that its design elements are defined by interactions between its components and their inherent properties: The dimensions and density of the materials determine it's resonant frequency which informs the pattern to be etched, and the makeup of the wood itself determines how deeply the enzymes etch into the wood.
Bonus Table 571 is a collaboration between Colleen & Eric Whiteley, Loe Hubbard scientist/bioengineer and Ben Cameron musician/sound designer.
Standuino π [pi] – mysterious drone synth (receiving MIDI clock from frauAngelico)
standuino.eu/musical-instruments/pi/
frauAngelico – drum synth with sequencer
standuino.eu/musical-instruments/frauangelico/
microGranny – granular sampler
standuino.eu/musical-instruments/microgranny/
buy: standuino.eu/buy-musical-instruments/
32″ touchscreen, sound, video