The Well-Sequenced Synthesizer is a series of sequencers that are designed to be physical interfaces to play with traditional music theory. The sequencers were created by Luisa Pereira, a research fellow at NYU?s Interactive Telecommunications Program. The Counterpointer, below, is a cross between an electronic arpeggiator and a baroque music rule book. It takes a melody input and responds with voices that follow the rules of counterpoint.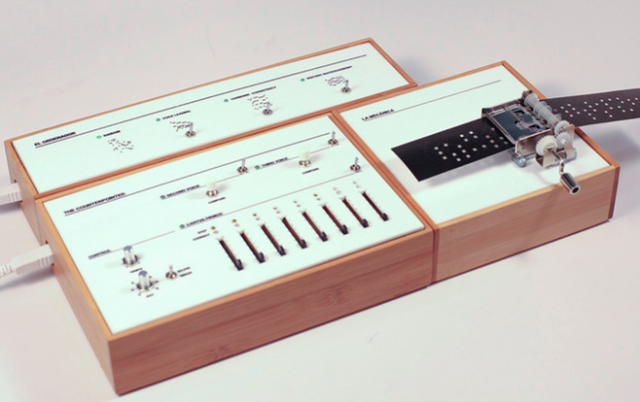 El Ordenador carves chaos into order by applying constraints to randomly generated chord progressions, inspired by the features of tonality described by Dmitri Tymoczko in A Geometry of Music
World's only collaborative, social, choreographic drum machine that also is a game. Can be found at Arlanda – Stockholm International Airport. If you're at terminal 5, don't miss this sonic sculpture/musical instrument/game. Programmed and built by Magnus Frenning, building assistance by David Wätte. Design and concept by Håkan Lidbo.
Big Beat is a collaboration with Swedavia and Stockholm Business Region and a part of the Stockholm Sound Project.
http://youtu.be/dj-LJQyGjls
Tom Zimmerman created Project: Autobahn, a generative music system that creates music based on an automobile's control sensors.
Background video info below:
Tom Zimmerman is one of my favorite hacker/inventors. With over 40 patents awarded, Tom's the creator of the legendary virtual reality navigation device, the Data Glove, and has written a number of fun DIY projects for MAKE magazine. We invited Tom to participate in the Boing Boing Ingenuity: Data Driven hack day on August 17, 2013, and his creation, called Project: Autobahn, was awarded our coveted "Weirdest Hack" prize. He took home a gift basket from our friends at SpikenzieLabs, and a pair of Audeze audiophile headphones.
Project: Autobahn uses OpenXC data as MIDI data to compose and play Kraftwerkian music that matches the driver's behavior. As Tom says in the video, the style of music the car generates could be used to provide feedback to the driver on how safely and efficiently she or he is operating the vehicle.
Paper circuit controlling a Doepfer A-152 sequencer, details below:
Hello ! My name is Frederic Gerchambeau. I have made this movie and this music. The music has been made using a Doepfer analog modular system including an A-152. Enjoy !
I am a (proud !) member of the french association PWM (Patch Work Music) :
http://patch-work-music.blogspot.com/
There are apparently sounds and music everywhere around us
Enjoy
Presenting the reveal of Diego Stocco: Sound Magician Part I. He's a Foley Artist, Sound Designer and all around guru of sound. Presented by DTS.
Follow DTS: https://www.facebook.com/DTS.Inc
https://twitter.com/dts_inc
Follow Diego Stocco: https://twitter.com/DiegoStocco
KORG Volca Beats can be synched to ext MIDI Clock Source (with clock, start & stop) or with an analog TTL clock source. On this video, three experiments: a) Volca Beats under KORG Z1 Arpeggiator's Clock (no start/stop transmitted); b) Volca Beats under TTL clock from Dark Time (no start/stop, no reset transmitted); c) Volca Beats under Gate 2 Out from Dark Time (start/stop extracted from analog gates, no reset). In all three cases, the internal Stutter delay time (in Volca Beats) is faithfully recalculated in real time at varying of external clock.
The theremin control voltage outputs can be used to play the synth in the background. The theremin is in fact an excellent PAiA Theremax, the same as used for the Badgermin. The owl rests on a sliding carriage, which can slide along four vertical bars fixed inside the log. When the motor is turned on a winch mechanism winds a length of sash cord, which loops over the top of a second pulley, which in turn lifts up the sliding carriage. When the carriage reaches the top, a limit switch is automatically pressed, switching off the motor. For the owl to descend, the owl activation switch is flipped once more, reversing the polarity of the motor, allowing the carriage to be lowered down onto another limit switch. The antennae disconnect for ease of transportation, and the lower half of the stand can be unbolted.
More details: www.nervoussquirrel.com/owltheremin
Showing at Devotion Gallery on August 2nd at 7pm in Brooklyn!
Along with past and present felt designs.
m.facebook.com/events/640142289329927/
areyoudevoted.com
Ryo Fujimoto is Beatboxer / Electronic Musician. His art is called " Humanelectro ". He controls effects with the right hand, the left hand is synth sounds on the spot.
The synth sounds is generated by voice and Beatboxing on the spot.
Ryo Fujimoto / Humanelectro
Technical details:
Leap Motion
GECO
Ableton Live 9
Focusrite Saffire Pro 24