)
MESSE 2014: Dualo Unique French Instrument Two keyboard hex machine records and plays
Created by Simon de Diesbach, Jonas Lacôte, Laura Perrenoud
Thanks to Andreas Gysin and Shiverland Productions
ECAL / University of Art and Design, Lausanne Switzerland
Bachelor Media & Interaction Design
Computer Orchestra is a crowdsourcing platform that allows users to create and conduct their own orchestra. They can choose to upload their own music or download samples to integrate into their formation. With a simple interface, they assign the chosen samples to each post. They can also arrange detection zones, that allow them to order the "musicians" to play, using various gestures. Once their orchestra is configured, they can direct it with the movements of their body.
Have a look at the full project on:
computer-orchestra.com
A Kinect detects the director's movements and transmits the data to Processing via the SimpleOpenNI library.
Processing then sends a signal to the corresponding computers via wifi. These then play the samples that are assigned to them and generate a visual derived from the outgoing sound.
In this manner, the 'musician-screens' not only send sound back to the director, but also visual feedback.
Pseudo multichannel personal autonomous sound installation with 10 panning spots
– 10 speakers
– optical relays
– arduino uno
– micro sd wav player
Moscow, 2014
more info and images – vtol.cc/filter/works/anywhere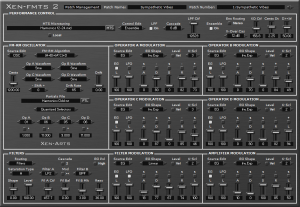 Xen-Arts has released Xen-FMTS 2, a 4-Operator FM Synthesis with a specialized set of features for computer musicians interested in exploring the expressive possibilities of making music with alternative intonation systems. It includes 115 patches, 55 microtunings and 56 partials files.
Microtuning:
Internally loads and externally receives both MTS (MIDI Tuning Standard) Bulk Dump and Single Note Microtuning Files.
Operator ratios can easily be set to values that are coincident with the microtuning being used, thereby producing intonation related sidebands in the timbre of the instrument.
Microtonal pitch-bend ranges may be configured in cents, harmonics and superparticular ratios.
Arbitrary microtonal pitch shifting makes it possible to easily pitch transpose the oscillators in both octave and non-octave increments.
FM-RM Oscillator:
4 Operator FM Synthesis with Ring-Modulation.
57 Operator Algorithms.
11 different Operator Waveforms.
Analog Pitch Drift Emulator.
Transposition by cents offsets.
Partials text files may be used to quantize the frequency ratios of the operators to user specified values.
Velocity-to-Harmonics Modulation enables oscillators to dynamically sound harmonics of the fundamental pitch.
Modulators:
Seven dedicated hybrid modulators for Operators A, B, C, D, Filters, Amplifier and Pitch.
Each modulator includes an ADSR style envelope generator, and an LFO which can be switched to run at audio-rate.
Each ADSR Envelope Generator features Per-Stage Keyboard Tracking.
LFOs can either be synchronized to the host DAW tempo or set in Hertz. They include 24 Waveforms, a Slewer and can be switched to run at audio-rate.
Filter Section:
Pre-Filter Saturation Stage with 20 Saturation Types.
Two Independent Filters with Six Filter Types: LP4, LP2, HPF, BPF, BRF, APF.
One and Two Stage Filter Cascade.
Performance Control:
Full controller MIDI Pitch Microtuning with MTS (MIDI Tuning Standard).
MTS Support for both Single Note and Bulk Dump.
Loads MTS Microtuning Format Files Internally and Receives MTS Externally.
Local (Per-Patch) and Global Microtuning (Static Microtuning for All Patches).
Microtunings can be loaded from any directory on hard drives or storage devices connected to the PC.
12 Note Polyphonic.
Monophonic Legato Mode.
Monophonic Portamento.
Microtonal Pitch Bend.
Vibrato.
Effects include Chorus, Lowpass Filter Cascade (Warm Filter) with 6 dB to 48 dB per-octave filters and Stereo Ensemble.
Price: Free.
Ototo is an all-in-one musical invention kit which allows you to make an instrument any way you want.
Ototo has got everything you need to make sound interactive: it's a synthesiser, it's got 12 onboard touch sensitive inputs and a range of different sensors which can be connected to 4 sensor inputs.
You can make sounds straight out of the box by touching the keys to trigger notes. By connecting conductive materials or objects to the keys on Ototo you can make them react to touch; turning anything you can imagine into an instrument. The keys on the Ototo are arranged like one octave of a musical keyboard. When you connect an object to a key using crocodile clips, you can trigger that note on your object.
Inspired by the calm, tranquil beauty of the forests, lakes and wide skies of their Swedish homeland, world-renowned design company Bolon is proud to launch their new collection, 'Silence'. Already known for their work with designers and architects such as Missoni, Paul Smith and Jean Nouvel, this launch features a creative collaboration of a different, yet equally exciting kind – with acclaimed choreographer Alexander Ekman. Famous for his modern interpretations of classic dance, his previous work includes projects with the Boston Ballet Company, Sydney Ballet Company, The Juiliard School and The Royal Swedish Ballet.
More here: bolon.com/silence
Instructions at http://littlebits.cc/projects/mountin…
This little guy has 2 mounting boards for a body. Just add littleBits and some sturdy legs to get him walking. Control his stride by adjusting the pulse and slide dimmers that connect to his servo-activated legs. Activate the sound and motion triggers and he will happily come over and greet you.
littleBits makes an open source library of electronic modules that snap together with magnets for prototyping, learning, and fun. Find out more at littleBits.cc
BIRL wind instrument prototype by Snyderphonics.
Development by Jeff Snyder and Danny J. Ryan.
A little explanation:
Super quick rough edit to show to some people I know, I'll edit a real demo together at some point.
It is designed to have a very basic wind instrument keying kind of like a recorder/flute/saxophone, with octave keys for the thumb. It lacks a lot of the special-purpose saxophone keys (i.e. the multiple pinky keys and whatnot).
The cool thing is that you can "train" it to use any fingering (within the limits of the physical keys) that you want. As in – put your fingers in some pattern and say "this should be an Eb" to the software. Then, you can store those as presets in the instrument and it will remember them and recall them. It's using a neural net to learn what you want.
The other neat feature is that I am trying to get a much better sense of embouchure. Right now it's in an early stage, but you can see it working in the video. You can put your mouth in some particular position (say, tightening your lips) and say "when I do this I want the sound to get buzzier". The neural net also learns these things. Then it creates an large space of possibilities – I'm trying to approach the wealth of sound and technique options that something like a saxophone has, so that you can really shape the tone and get microtones and squeals and fluttertongue and everything. The idea is that every new "training" you do will have a whole world of extended techniques alongside the expected behavior you have trained.
For synthesis, it's using some simple FM stuff and a physical modelling patch (which is amazing with it).
I'm working on a schedule to try and come out with it as a small-run product via a kickstarter campaign by the end of summer.
Let me know if you're interested and I'll put you on the list to get updates!
Jeff at snyderph

The next module by the Italian company Soundmachines might BLOW YOUR MIND in multiple kinds of ways…
With their latest announced module you will be able to control your modular (or your synth) with your brain.
The module is compatible with the battery-operated MindWave Mobile (by 
NeuroSky
) headset.
The Mindwave Mobile was chosen for its low cost and rather good EEG capabilities.
The headset is connected to the module via a Bluetooth link, so that NO wires are running from the modular to your head.
It features:
- Attention (focus) and Meditation macro states
- Variable smoothing
- EEG Raw signal with gate generation
8 EEG power spectrum bands:
- delta (0.5 – 2.75Hz)
- theta (3.5 – 6.75Hz)
- low-alpha (7.5 – 9.25Hz)
- high-alpha (10 – 11.75Hz)
- low-beta
- high-beta
- low-gamma
- high-gamma
- Planned MIDI expansion
- Configurable (midi-channel,cc, etc…) with included serial interface
Soundmachines is expecting to release this module around June 2014.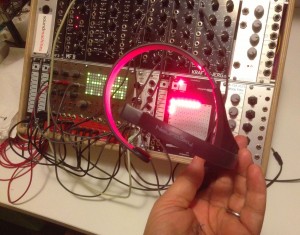 The Ototo is an experimental PCB-based synthesizer, created by design and invention studio Dentaku.
Ototo allows you to combine sensors, inputs and touchpads to create your own electronic musical instrument. Ototo is designed to let anyone unpack a kit and interact with sound however they want to, no soldering or coding required.
Features:
12 key capacitive touch keyboard (1 octave) with connectors
4 sensor inputs, 5V analog input
Onboard speaker and 3.5mm headphone output
Powered by 2 x AA batteries or micro USB
No coding required
128 Mbit Flash memory