November 14, 2014 · Posted in
Uncategorized
·
Comments Off

on The singing comet 67P/Churyumov-Gerasimenk
The Rosetta mission has detected a mysterious signal coming from Comet 67P/Churyumov-Gerasimenko.
The mission has five instruments in the Rosetta Plasma Consortium (RPC) that measure the plasma environment surrounding the comet.
Plasma is a charged gas and the RPC is tasked with understanding variations in the comet's activity, how 67P's jets of vapour and dust interacts with the solar wind and the dynamic structure of the comet's nucleus and coma.
But when recording signals in the 40-50 millihertz frequency range, the RPC scientists stumbled on a surprise — the comet was singing, they report.
Through some kind of interaction in the comet's environment, 67P's weak magnetic field seems to be oscillating at low frequencies. In an effort to better understand this unique 'song', mission scientists have increased the frequency 10,000 times to make it audible to the human ear.
First detected in August as Rosetta approached the comet from 100 kilometres, this magnetic oscillation has continued.
Rosetta scientists speculate that the oscillations may be driven by the ionisation of neutral particles from the comet's jets.
As they are released into space, they collide with high-energy particles from interplanetary space and become ionised. Because it is electrically charged, the plasma then interacts with the cometary magnetic field, causing oscillations. But to draw any conclusions about this, further work is needed.
"This is exciting because it is completely new to us," says Karl-Heinz Glaßmeier, head of Space Physics and Space Sensorics at the Technische Universität Braunschweig, Germany.
"We did not expect this and we are still working to understand the physics of what is happening."
Rosetta is currently lining up to deploy its robotic Philae lander to the comet at 20.00 AEDT.
During landing manoeuvers, the RPC is expected to help tracking Philae's descent to the comet's surface. The time between separation and landing is expected to take around seven hours.
It takes 28 minutes and 20 seconds for signals to travel at the speed of light from Rosetta to mission control in Germany.
November 6, 2014 · Posted in
Uncategorized
·
Comments Off

on Experimental: Yaybahar – the acoustic synth, kind of
Yaybahar is an electric-free, totally acoustic instrument designed by Gorkem Sen. The vibrations from the strings are transmitted via the coiled springs to the frame drums. These vibrations are turned into sound by the membranes which echo back and forth on the coiled springs. This results in an unique listening experience with an hypnotic surround sound.
What you hear in this performance is captured in realtime without any additional effects and with no post audio processing.
yaybahar.com
For contact: yaybaharcontact@gmail.com
Facebook: facebook.com/pages/Yaybahar/371861612976976?fref=ts
Youtube: youtu.be/45m0TkLpmQg
Soundcloud: soundcloud.com/gorkemsen/yayb…
Twitter: twitter.com/YAYBAHAR
Credits
————-
Instrument: Yaybahar
Performence: Görkem Şen
Video: Levent Bozkurt
Video Editing: Olgu Demir
Sound Mix: Mert Aksuna
Place: Alişler Yurdu
2014
November 2, 2014 · Posted in
Uncategorized
·
Comments Off

on Experimental: STEPSEQUENCER
It's not the music that triggers dance, it's the dance that creates music!
The challenge was to get the museum's visitors dancing. But music alone wouldn't make it for a spontaneous groove. Therefore, we turned the tables and invented the STEPSEQUENCER – a tool which is able to create sound and music out of human movements.
Sounds and beats are being created by the STEPSEQUENCER for as long as you interact with the exhibit's stations: a round floor-projected "instrument" and three physical tools on the side – one for jumping, one for twisting and one for seesawing.
The pads of the round floor projection are being activated by touch. If you mark a field with your hands or feet, a sound is resonating each time the rotating pointer hits the field. Depending on the marked pad's position, different sounds are arising, each of them variously combinable with others. Once the movements stop, the sounds will hush.
CREDITS
Concept / Design / Code:
Johannes Timpernagel, Ingolf Heinsch, Sebastian Huber, Robert Pohle – schnellebuntebilder.de
Sound:
Moritz Haberkorn – morast.at/
Productdesign:
Jan Bernstein – quadrature.co/
Exhibitiondesign:
büroberlin – bueroberlin.net/
Curation:
Colleen Schmitz
Artistic Consulting:
Prof. Dr. Axel Buether
– – –
TOOLS
VVVV – vvvv.org/
Ableton Live + Max for Live – ableton.com/
– – –
FOR
tanz! Wie wir uns und die Welt bewegen
Oktober 2013 – Juli 2014
– – –
CAMERA
Rosenpictures – rosenpictures.com/
DANCERS
Romy Schwarzer
Anna Till
October 11, 2014 · Posted in
Uncategorized
·
Comments Off

on Morpheme excerpt [Electric Indigo & Thomas Wagensommerer]
Excerpt of the a/v work Morpheme by Electric Indigo and Thomas Wagensommerer, original duration 28 minutes.
All sounds are derived from a 9 seconds long audio recording of one phrase:
"To let noise into the system is a kind of fine art in both cybernetic terms and in terms of making music, too." [Sadie Plant]
The source text is deconstructed and reassembled on a sonic, musical, linguistic and graphical level.
Morpheme can be performed as a multichannel audiovisual concert.
September 28, 2014 · Posted in
Uncategorized
·
Comments Off

on Meet the Techno-Collagist Who Turns Lasers and Human Limbs into Instruments: Sound Builders
Check out this video with interactive sound artist Adriano Clemente, who proceeds to turn Urbani's body into an analog instrument, details below:
After spending the last month feather dusting episodes from season one of Sound Builders, we're positively tickled to bring to you a fresh batch of sonic-bending episodes.
In this latest installment of Sound Builders we meet today's sonic artists who are pushing the audio experience to a whole new level by harnessing sound and technology to create their own instruments. Hosting this time around is singer, artist and frequent Blood Orange collaborator Samantha Urbani.
In episode one, we go to Bushwick to meet with Brooklyn-based, interactive sound artist Adriano Clemente. He's a DJ, hacker, gamer and music producer but to sum things up, we've dubbed him a techno-collagist. It's the most accurate description for Adriano, since he uses a multitude of existing technology and custom parts whose official purposes are hardly designed for making music.
We see this firsthand when our host Samantha had her arm turned into an analog instrument. With a medical sensor strapped to her forearm, Adriano was able to turn her muscle contractions into data to perform and compose music through the rarely explored art of biofeedback.
Adriano goes on to explore the relationship between body, sensors and sound by showing us how a piezo contact microphone can be used to transform any piece of backyard junk into a percussive and melodic instrument. Some people call it physical modeling synthesis but we just call it pretty much amazing.
Adriano's objective is clear: to create a new kinesthetic approach to sound design that totally flips our notion that music is made from a traditional instrument or from interfacing with your mouse, keyboard and screen. This kind of research in tactile, computer music embodiment is not only important for reimagining our conventional vision of an instrument, but also for cutting in half the frustration from wanting to perform in front of millions but having no idea how to play a single note.
To learn more about harnessing the power of music, also check out "The Distortion of Sound," a new documentary about the decline of high-fidelity sound: http://distortionofsound.com/
Check out more episodes of Sounder Builders: http://bit.ly/1qCzF9t
Follow MOTHERBOARD
Facebook: http://www.facebook.com/motherboardtv
Twitter: http://twitter.com/motherboard
Tumblr: http://motherboardtv.tumblr.com/
September 25, 2014 · Posted in
Uncategorized
·
Comments Off

on Experimental: Tristan Perich – Mind the Machine
Documentary on Tristan Perich, a visual artist and composer.
Film by: Russell Oliver
Camera: Canon C100
According to Perich, his work is inspired by the aesthetics of math, physics and code.
Perch's 1-Bit Music (2004) was the first album ever released as a microchip. 1-Bit Symphony is an electronic composition in five movements on a single microchip, enclosed in a CD case.
September 25, 2014 · Posted in
Uncategorized
·
Comments Off

on Ryuichi Sakamoto: Sensing Streams – invisible, inaudible

Among his eclectic array of projects, Ryuichi Sakamoto has recently made it his main concern to explore audiation, or the process of making audible, of data extracted from the environment. Daito Manabe (b.1976) is a media artist internationally acclaimed for his work, ranging from his experimental work using advanced technology to visualize data received from CERN (The European Organization for Nuclear Research), to producing visuals for the Japanese electro-pop group, Perfume.
Their first collaborative piece senses, visualizes, and makes audible electromagnetic waves, which are usually undetectable to the human senses. The piece focuses on the background role that electromagnetic waves play in technology that has become integral to modern society, manifested in mobile technology, inseparable from everyday life.
At the Moerenuma Park, visitors will find a large "High Resolution Large Display" (7.2 meters by 3.9 meters) and speakers in a brightly lit space, visualizing and making audible electromagnetic waves between 80MHz-5.2GHz that are captured in realtime by antennas set up in various places in the venue, which collect signals from cellphones, Wi-Fi, digital terrestrial broadcasting, and FM radio.
Additionally, the piece contrasts electromagnetic waves recorded at the Sapporo Ekimae-dori Underground Walkway (aka Chi-Ka-Ho) to show the notable difference time and place makes on the electromagnetic waves. As the audience changes the frequency with a turn of the dial-like interface in front of the screen, various electromagnetic waves will become visible on the screen simultaneously. Furthermore, the usage of cellphones or smartphones in the venue will alter the sound and image, reflecting the changing electromagnetism in the surrounding space.
The flow of electromagnetism is often forgotten, yet composes an indispensable infrastructure in our modern life, and the piece attempts to expose that. The installation also makes visible a kind of ecosystem, created by the active participation of audiences, that is simultaneously bound to a frequency range—a distributed territory—assigned to certain broadcasters or carriers.
At Chi-Ka-Ho, visitors will also be able to see an archived version of the video of the piece, along with one of the antennas used to capture electromagnetic data before the premiere of the installation.
September 6, 2014 · Posted in
Uncategorized
·
Comments Off

on Experimental: Sonic Robots – Glitch Robot
"Glitch Robot" is a robotic music instrument dedicated to glitch sounds. Sounds from the in-between of error and prediction, little sounds that are amplified, small sounds made big. The installation uses old hard disks, metallic tongues, relays and other mechanic devices to create sound textures that are used in electronic music – with robots!
Dates of release: Sept. 2014.
Crew: Moritz Simon Geist (Concept + Realization), Sebastian Piatza, Claudia Lill.
September 5, 2014 · Posted in
Uncategorized
·
Comments Off

on Reason Refill: Burst SFX – Thor & Combinator Presets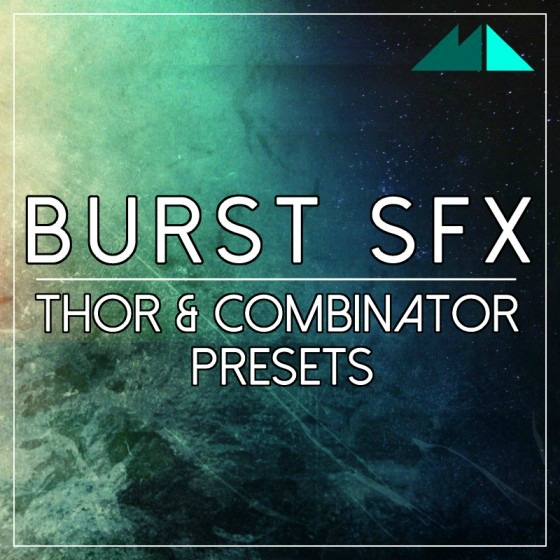 ModeAudio says that Burst SFX – Thor & Combinator Presets injects some serious SFX and sound design expertise straight into your Reason projects.
"With a wealth of sound types delivered in both Combinator and Thor formats, prepare for the sparks to fly across the dance floor! Featuring 40 precision-designed Thor presets and 15 Combinator patches, this release offers a wealth of SFX potential in the form of Explosions, Impacts, Falls, Risers, Sub Drops, Reverses, Bleeps and Accelerations. To cut a long story short, this is a devastating sonic collection of all types and flavours!"

Pack Details:
55 presets for Reason's Thor & Combinator instruments
sounds range from explosions, impacts and sub drops to risers, falls, reverses & more
all available macro controls assigned for maximum control
100% royalty-free
Pricing and Availability:
£12 / $19.75 / €15.02
September 1, 2014 · Posted in
Uncategorized
·
Comments Off

on Experimental: MIRRORS
MIRRORS 2014
Concrete, microphones, speakers
Infinite duration
Video documentation by Andrew Smith at SIGNAL, NYC
After learning about the existence of these curiously primitive and imposing pieces of outdated surveillance equipment, which are still standing along stretches of England's coast, artist Tim Bruniges recreated these interactive objects in a gallery setting. Earlier this year, in an exhibition called MIRRORS at Brooklyn's Signal gallery, Bruniges installed a pair of 9 by 9 foot sound mirrors that he constructed from wood and concrete with microphones embedded in their center. The sculptures faced each other to create an interactive sound experience for visitors to the cavernous gallery space.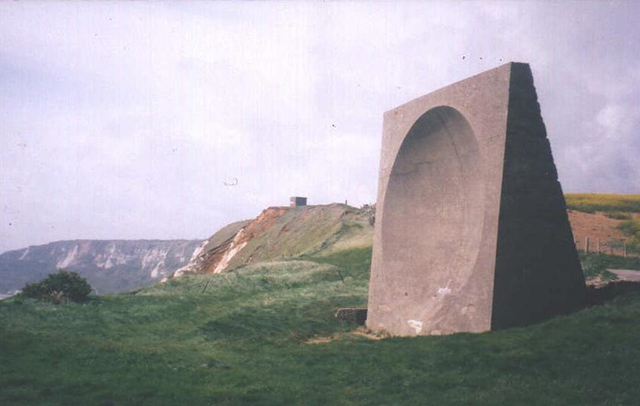 Before the invention of radar, the British military experimented with acoustic mirrors as a means of detecting approaching enemy aircrafts. Rather than displaying blips on a screen, these strategically placed parabolic monoliths simply reflected ambient noise from their concave surfaces, making it easier to discern far-off sounds, like the drone of an airplane's engine.