Machine Machine (2013) is a 32″ touchscreen installation that functions as an electronic instrument. Granular synthesis is used to loop "grains" of sound and video at variable lengths and frequencies. These parameters are based on the y-axis of the touch point on the monitor. The x-axis determines the position of the grain within the timeline. The piece was exhibited last month at the Northrup King Building in Minneapolis during Art-a-Whirl and for Visual Storage; the MCAD MFA thesis exhibition.
Within the piece there are five different segments that can be manipulated. Each segment provides the sound and visuals of a particular machine doing its job. These include a magnetic scrap crane, a train engine, a hydraulic metal cutter, tanker cars, and foot traffic. The video demonstrates some of the range and subtlety possible with the device.
See more at: http://audiocookbook.org/machine-mach…
Sonos Playground Deconstructed is a site-specific installation in the Nam June Paik / HBO Production Lab at the Museum of the Moving Image. It is presented in conjunction with the exhibition Spectacle: The Music Video, April 3–June 16, 2013
Visitors are able to select any song from an iPad and watch a visualization of the music projected onto the surrounding walls. Through motion-capture technology, visitors can interact with and manipulate the animation through movement.
The installation aims to bring minimalist art to life as an immersive music video environment. Inspired by the wall drawings of Sol LeWitt and the room-flooding sound of the Sonos Playbar, Sonos Playground was originally installed in a 250 sq. ft shed at the Sonos Studio at the 2013 SXSW festival. At Museum of the Moving Image, Sonos Playground Deconstructed has re-imagined the experience using five detached walls suspended above a reflective floor. Each of the walls has been painted with 27 1-inch wide white lines and 26 2-inch wide black lines. By mapping the white lines set between black lines we were able to create a more immersive and surreal environment.
Installation by Aramique, Red Paper Heart, Fake Love
Fabrication by 11th St Workshop.
Music by Gary Gunn.
Director of photography Sesse Lind.
Editor Nathan Punwar
If you could breed an Omnichord with a Stylophone you might end up with some of these babies….
Use combinations of the buttons to select a chord type (maj, min, 7, maj7, min7, dim, aug) and root note. The chord is then mapped across the pads, which you play with a wired stylus, sending output by MIDI.
This is an old idea of mine that I've now turned into an open hardware kit, so anyone can make one. The updated firmware has some new goodies like guitar open chord fingerings, chord variations (sus4, add6, add9), two channel lead + chord drone and control over velocity.
Kit is available for purchase on Tindie at https://www.tindie.com/products/hotch… and the firmware/hardware source code is on GitHub at https://github.com/hotchk155/Voici-Le…
Here's the SOLAR SYNTH in full sunlight, the shade & indoors. It's the mini synth for all seasons and never needs batteries or external power! Get yours only @ chamberofsounds.com
Marcomm pitch type description below:
Since the beginning of time, mankind has been trying to harness the sun's energy, and process it into something exponentially larger. Centuries later, in the year 2013, COS brings you, synthesis created entirely by the sun, handheld synthesis, that will never require a battery or external power of any kind, a sound device that will carry you through anywhere, even when the grid goes down, and the zombie apocalypse begins. Introducing the SOLAR SYNTH!
Harness the power of the sun and surroundings to generate ambient drones and cosmic waves. Tune the three oscillators at just the right frequency, and interact with nature. Flip on the photocell, and use light to filter the pulsating waves of sound. Communicate with animals and aliens alike, outdoors or indoors.
SOLAR SYNTH works with any incoming light, even surprisingly low levels, which makes for some tasty, power-starved sounds. The LED displays how much power your light source is generating.
Go green with the revolutionary SOLAR SYNTH, make batteries a thing of the past and experience the freedom of handheld synthesis. There'll only be a limited number of these beasts, so don't miss out.
Features:
• oscillators: 3
• power: 9V solar panel
• trigger: momentary-latching
• range: many, many octaves
• output: 1/4″
• function: to take your sound anywhere & interact with nature
Price: $225
Making transmission with the mothership via the SOLAR SYNTH, the world's first handheld, solar-powered, synthesizer & theremin. Get yours only at chamberofsounds.com
A modified patch/experiment from the Brain Seed Chronicles Page 10 "Funky Rhythm Generation"
This patch was a experiment to see how the Brain Seed could be used as an interesting random rhythm generator. The patch was clocked from one intellijel dixie then sent to the seed cycle input. The main analog percussion is being generated by using the "Seed" output going into the 1/volt CV inputs on a MakeNoise DPO, which is then running into one Optomix for fast attacks triggers. There is a second patch cable running into a MakeNoise Brains and two Pressure Points triggering the delay time/offset on a Synthesis Technology E580 Resampling mini-delay (BBD Mode). Feed back clocked/control from the K4815 Pattern Generator. Trigger out from the Brain Seed is running into a 4ms SCM with breakout V2. controlling the strike input on another Optomix making the white noise high-hats courtesy of the Steady State Fate Quantum Rainbow module. The Synthesis Technology E355 dual wavetable LFO output A is running into the shift input, adding in extra variations. One T-Gates output from one of the pressures points running back into the Freeze input. Master mix reverb was the eventide space pedal using the mix knob to wash out the end.

antimatteraudio.blogspot.com/
facebook.com/pages/Antimatter-Audio/438466496196801
note: no drum machine or computers here

This was commissioned by Jay Gambit, for use by noise collective Crowhurst.
It is a second generation pyramid synth in the style of the original designed by Pete Fowler, commissioned by XL Recordings for The Horrors. This unit contains a MFOS phaser and WSG.
More details here: www.nervoussquirrel.com/tronpyramid.html
Each synth contains a Sound Lab mark II, built from a circuit board sold by Music From Outer Space. This provides each synth with two very stable VCOs, a state variable VCF, two envelope generators, VCA, LFO, patchable sample and hold, white noise generator and an audio mixer.
There are plenty of switches and sockets for creative signal routing, and external inputs to process your microphone, guitar or electric ocarina. Control voltage inputs allow other synths and sequencers to control different parameters. Each pyramid also has a MFOS 8-stage phaser, built in speakers and 72 colour changing LEDs.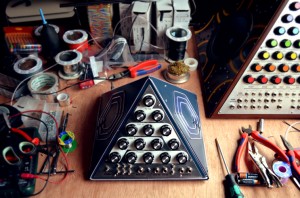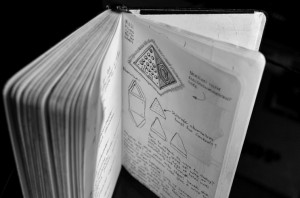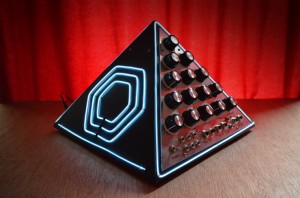 24-bit/96kHz Royalty-free Sound Design Collection
Kyma Ambiences is the third sound effects bundle created by Matteo Milani (U.S.O. Project). The generation of these "Artificial Reality Ambiences" starts entirely in Symbolic Sound Kyma – during the development of projectgenesismovie.com – from the processing of white and pink noise by filtering – in the time/spectral domains – and convolving these sources with custom FM, additive, formant and granular synthesis. The composition's resource of sound material is drawn solely from these processed stochastic sound elements: coloured noise is a raw material already full of life and can be sculpted into a variety of temporal forms, movements and textures. The interaction with Kyma was typical of a composer who explored a device's potential for sound transformation like a musical instrument. The goal was to obtain an organic and acoustic quality using only a restricted sound source, in order to evoke real spatial characteristics attached to each invented sound.
The sound effects collection will be released on May 25th @ 96kHz (native), plus publishing a budget version @ 48kHz (resampled). Kyma Ambiences is not only available in these two packages, but also as dual-layer separated "Elements", suitable for recombinant stratification, varispeed and spatial positioning in the surround field:
usoproject.blogspot.it/p/sfx-libraries.html
All of the audio files have been embedded with metadata for detailed and accurate searches in your asset management software.
As the previous libraries, loudness normalization helped me to match the gain of multiple sound files to the target level of -23 LUFS (tech.ebu.ch/loudness).
The Vo-96 can now be ordered on the Vo Inventions website, www.voinventions.com
An important moment in the development of Acoustic Synthesis. Learn how you can own a vo-96 Acoustic Synthesizer at http://www.kickstarter.com/projects/3…
The Vo-96 Acoustic Synthesizer is based on a key invention that enables accurate control of acoustic vibrations. I'm the inventor. My technology was behind the well-known Moog Guitar and the Moog lap steel — instruments based on the same key principle. Since then I've been advancing this invention towards its full potential. Now I'm going ahead with the Vo-96 Acoustic Synthesizer. It's my full 'inventor's version' product and will be produced by my design company Vo Inventions LLC.

The Vo-96 was never intended to be a retail type of product. It is a concept product that takes the technology to the max and demonstrates what's really possible with acoustic synthesis. It's the "inventor's cut" and it leaves nothing out — which makes it impractical to sell through the standard retail channels with their customary price mark-ups. Making the Vo-96 available through Kickstarter allows us to maximize the value to you and provide the most powerful product for the price; and there is simply nothing else available at any price that does what the Vo-96 does.

Our goal is to launch Acoustic Synthesis technology with a bang.  We want to put the most powerful instrument possible into the hands of as many forward-thinking guitarists as possible and listen to the new music you all create. This is where Kickstarter really shines! I'm thrilled to have found a way to offer the Vo-96 directly to you at the fairest price possible – about half what it would cost as a retail product!
No computers were harmed during making this video ;).
Making of vimeo.com/65763564
Short made for Retro Entertainment Days 15-16/06/2013 / CDQ / Warszawa (PL) – pixelheaven.pl.
Created by me

– hlawka.com
Music – thevirusempire.com
Creating the film wasn't an easy task. Preparations took well over 2 months of my free time. It is surprising, but no work was done using CGI, only good oldschool stopmotion animation and motion control slider provided by Ditogear.
Thx to: Lesny, Gajorro, Gumis, Fasola, Squoka, Radek, Ola – Janusz, Robert/ditogear, Robert/pixelheaven, Dzemik, Agata, Camel, Jake/the Virus Empire