Tuna knobs are control knobs that stick to any touchscreen and let you control DJ and music making apps like you would with dedicated music hardware. Tuna Knobs are designed to give you the tactile precision you need when making music, while giving you the versatility of mobile applications.
Making music is the passion of millions of people and nowadays it's possible to make music anywhere due to great apps and accessible tablets. However the downside of using a touchscreen is that you miss the authentic feel of twisting a knob on professional DJ gear. Tuna Knobs wants to bring back that feeling to the tablet so you can enjoy the mobility and versatility of your touchscreen with the precise and expressive experience of professional hardware. On top of that Tuna Knobs are small enough to take with you wherever you go so you can transform your tablet into a true DJ station anywhere.
We need your pledge to make these a reality!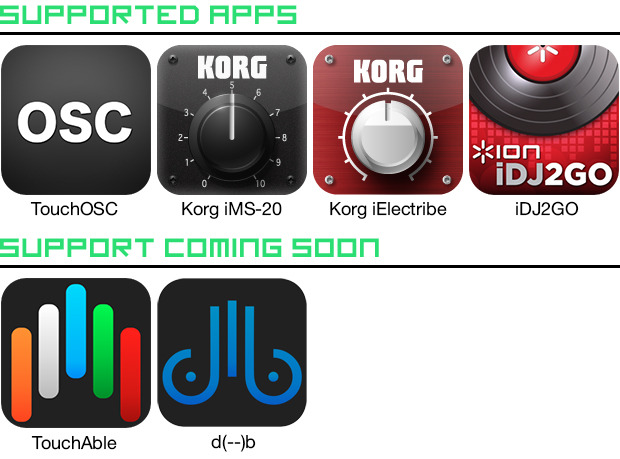 A Stylus in the shape of knob, with a small axis in the middle and a suction cup on the bottom. Made to control (music) apps with virtual knobs on every touchscreen device.
So Tuna Knobs stick to your touchscreen using a micro suction cup and translate a turning movement to a touch command. Simply stick them on your screen and you are ready to start twiddling away. Tuna Knobs use conductive rubber to translate turning a knobs into the right signal for your touchscreen, not dissimilar to how a stylus works.
Interactive installation commissioned by Mac Center for the 2014 Estéreo Picnic Festival in Bogotá Colombia.
The installation is a musical and visual instrument where eight users can make music and see the influence of audio waves on non Newtonian fluid placed inside the speakers.
Four iPads were used as user interface controlling 15 inches speakers working with frequencies of 160HZ, 80 Hz, 40 Hz and 31.5 Hz . Four other user interfaces were made using bare conductive paint to control 12 inches speakers working with harmonics of the dominant frequencies.
Creditos:
Concepto y desarrollo: Giancarlo Orsi ( Nisba )
Dirección de Arte: Tomás Méndez ( Elegante )
Producción: Nicolás Romero y Sandra Mejia ( Arbol Naranja )
Sound Design: Santiago Pineda y Santiago Uribe (Audiobit Studios)
Agencia: Arbol Naranja
Cliente: Mac Center
Festival Estéreo Picnic 2014. Bogotá Colombia.
Música : Dj Deekline & Ed Solo – Young ones.
Background video description:
I get pretty into playing the kettle here, didnt realise i was in the shot.
"This is not a kettle, it is a synth. It's a drone synth / sound machine with 3 oscillators, combined by 2 different methods of signal heterodyning to produce interstellar cosmic electronic sounds! This device makes some of the most analogue, yet raw sounds, I've ever made with any variations of this circuit! (my patented C493 circuit).

It has two light sensors (on each side of the kettle, towards the front) and two touch contacts on the top. Careful manipulation of these simple control methods yeilds vast and complex vistas of sonic anomalies. Wails like tuning old radios, bleeps like a gameboy, hums like a genuine analogue synthesizer; This drone synth has vast capabilities!"
gusli robot – russian folk bot,
portable electro-acoustic orchestra
more info – vtol.cc/filter/works/turbo-gusli
Youtube alias 'burnkit2600′ showing off his creation, the light sensitive TV Synth (aka Synthesizia 1) in its natural habitat and raw unprocessed glory. 
"Just a couple of play styles I've developed on top of a rugged TR-606 DFM groove"
necomimi brainwave ears were hacked to get raw data which is converted to control DIY robotic instruments with servo motors using Pure Data and max/msp.
more info – vtol.cc/filter/ws/string-theory
3rd International festival of media performances at "Platforma", Moscow 09-10.06.2014
Experimenting with radio frequency (RF) interference as an audio and control source for synthesis.
A MIDI controlled Necktie. This is accomplished by leveraging the Pinoccio Mesh Networking features and a Max4Live patch running on Ableton Live. More details in here:
http://mrbook.org/blog/2014/05/25/pin…
Imagine having a signature synthesizer sound that followed you around in the real world.
What if your sound could interact with others in a physical space?
What does it sound like flying around the room?
PollySynth combines simple UI with fun character design to virtually eliminate the learning curve associated with synthesizers and the technology involved.
PollySynth is a multiplayer polyphonic synthesizer created by Secret Feature.
Synthesizers are controlled by your smart phone, and visualized as members of the PollySynth gang. Spatial audio effects add to the fun as characters respond to the controls and parameters.
PollySynth is currently available as a location specific experience. For inquiries please contact info@pollysynth.com.
http://pollysynth.com
http://www.secretfeature.com
http://superdeux.com
http://brightspectrumfilm.com
PollySynth created by Ray McClure and Sebastien Roux Superdeux at Secret Feature
Video Directed by Joe Stillwater at Bright Spectrum
Interesting research from Disney Research at Carnegie Mellon University in Pittsburgh. It's a speaker that can be made by a 3D printer that can be created any shape. This is basically an electrostatic speaker using a thin conductive material and an electrode plate separated by a layer of air, but made via a 3D printer.
Read more: http://bobbyowsinski.blogspot.com/2014/05/the-3d-printed-loudspeaker-that-can.html#ixzz31lGs0ENu
Under Creative Commons License: Attribution
Link to project page & press release:http://www.disneyresearch.com/project…
We propose technology for designing and manufacturing interactive 3D printed speakers. With the proposed technology, sound reproduction can easily be integrated into various objects at the design stage and little assembly is required.