Available now from http://www.alphasphere.com/nexus-series
The interaction design of the 48 tactile pads allows sound to be triggered and manipulated with subtlety. Each pad is pressure and velocity sensitive and fully compatible with MIDI polyphonic aftertouch. The AlphaSphere is MIDI compatible, so you can use it in conjunction with all existing music production software. It is also OSC compatible and can be enabled as a controller for lighting and visual applications. Designed with musicality in mind, a series of logical notational arrangements can be mapped around the spherical hexagonal lattice form, representing a departure from linear musical convention. Explore the playing surface in combination with the accompanying software AlphaLive to unlock new musical ideas and your create own perfect ergonomic instrument. Enhance your musicianship.
See more architecture and design movies on dezeen.com/movies
In this exclusive video interview, musician Imogen Heap demonstrates the electronic gloves that allow people to interact with their computer remotely via hand gestures.
The interview was filmed at Heap's home studio outside London, shortly before she launched her Kickstarter campaign to produce a limited production run of the open-source Mi.Mu gloves.
"These beautiful gloves help me gesturally interact with my computer," says Heap, explaining how the wearable technology allows her to perform without having to interact with keyboards or control panels.
Pushing buttons and twiddling dials "is not very exciting for me or the audience," she says. "[Now] I can make music on the move, in the flow and more humanly, [and] more naturally engage with my computer software and technology."
Each gesture-control glove contains a wifi-enabled x-IMU board developed by x-IO Technologies containing an accelerometer, a magnetometer and a gyroscope.
These work together with a series of motion sensors incorporated into the fingers of each glove that track the degree of bend and the spread of the fingers. The gloves can also understand postures such as an open palm, a finger-point or a closed fist.
The latest version of the gloves feature e-textile technology, where sensors and wiring are integrated into fabric. Heap is now exploring how to make further use of electronically conducting textiles, to reduce the number of hard components in the gloves.
Heap says they will not just change performance, but the production of music too: "We really feel that they are going to change the way we make music."
Heap's Kickstarter campaign aims to raise £200,000 to develop and produce a limited production run of Mi.Mu gloves. If successful, she will make both the hardware and software open source, allowing people to develop their own uses for the technology. "It's really exciting to see what people might do by hacking them," said Heap. The Kickstarter campaign closes on 3 May 2014.
The music featured in this movie is Me, the Machine, a track that Heap wrote specifically to be performed using the gloves.
for more information about the technology in the gloves, read the edited transcript of our interview with Heap.
Dezeen and MINI Frontiers is a year-long collaboration with MINI exploring how design and technology are coming together to shape the future.
Mike Walters makes some experimental and  unique synth toys under the name Mystery Circuits.
Zenotron – Built for my friend Zeno in 2014. Case was built from an old modem, the "monitor" is a filmstrip viewer cut in half. Keys come from some toy piano with each key activating a tactile switch. Micro joystick (Parallax brand) controls arpeggio rate and waveform. Sound from Nebulophone clocks a 4017 based sequencer to blink the 88 LEDs mounted in a pipette box. 1/4″ output, 9VDC external power supply. www.mysterycircuits.com
Dmitry Morozov – a Russia media-artist, musician and 'engineer of strange-sounding mechanisms' – has created a new instrument that uses a tattoo for a score. Morozov creates experimental electronic music and advocates for circuit bending and DIY electronics in Russia, under the moniker ::vtol::.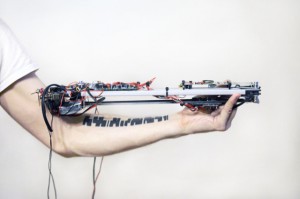 Here's what Morozov has to say about his instrument, 'Reading My Body':
this is a special instrument that combines human body and robotic system into a single entity, that is designed to automate creative process in an attempt to represent the artist and his instrument as a creative hybrid.
The device consists of a railing with comfortable hand holders and two parallel, but offset from each other black lines' sensors that move along the arm using a stepper motor. It is equipped with a 3-dimensional Wii remote controller that uses the OSC protocol in order to give a possibility of additional expression achieved by moving hand in space.
"The tattoo is designed to contain the maximum number of variable time slots between triggers. It is possible to manually control the velocity of sensors' movement, direction and step length, that altogether gives an infinite number of variations of reading patterns from hand," notes Morozov. "In addition, all control parameters and sensors' movements can be programmed to operate autonomously."
Technical details:
hand controller + Nord Modular G2 and Symbolic Sound Kyma X + OSCulator
black line sensors
stepper motor
arduino nano
wii remote
)
MESSE 2014: Dualo Unique French Instrument Two keyboard hex machine records and plays
Created by Simon de Diesbach, Jonas Lacôte, Laura Perrenoud
Thanks to Andreas Gysin and Shiverland Productions
ECAL / University of Art and Design, Lausanne Switzerland
Bachelor Media & Interaction Design
Computer Orchestra is a crowdsourcing platform that allows users to create and conduct their own orchestra. They can choose to upload their own music or download samples to integrate into their formation. With a simple interface, they assign the chosen samples to each post. They can also arrange detection zones, that allow them to order the "musicians" to play, using various gestures. Once their orchestra is configured, they can direct it with the movements of their body.
Have a look at the full project on:
computer-orchestra.com
A Kinect detects the director's movements and transmits the data to Processing via the SimpleOpenNI library.
Processing then sends a signal to the corresponding computers via wifi. These then play the samples that are assigned to them and generate a visual derived from the outgoing sound.
In this manner, the 'musician-screens' not only send sound back to the director, but also visual feedback.
Pseudo multichannel personal autonomous sound installation with 10 panning spots
– 10 speakers
– optical relays
– arduino uno
– micro sd wav player
Moscow, 2014
more info and images – vtol.cc/filter/works/anywhere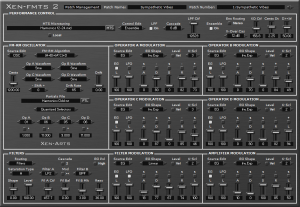 Xen-Arts has released Xen-FMTS 2, a 4-Operator FM Synthesis with a specialized set of features for computer musicians interested in exploring the expressive possibilities of making music with alternative intonation systems. It includes 115 patches, 55 microtunings and 56 partials files.
Microtuning:
Internally loads and externally receives both MTS (MIDI Tuning Standard) Bulk Dump and Single Note Microtuning Files.
Operator ratios can easily be set to values that are coincident with the microtuning being used, thereby producing intonation related sidebands in the timbre of the instrument.
Microtonal pitch-bend ranges may be configured in cents, harmonics and superparticular ratios.
Arbitrary microtonal pitch shifting makes it possible to easily pitch transpose the oscillators in both octave and non-octave increments.
FM-RM Oscillator:
4 Operator FM Synthesis with Ring-Modulation.
57 Operator Algorithms.
11 different Operator Waveforms.
Analog Pitch Drift Emulator.
Transposition by cents offsets.
Partials text files may be used to quantize the frequency ratios of the operators to user specified values.
Velocity-to-Harmonics Modulation enables oscillators to dynamically sound harmonics of the fundamental pitch.
Modulators:
Seven dedicated hybrid modulators for Operators A, B, C, D, Filters, Amplifier and Pitch.
Each modulator includes an ADSR style envelope generator, and an LFO which can be switched to run at audio-rate.
Each ADSR Envelope Generator features Per-Stage Keyboard Tracking.
LFOs can either be synchronized to the host DAW tempo or set in Hertz. They include 24 Waveforms, a Slewer and can be switched to run at audio-rate.
Filter Section:
Pre-Filter Saturation Stage with 20 Saturation Types.
Two Independent Filters with Six Filter Types: LP4, LP2, HPF, BPF, BRF, APF.
One and Two Stage Filter Cascade.
Performance Control:
Full controller MIDI Pitch Microtuning with MTS (MIDI Tuning Standard).
MTS Support for both Single Note and Bulk Dump.
Loads MTS Microtuning Format Files Internally and Receives MTS Externally.
Local (Per-Patch) and Global Microtuning (Static Microtuning for All Patches).
Microtunings can be loaded from any directory on hard drives or storage devices connected to the PC.
12 Note Polyphonic.
Monophonic Legato Mode.
Monophonic Portamento.
Microtonal Pitch Bend.
Vibrato.
Effects include Chorus, Lowpass Filter Cascade (Warm Filter) with 6 dB to 48 dB per-octave filters and Stereo Ensemble.
Price: Free.
Ototo is an all-in-one musical invention kit which allows you to make an instrument any way you want.
Ototo has got everything you need to make sound interactive: it's a synthesiser, it's got 12 onboard touch sensitive inputs and a range of different sensors which can be connected to 4 sensor inputs.
You can make sounds straight out of the box by touching the keys to trigger notes. By connecting conductive materials or objects to the keys on Ototo you can make them react to touch; turning anything you can imagine into an instrument. The keys on the Ototo are arranged like one octave of a musical keyboard. When you connect an object to a key using crocodile clips, you can trigger that note on your object.
Inspired by the calm, tranquil beauty of the forests, lakes and wide skies of their Swedish homeland, world-renowned design company Bolon is proud to launch their new collection, 'Silence'. Already known for their work with designers and architects such as Missoni, Paul Smith and Jean Nouvel, this launch features a creative collaboration of a different, yet equally exciting kind – with acclaimed choreographer Alexander Ekman. Famous for his modern interpretations of classic dance, his previous work includes projects with the Boston Ballet Company, Sydney Ballet Company, The Juiliard School and The Royal Swedish Ballet.
More here: bolon.com/silence