Syntablism is the art of using a turntable as a musical instrument to create and/or manipulate sound with a modular synthesizer.
Swiss artist Zimoun (previously) just unveiled a large installation inside the windows of the Museo d'Arte di Lugano in Switzerland. Titled 36 Ventilators, 4.7m3 Packing Chips, the kinetic artwork relies on large fans that perpetually blow clouds of packaging peanuts against the museum's broad windowframes. At night the effect is especially eye-popping as it appears the entire space is filled with a turbulent white sea. Via bitforms gallery:
Using simple and functional components, Zimoun builds architecturally-minded platforms of sound. Exploring mechanical rhythm and flow in prepared systems, his installations incorporate commonplace industrial objects. In an obsessive display of curiously collected material, these works articulate a tension between the orderly patterns of Modernism and the chaotic forces of life. Carrying an emotional depth, the acoustic hum of natural phenomena blends effortlessly with electric reverberation in Zimoun's minimalist constructions.
Another recent Zimoun piece is an installation at Orbital Garden in Bern using packaging paper and motorsthat similarly creates a water-like effect. (via Creative Applications which just launched a new print magazine,HOLO)
You can actually see sound waves as they travel through the air thanks to a clever photographic trick.
tumblr.com/follow/skunkbear
skunkbear.tumblr.com
Twitter:
@cadamole
@nprscience
Produced by Adam Cole
Hands shot by Meg Vogel
Schlieren images provided by Mike Hargather (http://infohost.nmt.edu/~mjh/people.html)
Amber Kates
Bobby Gold
J. W. Tang, A. Nicolle and J. Pantelic
MUSIC:
"Eileen" by Lee Rosevere
http://freemusicarchive.org/music/Lee…
Rubens' Tube is an awesome demo and here we take it to the next level with a two-dimensional 'Pyro Board'. This shows unique standing wave patters of sound in the box.
The pressure variations due to the sound waves affect the flow rate of flammable gas from the holes in the Pyro Board and therefore affect the height and colour of flames. This is interesting for visualizing standing wave patterns and simply awesome to watch when put to music. Thank you to Sune Nielsen and everyone at Aarhus for sharing this demonstration with me! And thanks for having me at your conference.
Music by Kevin MacLeod, www.Incompetech.com "Ice Flow"
Available now from http://www.alphasphere.com/nexus-series
The interaction design of the 48 tactile pads allows sound to be triggered and manipulated with subtlety. Each pad is pressure and velocity sensitive and fully compatible with MIDI polyphonic aftertouch. The AlphaSphere is MIDI compatible, so you can use it in conjunction with all existing music production software. It is also OSC compatible and can be enabled as a controller for lighting and visual applications. Designed with musicality in mind, a series of logical notational arrangements can be mapped around the spherical hexagonal lattice form, representing a departure from linear musical convention. Explore the playing surface in combination with the accompanying software AlphaLive to unlock new musical ideas and your create own perfect ergonomic instrument. Enhance your musicianship.
See more architecture and design movies on dezeen.com/movies
In this exclusive video interview, musician Imogen Heap demonstrates the electronic gloves that allow people to interact with their computer remotely via hand gestures.
The interview was filmed at Heap's home studio outside London, shortly before she launched her Kickstarter campaign to produce a limited production run of the open-source Mi.Mu gloves.
"These beautiful gloves help me gesturally interact with my computer," says Heap, explaining how the wearable technology allows her to perform without having to interact with keyboards or control panels.
Pushing buttons and twiddling dials "is not very exciting for me or the audience," she says. "[Now] I can make music on the move, in the flow and more humanly, [and] more naturally engage with my computer software and technology."
Each gesture-control glove contains a wifi-enabled x-IMU board developed by x-IO Technologies containing an accelerometer, a magnetometer and a gyroscope.
These work together with a series of motion sensors incorporated into the fingers of each glove that track the degree of bend and the spread of the fingers. The gloves can also understand postures such as an open palm, a finger-point or a closed fist.
The latest version of the gloves feature e-textile technology, where sensors and wiring are integrated into fabric. Heap is now exploring how to make further use of electronically conducting textiles, to reduce the number of hard components in the gloves.
Heap says they will not just change performance, but the production of music too: "We really feel that they are going to change the way we make music."
Heap's Kickstarter campaign aims to raise £200,000 to develop and produce a limited production run of Mi.Mu gloves. If successful, she will make both the hardware and software open source, allowing people to develop their own uses for the technology. "It's really exciting to see what people might do by hacking them," said Heap. The Kickstarter campaign closes on 3 May 2014.
The music featured in this movie is Me, the Machine, a track that Heap wrote specifically to be performed using the gloves.
for more information about the technology in the gloves, read the edited transcript of our interview with Heap.
Dezeen and MINI Frontiers is a year-long collaboration with MINI exploring how design and technology are coming together to shape the future.
Mike Walters makes some experimental and  unique synth toys under the name Mystery Circuits.
Zenotron – Built for my friend Zeno in 2014. Case was built from an old modem, the "monitor" is a filmstrip viewer cut in half. Keys come from some toy piano with each key activating a tactile switch. Micro joystick (Parallax brand) controls arpeggio rate and waveform. Sound from Nebulophone clocks a 4017 based sequencer to blink the 88 LEDs mounted in a pipette box. 1/4″ output, 9VDC external power supply. www.mysterycircuits.com
Dmitry Morozov – a Russia media-artist, musician and 'engineer of strange-sounding mechanisms' – has created a new instrument that uses a tattoo for a score. Morozov creates experimental electronic music and advocates for circuit bending and DIY electronics in Russia, under the moniker ::vtol::.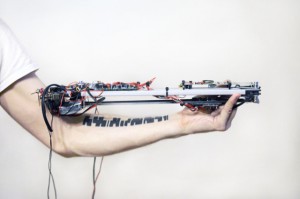 Here's what Morozov has to say about his instrument, 'Reading My Body':
this is a special instrument that combines human body and robotic system into a single entity, that is designed to automate creative process in an attempt to represent the artist and his instrument as a creative hybrid.
The device consists of a railing with comfortable hand holders and two parallel, but offset from each other black lines' sensors that move along the arm using a stepper motor. It is equipped with a 3-dimensional Wii remote controller that uses the OSC protocol in order to give a possibility of additional expression achieved by moving hand in space.
"The tattoo is designed to contain the maximum number of variable time slots between triggers. It is possible to manually control the velocity of sensors' movement, direction and step length, that altogether gives an infinite number of variations of reading patterns from hand," notes Morozov. "In addition, all control parameters and sensors' movements can be programmed to operate autonomously."
Technical details:
hand controller + Nord Modular G2 and Symbolic Sound Kyma X + OSCulator
black line sensors
stepper motor
arduino nano
wii remote
)
MESSE 2014: Dualo Unique French Instrument Two keyboard hex machine records and plays