Alexander Zolotov has introduced a new app, Nature – Oscillator, that lets you synthesize based on the world around you.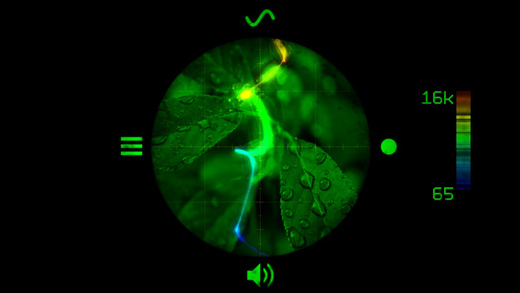 The world around us is an endless source of visual information, the flow of the fractal code of life. Nature – Oscillator is one of the attempts to translate this code to sound, using spectral synthesis algorithm of the Virtual ANS engine (software simulator of the unique Russian synthesizer ANS). The program continuously reads the image from the camera and interprets it as the spectrum of the sound.
soundmachines BI1brainterface Desktop Edition first video.
A simple introduction to the first commercially available mindwave to musical equipment interface. CV and MIDI outputs derived from your brain activity (EEG) and Attention and Meditation eSense ™ high level values.
The module has analog outputs (related to Meditation, Attention, 8 EEG bands and the RAW EEG signal) and 1 GATE signal (with a variable threshold). It will be programmable by the user (MIDI channel, cc, etc..) via a USB/serial cable.
More videos in the next days/week.
The product will be sold in early september, shipping end that month.
Music by Donics
electromagnetic phenomena transducer that makes use of bio and geo sensors to create a sonification (frequency) and visualization (cymatics) from different radiant energy inputs to allow for an interspecific prosthesis that could provide the basis for the creation of a new developmental synesthetic model of perception.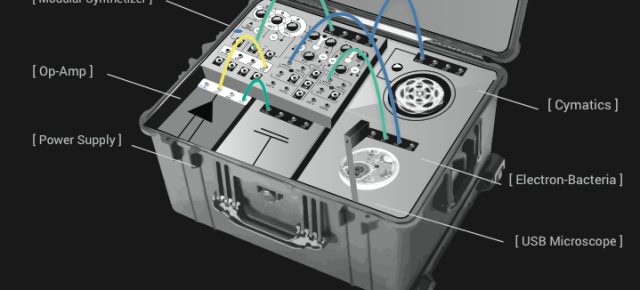 tinyTesla, a new Kickstarter project to fund a little MIDI Tesla coil kit that's designed to be easy to build.
tinyTesla is a desktop MIDI Tesla coil kit designed to be suitable for beginners or veterans in electronics. The project has blown past its $20,000 fundraising goal, with more than 10 times that amount already pledged. Backers can get a kit to build a MIDI tesla coil for about $150.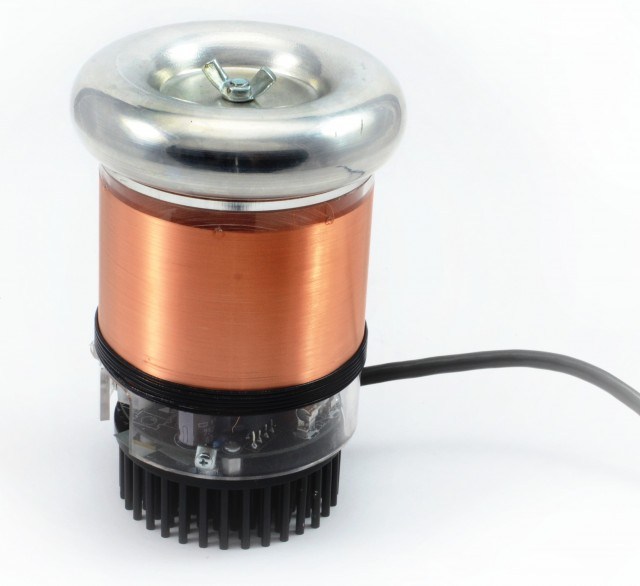 The Tesla coil's lightning heats up air and creates pressure waves that are audible as sound. The more times per second the lightning fires, the higher the pitch created.
Support us on Kickstarter: https://www.kickstarter.com/projects/…
tinyTesla is a desktop musical Tesla coil that fits in your hand.
We're also introducing oneTeslaTS, tinyTesla's big brother.
The music in this video was created through the movement of the dancers in front of a Kinect camera.This new interactive music experience is called Nagual Dance and will soon be available to public.
It works like that:
The Kinect tracks your movements and sends it in form of data to a computer. The software Nagual Dance translates this data into music. And this whole process happens in real time!
It works with one or two players.
Specific sound elements (instruments) are assigned to certain limbs of your body. What you play with it is totally up to you.
The music is created in Soundscapes (interactive music pieces), a new music format developed by Nagual Sounds. These Soundscapes exist in a variety of styles and offer you many options to create and vary musical elements.
This Soundscape is called Firedance.
The left player plays the drum elements.
He's got Percussions on his feet, Kick + Snare on his right hand and Hi-Hat + Shaker on his right hand.
The right player plays the melodies.
She's got chords on her right foot+percussive synths on her left foot, the bass on her right hand and a Pad + Leadon her left hand.
You can stream and download the track on our Soundcloud page:
https://soundcloud.com/nagualsounds/n…
Stay tuned:
https://www.facebook.com/Nagualsounds…
https://twitter.com/Nagualsounds
https://www.nagualsounds.com
Googlish:
It is a video that was broadcast on "in the classroom of Techne image" of NHK.
This is a video you want to test the hypothesis that sound rain that, or not than is made in the integrated sound of water droplets hit the thing.
http://tha.jp/4561
Tuna knobs are control knobs that stick to any touchscreen and let you control DJ and music making apps like you would with dedicated music hardware. Tuna Knobs are designed to give you the tactile precision you need when making music, while giving you the versatility of mobile applications.
Making music is the passion of millions of people and nowadays it's possible to make music anywhere due to great apps and accessible tablets. However the downside of using a touchscreen is that you miss the authentic feel of twisting a knob on professional DJ gear. Tuna Knobs wants to bring back that feeling to the tablet so you can enjoy the mobility and versatility of your touchscreen with the precise and expressive experience of professional hardware. On top of that Tuna Knobs are small enough to take with you wherever you go so you can transform your tablet into a true DJ station anywhere.
We need your pledge to make these a reality!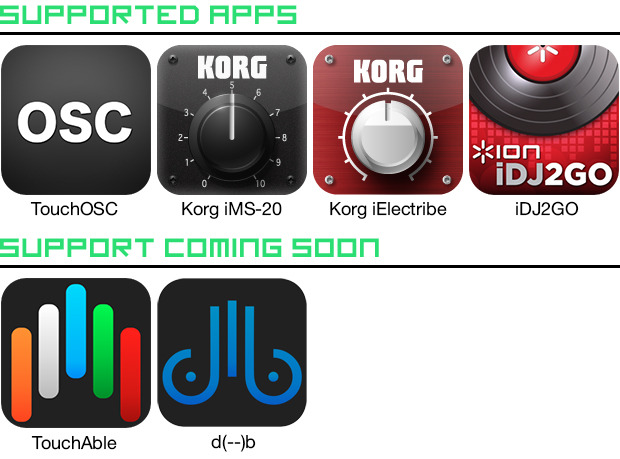 A Stylus in the shape of knob, with a small axis in the middle and a suction cup on the bottom. Made to control (music) apps with virtual knobs on every touchscreen device.
So Tuna Knobs stick to your touchscreen using a micro suction cup and translate a turning movement to a touch command. Simply stick them on your screen and you are ready to start twiddling away. Tuna Knobs use conductive rubber to translate turning a knobs into the right signal for your touchscreen, not dissimilar to how a stylus works.
Interactive installation commissioned by Mac Center for the 2014 Estéreo Picnic Festival in Bogotá Colombia.
The installation is a musical and visual instrument where eight users can make music and see the influence of audio waves on non Newtonian fluid placed inside the speakers.
Four iPads were used as user interface controlling 15 inches speakers working with frequencies of 160HZ, 80 Hz, 40 Hz and 31.5 Hz . Four other user interfaces were made using bare conductive paint to control 12 inches speakers working with harmonics of the dominant frequencies.
Creditos:
Concepto y desarrollo: Giancarlo Orsi ( Nisba )
Dirección de Arte: Tomás Méndez ( Elegante )
Producción: Nicolás Romero y Sandra Mejia ( Arbol Naranja )
Sound Design: Santiago Pineda y Santiago Uribe (Audiobit Studios)
Agencia: Arbol Naranja
Cliente: Mac Center
Festival Estéreo Picnic 2014. Bogotá Colombia.
Música : Dj Deekline & Ed Solo – Young ones.
Background video description:
I get pretty into playing the kettle here, didnt realise i was in the shot.
"This is not a kettle, it is a synth. It's a drone synth / sound machine with 3 oscillators, combined by 2 different methods of signal heterodyning to produce interstellar cosmic electronic sounds! This device makes some of the most analogue, yet raw sounds, I've ever made with any variations of this circuit! (my patented C493 circuit).

It has two light sensors (on each side of the kettle, towards the front) and two touch contacts on the top. Careful manipulation of these simple control methods yeilds vast and complex vistas of sonic anomalies. Wails like tuning old radios, bleeps like a gameboy, hums like a genuine analogue synthesizer; This drone synth has vast capabilities!"