The Hot Hand USB Wireless MIDI Controller bypasses traditional knobs and faders, allowing users to manipulate software parameters with wireless motion-control. Hot Hand USB delivers an entirely new method of dynamic control to DAW (digital audio workstations) or live-performance software like Ableton Live, Traktor, Reason, Serato DJ, and Logic/MainStage.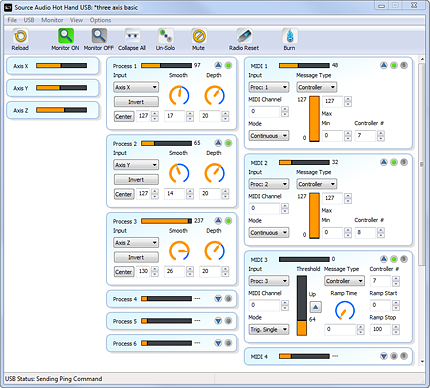 Wireless 3 axis motion sensor ring & USB receiver
Driverless USB MIDI operation for Windows/Mac
Rechargeable Lithium-ion battery for 6 hour usage time.
Capable of transmitting over 100 feet.
Works with any MIDI compatible audio software (Ableton, Reason, Logic, Traktor, etc).
This system allows for Nintendo gameplay audio to be played through an acoustic player piano and robotically controlled percussive instruments. The piano and percussion play live during actual gameplay, mirroring the sounds that would normally be created electronically. All audio, including music and sound effects, is translated in realtime so that it is produced by the instrument most closely resembling the characteristics of the original electronic sound.
Playlist:
0:00 – Mario
0:53 – Mario 2
2:59 – Mario 3
4:06 – Zelda
6:02 – Mario 2 (End Theme)
For those interested in the technical details, both the piano and the percussion use solenoids to drive their player mechanisms. The piano uses Yamaha's Disklavier system to strike keys, and the percussion uses a custom solution to strike the drum sticks. Both the piano and percussion are each controlled by Raspberry Pis which have custom software to control each instrument. The software is responsible for translating the gameplay audio to instructions which ultimately define which solenoid should be actuated. In full disclosure, there is normally a half-second audio delay that was removed in editing, but it's still very playable live. The piano is controlled through the Disklavier's MIDI interface, while the percussion's solenoids are directly controlled through the Pi's GPIO interface.
Experimental electro, enjoy
Designed to create and control sound, light and video, Crystall Ball gives all your computer-aided creative work a new dimension. More than a controller, it is an intuitive, interactive and infinitely customisable tool.
In a studio or live, let your senses speak and give free rein to your stage performance!
Small Footage of Yeahr7ght playing the Crystall Ball
More infos: http://www.crystall-ball.com
Music: Yeahr7ght – http://soundcloud.com/yeahr7ght
Film making: Charlie Mars
The Well-Sequenced Synthesizer is a series of sequencers that are designed to be physical interfaces to play with traditional music theory. The sequencers were created by Luisa Pereira, a research fellow at NYU?s Interactive Telecommunications Program. The Counterpointer, below, is a cross between an electronic arpeggiator and a baroque music rule book. It takes a melody input and responds with voices that follow the rules of counterpoint.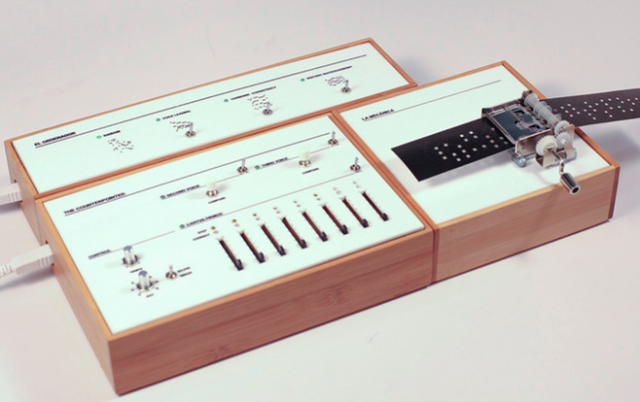 El Ordenador carves chaos into order by applying constraints to randomly generated chord progressions, inspired by the features of tonality described by Dmitri Tymoczko in A Geometry of Music
World's only collaborative, social, choreographic drum machine that also is a game. Can be found at Arlanda – Stockholm International Airport. If you're at terminal 5, don't miss this sonic sculpture/musical instrument/game. Programmed and built by Magnus Frenning, building assistance by David Wätte. Design and concept by Håkan Lidbo.
Big Beat is a collaboration with Swedavia and Stockholm Business Region and a part of the Stockholm Sound Project.
http://youtu.be/dj-LJQyGjls
Tom Zimmerman created Project: Autobahn, a generative music system that creates music based on an automobile's control sensors.
Background video info below:
Tom Zimmerman is one of my favorite hacker/inventors. With over 40 patents awarded, Tom's the creator of the legendary virtual reality navigation device, the Data Glove, and has written a number of fun DIY projects for MAKE magazine. We invited Tom to participate in the Boing Boing Ingenuity: Data Driven hack day on August 17, 2013, and his creation, called Project: Autobahn, was awarded our coveted "Weirdest Hack" prize. He took home a gift basket from our friends at SpikenzieLabs, and a pair of Audeze audiophile headphones.
Project: Autobahn uses OpenXC data as MIDI data to compose and play Kraftwerkian music that matches the driver's behavior. As Tom says in the video, the style of music the car generates could be used to provide feedback to the driver on how safely and efficiently she or he is operating the vehicle.
Paper circuit controlling a Doepfer A-152 sequencer, details below:
Hello ! My name is Frederic Gerchambeau. I have made this movie and this music. The music has been made using a Doepfer analog modular system including an A-152. Enjoy !
I am a (proud !) member of the french association PWM (Patch Work Music) :
http://patch-work-music.blogspot.com/
There are apparently sounds and music everywhere around us
Enjoy
Presenting the reveal of Diego Stocco: Sound Magician Part I. He's a Foley Artist, Sound Designer and all around guru of sound. Presented by DTS.
Follow DTS: https://www.facebook.com/DTS.Inc
https://twitter.com/dts_inc
Follow Diego Stocco: https://twitter.com/DiegoStocco