The accelerating oscillations of the washing machine spin cycle are mimicked with the Korg Monotribe. The dual speed setting on the LFO allows the performer to push the speed up into the audio range allowing for FM synthesis like textures. This piece was shown, along with similar work, at my MFA thesis exhibition in May 2013.
NOTE: This is a binaural recording mixed with a monophonic, analog, synthesizer performance. Please use headphones to experience the binaural effect. For more info please visit http://audiocookbook.org/duet-for-syn…
This is a binaural recording mixed with a monophonic, analog, synthesizer performance. Please use headphones to experience the binaural effect.
This video created by Caleb Coppock (vimeo.com/calebcoppock) illustrates the time scope (from dusk until dawn) of the "In Habit: Living Patterns" performance at Northern Spark, June 2012. The music for the video was composed by John Keston for the sixteenth and final vignette in the sequence titled, "Energy."
In the video I have focused on illustrating how one might use two iPad synthesizer apps and a hardware synthesizer together including Cassini, Sunrizer, and the MKS-80. The BS3X is used as both the iPad interface and MKS-80 controller. No computer is required, but a simple change of cable allows for a computer to be integrated into this setup because the MOTU UltraLite interface and standalone mixer has MIDI I/O. In other words two MIDI interfaces are still necessary with a computer, but prior to this experiment I was only using the BS3X as a controller for the MKS-80 and bypassing the class compliant USB MIDI interface functionality. Since the USB hub was required I also added the QuNexus to the setup. This was dedicated to feeding notes into the arpeggiator in Cassini. The keyboard controller was split so that in the low end I could play the MKS-80 effect then tweak it with the BS3X knobs and sliders as it decayed. In the upper end of the same keyboard I played a lead sound programmed in Sunrizer.
A sound installation that uses the Touch Board to create a 'scientific skin' that responds to touch with sound.
"In early 2013 Sabine Seymour of Moondial approached us and asked whether we'd be interested in developing a piece of work which could live for three months in Vienna's MAK Museum. We asked artist Fabio Antinori, designer Alicja Pytlewska to work with us to explore the relationship between interface, interaction, printing and sound. What we created was an interactive installation which invited visitors to approach and even touch three interactive screenprints. The output of the interaction was a generative soundscape which will continue to evolve as the piece is interacted with. The project was full of technical challenges whether it was pushing the Touch Board to work with 2M high sensors, large scale printing on Tyvek or most importantly, developing a graphical language that could tie the project together. Make sure to take a look at more photos of the installation here:
bareconductive.com/mak-fashion-lab-2-sci"
­entific-skin
Check out the Touch Board on Kickstarter!
kickstarter.com/projects/863853574/touch­-board-interactivity-everywhere
A new project, AUUG Motion Synth, explores the possibilities the iPhone and iPod touch, converting the devices into wearable motion-controlled instruments. Using it, you can control iOS synths, desktop music apps and even hardware.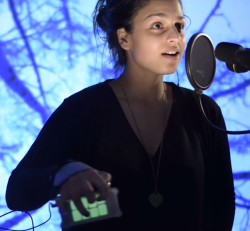 The platform is made up of three components:
The AUUG grip positions the screen of an iPhone or iPod touch to be played by the fingers and secures the device to the user's hand during motion: The AUUG app converts your iOS device's motion sensor data into signals for shaping sound, and transfers these signals to other iOS sound apps or external devices. The AUUG app does not produce its own sounds, but instead acts to control other iOS audio apps running on the same device (as well as external devices). The AUUG app can be installed on iPhones (4S and up) and iPod touch devices (5th generation and up). The AUUG cloud is online service at that allows AUUG app presets to be shared with other users, via your iPhone or iPod touch (no laptop or desktop needed).
Background video information:
Gravitation in Time (2013)
Composition for Orchestra, Robotic Instruments, Leap motion and Electronics
Composed by GayBird
Gravity Glock (robotic instrument) concept and design: GayBird, Thomas Ip
Engineering and programming: Thomas Ip
Gravity, as an ultimate natural force on Earth, people living there may easily neglect its presence, and not to mention to its influence in our seemingly ordinary everyday experience.
We are used to take such magical force for granted, however, the potential energy that it can generate is indeed powerful. My work – Gravitation in Time, is intended to draw our attention to such force again.
To perform this piece, I have custom-made two pieces of robotic instruments – Gravity Glock. They are activated by the gravitational force, and incorporate with mechanical engineering and electronic sound processing, to provide a breath-taking audio-visual experience to audience.
Musically, the constantly progressing serpentine melodies symbolised the state of unawareness presence of gravity. The piece is structured from scattered to polyphonic texture, and developed into an integrity ensemble of repetitive melodies, that demonstrated the weight of gravity in an abstract sense.
Great Violin Concertos – Iskandar Widjaja Plays Wieniawski
Presented by Hong Kong Sinfonietta
Date: 12 October, 2013
Venue: Concert Hall, Hong Kong City Hall
Experimental play with KORG Volca beats, bass, keys and Amazon Kindle ( using kindle's "Text to speech" function ) The text is from Volca bass's manual

The Hot Hand USB Wireless MIDI Controller bypasses traditional knobs and faders, allowing users to manipulate software parameters with wireless motion-control. Hot Hand USB delivers an entirely new method of dynamic control to DAW (digital audio workstations) or live-performance software like Ableton Live, Traktor, Reason, Serato DJ, and Logic/MainStage.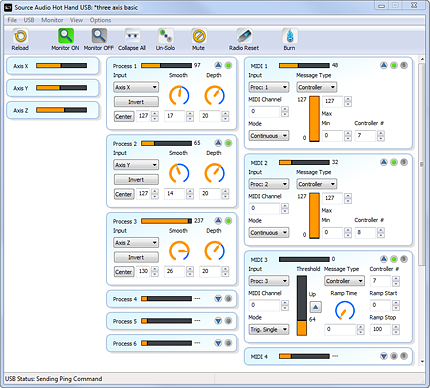 Wireless 3 axis motion sensor ring & USB receiver
Driverless USB MIDI operation for Windows/Mac
Rechargeable Lithium-ion battery for 6 hour usage time.
Capable of transmitting over 100 feet.
Works with any MIDI compatible audio software (Ableton, Reason, Logic, Traktor, etc).
This system allows for Nintendo gameplay audio to be played through an acoustic player piano and robotically controlled percussive instruments. The piano and percussion play live during actual gameplay, mirroring the sounds that would normally be created electronically. All audio, including music and sound effects, is translated in realtime so that it is produced by the instrument most closely resembling the characteristics of the original electronic sound.
Playlist:
0:00 – Mario
0:53 – Mario 2
2:59 – Mario 3
4:06 – Zelda
6:02 – Mario 2 (End Theme)
For those interested in the technical details, both the piano and the percussion use solenoids to drive their player mechanisms. The piano uses Yamaha's Disklavier system to strike keys, and the percussion uses a custom solution to strike the drum sticks. Both the piano and percussion are each controlled by Raspberry Pis which have custom software to control each instrument. The software is responsible for translating the gameplay audio to instructions which ultimately define which solenoid should be actuated. In full disclosure, there is normally a half-second audio delay that was removed in editing, but it's still very playable live. The piano is controlled through the Disklavier's MIDI interface, while the percussion's solenoids are directly controlled through the Pi's GPIO interface.
Experimental electro, enjoy
Designed to create and control sound, light and video, Crystall Ball gives all your computer-aided creative work a new dimension. More than a controller, it is an intuitive, interactive and infinitely customisable tool.
In a studio or live, let your senses speak and give free rein to your stage performance!
Small Footage of Yeahr7ght playing the Crystall Ball
More infos: http://www.crystall-ball.com
Music: Yeahr7ght – http://soundcloud.com/yeahr7ght
Film making: Charlie Mars
The Well-Sequenced Synthesizer is a series of sequencers that are designed to be physical interfaces to play with traditional music theory. The sequencers were created by Luisa Pereira, a research fellow at NYU?s Interactive Telecommunications Program. The Counterpointer, below, is a cross between an electronic arpeggiator and a baroque music rule book. It takes a melody input and responds with voices that follow the rules of counterpoint.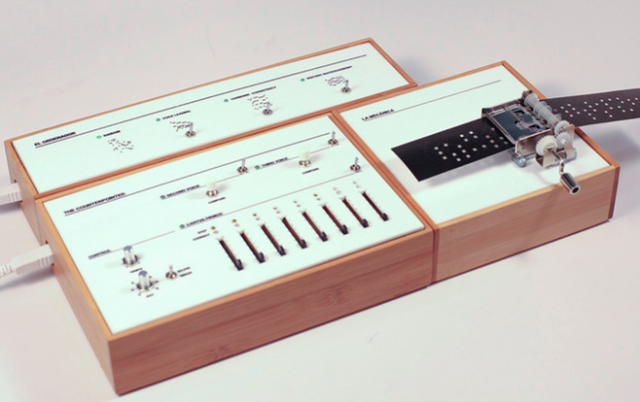 El Ordenador carves chaos into order by applying constraints to randomly generated chord progressions, inspired by the features of tonality described by Dmitri Tymoczko in A Geometry of Music