Looks pretty awesome

Can it be anything but German
My big question though, to all of you, does it really exist?? Check out there webpage >>
Here are the specifications:
Hardware Step Sequencer
8 Spuren a 8 Patterns mit jeweils 16 Steps
Jede Spur kann eigenen MIDI-Kanal (Eingabe, Ausgabe) haben
Interne Auflösung von 24 Pulses pro 1/4 Note (PPQN)
Aufnahme durch externe MIDI-Geräte
Externe und interne Synchronisation (Play, Stop, Resume, Clock)
Modifizieren der Sequenz während der Wiedergabe
Softwarekonzept Open-Source
Programmierung durch Arduino IDE
Basiert auf Atmel ATmega1280
USB-Schnittstelle zur Kommunikation mit dem PC/MAC
MIDI-Schnittstellen (MIDI-Eingang, MIDI-Ausgang)
28 Silikon-Buttons, 2 Rotary-Encoder mit Bestätigung und ein LC-Display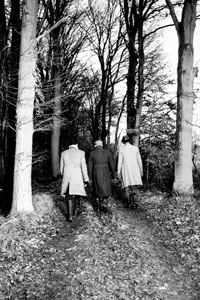 Photo by: Melissa Hostetler
The two German electro acts Apparat and Modeselektor joined forces back in 2002 and formed Moderat. An EP was released but then they disappeared, until now that is.
Their self titled album is out now on BPitch Control and its available both on CD, vinyl and a CD + DVD package with visuals from Pfadfinderei. Also the single "Rusty Nails", including a remix from Booka Shade, recently saw the light of day
Moderat
[youtube=http://www.youtube.com/watch?v=K9-UByFZ8uQ]

June 5 marks the release of the new album "Anonymous" from German old school EBM veterans Tyske Ludder. The first edition comes as a numbered digibox including special packaging, poster booklet, signed autograph card and a metal pin.
[youtube=http://www.youtube.com/watch?v=EJqUxybSxqw]
IIn the beginning of the 90s Tyske Ludder set the course for their work as pioneers in the european E:B:M and Darc-Electro scene. Coming up from the Wave- and New-Romantic scene they developed very early their meditations on the predominance of technology in our society. Nightmarelike visions of the then-raging war in Yugoslavia as well as the recurring military enforcement of the United States' claim for world domination represent the other thematic constant in the work of the German Whore. Through the years their musical model developed from heavy Electro-Sounds to some kind of ominous dance music somwhere between Industrial and the aroma of a nuclear blast.
In a unique melting procedure the band around vocalist Albert-X was again and again able to produce avant-industrial dimensions of sound which very often divided the followers into two enemy camps. That is how altogether three album originated in the mid 90s.
The scarce live gigs of the four electro-activists constitute the third column of the concept of Tyske Ludder.
At the beginning of our new millennium it has become very calm around Tyske Ludder. Disagreement on the further development of the band's musical blueprint and colliding conflicts of interest made this step necessary.
In 2004 the band started working on new material and in the same year they were back on stage. Since November 2005 T.L belongs to the blackrain-family and released their new album "Sojus" the fans watched out for a long time. The limited first edition, including a bonusmaterial disc, was sold out after a few days.
The band will offer the new album at Wave Gotik Treffen, where they also will perform live. Summer Darkness in The Netherlands and M'era Luna in Germany are two other stops ahead.