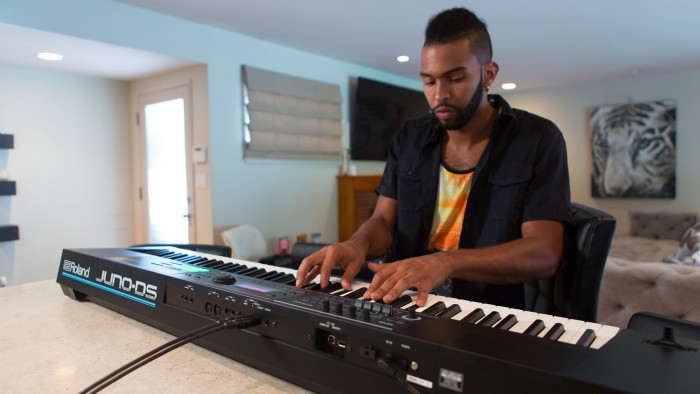 Roland has introduced the JUNO-DS Synthesizer, a powerful and versatile keyboard for performing and recording musicians.
This latest evolution of the popular JUNO series delivers many enhancements over previous generations, including improved pianos, additional organ sounds, waveform expansion capability, Phrase Pads, new vocal effects and more. Along with a 61-key model, the JUNO-DS is also available in a weighted-action version with 88 keys to complement the expressive new piano sounds.

Relied on by players around the world, Roland's JUNO synths are known for their high-quality sounds, intuitive operation, portability and exceptional value. The JUNO-DS takes the iconic series to a new level, offering many feature updates for performing keyboardists. Lightweight and mobile, the instrument is packed with great Roland sounds for any musical style. And with battery or AC operation, users have the flexibility to play anywhere their music takes them.
JUNO-DS features
Gig-ready instrument with pro sounds, enhanced performance features, and battery-powered operation.
88-note Ivory Feel-G Keyboard provides weighted-action feel in a lightweight design that's easy to transport.
Includes all the sounds from the popular JUNO-Di, plus newly updated acoustic and electric pianos, additional organs, and other stage essentials.
Wave expansion slot enables users to download new sound waveforms, available for free at Roland's Axial website.
Sample import function for playing user WAV files on the JUNO-DS88's keyboard.
Easy sound manipulation and editing with hands-on knobs and sliders.
Eight Phrase Pads for triggering samples and audio songs stored on USB memory.
Mic input and dedicated Reverb, Vocoder, and Auto Pitch effects for impressive vocal performances.
Intuitive eight-track pattern sequencer with non-stop recording for quickly developing song ideas.
USB audio/MIDI and DAW Control mode.
The JUNO-DS61 and JUNO-DS88 will be available by the end of October, 2015, priced at £549 GBP and £799 GBP respectively.
Whether you're working on a song idea in your room, recording a track in the studio, or playing a gig on stage, the lightweight JUNO-DS61/JUNO-DS88 synthesizers will inspire creativity and take your music wherever you go. Singer/songwriter Aquile and his band give you a glimpse of just that in this short clip.
For more details about
JUNO-DS88: http://www.roland.com/products/juno-d…
JUNO-DS61: http://www.roland.com/products/juno-d…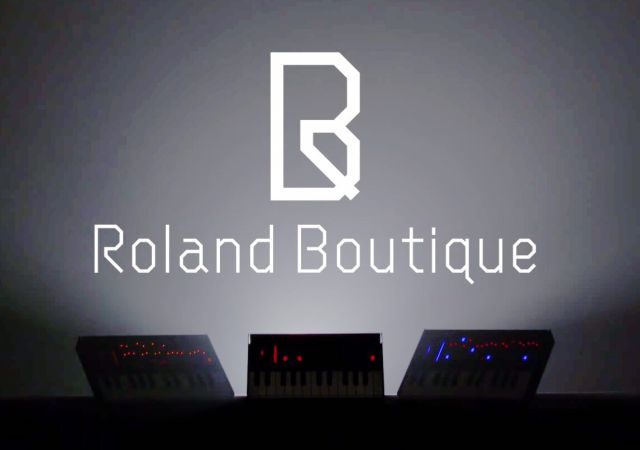 The classic Alpha Juno-2 is often used for its "hoovers" and other hard dance sounds. But there's also a gentler, ambient side. This video explores that side, using an old faithful – the MidiVerb II – for the reverberations.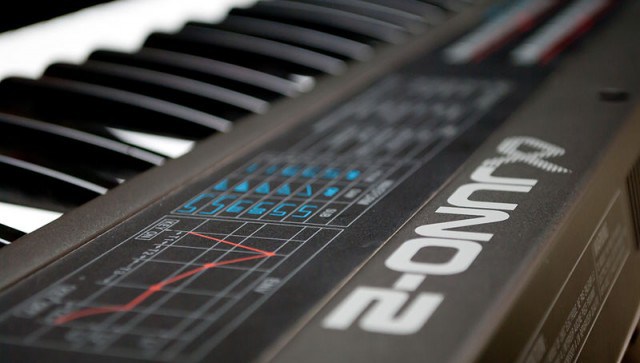 Alpha Editor – an editor and patch library app for the Roland Alpha Juno synthesizer family. Alpha Editor provides direct access to all of the Alpha Juno's patch parameters, through a clear and reactive touch based interface.
Alpha Editor is a MIDI based app; it uses MIDI to communicate with your Alpha Juno. In order to do so, it requires a coreMIDI compatible adaptor or a connection to a Mac or PC that provides MIDI capabilities.
Features:
Create, edit, manage and save Alpha Juno patches on your iPad
Organize your patches into banks
Load patches from the Alpha Editor to your Alpha Juno
Load the current patch from your Alpha Juno to the Alpha Editor
Create random patches
Ships with 5 banks (320 patches) of presets
Note: Alpha Editor is compatible with the Roland Alpha Juno 1 & 2, MKS-50 and HS-80. It is intended to only be used in conjunction with one of these synthesisers: it does not double as a generic MIDI controller and it does not produce any sound by itself.
Alpha Editor is available for US $6.99 in the App Store.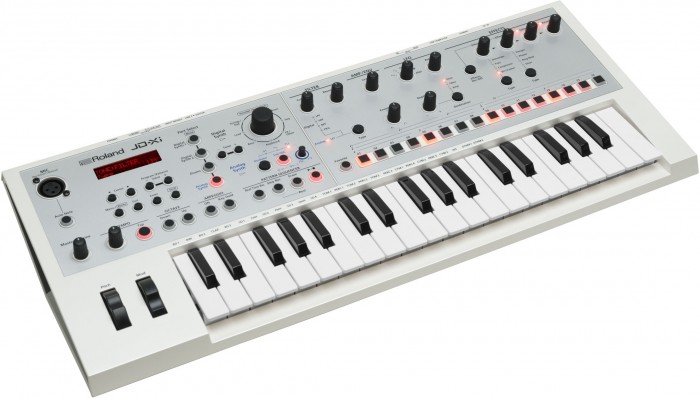 Roland has announced the release of a limited edition white color JD-Xi, the analog/digital crossover synthesizer.
Now available in an all-white body while supplies last, the compact JD-Xi keyboard is powerful, versatile and fun. Equipped with 37 mini keys, the JD-Xi features a true analog synth engine along with a wide selection of Roland's acclaimed SuperNATURAL digital sounds. This affordable instrument also comes packed with many extras for self-contained music creation, including built-in drum kits, a four-track pattern sequencer, and a gooseneck mic for using the synth's Vocoder and AutoPitch effects.
The JD-Xi has become one of the best selling synthesizers on the market in the U.S. by offering a unique crossover sound engine with the warm, smooth response of classic analog, and the clarity and versatility of modern digital. Players can enjoy fat, warm analog bass and lead tones with ample controls for hands-on tweaking, plus polyphonic PCM essentials like electric piano, brass, guitar, and many others – all in one keyboard.
A look inside the Roland JD-XA crossover synthesizer.
The JD-XA is a unique crossover synth that brings together analog warmth and digital versatility in one super-creative, no- compromise instrument. First, there's a four-part, all-analog monster with true analog filters and a direct dry output. Next up is a four-part digital engine powered by Roland's SuperNATURAL synth technology, plus an impressive selection of potent effects.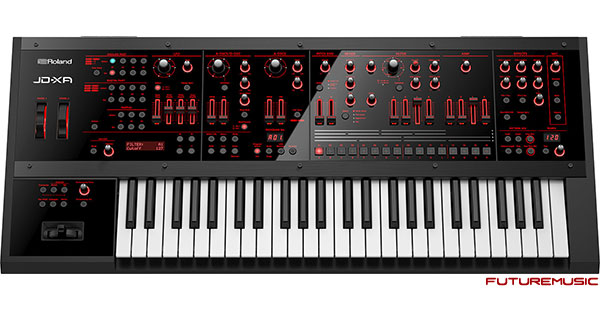 The JD-XA's engines can be used independently or interactively, providing an incredibly flexible platform for sound design, studio work, and live performance. Use the analog and digital parts side by side, stack them up for total sonic devastation, or shape digital waveforms via the analog filters to create sounds never heard before. With the JD-XA, you can forget about analog or digital—just close your eyes, imagine how the future sounds, and start creating music.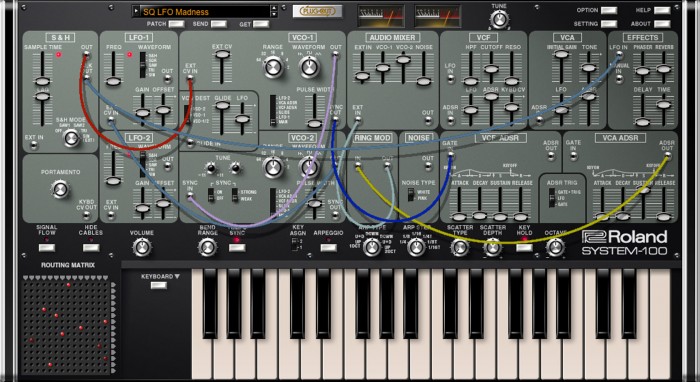 Roland has announced the release of the SYSTEM-100 PLUG-OUT Software Synthesizer, a modern reproduction of the now-legendary semi-modular monosynth from 1975.
It integrates the features of the original Model 101 Synthesizer and Model 102 Expander units, resulting in an incredibly fat and uniquely versatile two oscillator monosynth with modular routing capabilities.

Designed for SYSTEM-1 and 1m as well as Mac and PC hosts, the new SYSTEM-100 uses Analog Circuit Behavior to faithfully recreate every detail of the warm, expansive sound of the original, with a level of authenticity that can only come from Roland.
SYSTEM-100 PLUG-OUT features
Perfect replica of SYSTEM-100 sound and behavior.
ACB provides expansive, liquid tone of the original.
Model 101 Synthesizer and Model 102 Expander in a single instrument.
Sophisticated architecture with dual VCO, dual LFO, S&H, Ring Mod, Noise and more.
Versatile semi-modular patching capabilities.
Integrated Phaser with modulation inputs, Reverb and Delay.
Advanced arpeggiator with Scatter capabilities.
VST, AU and PLUG-OUT compatible.
The SYSTEM-100 PLUG-OUT Software Synthesizer is available for purchase for 175 EUR. SYSTEM-1 and SYSTEM-1m owners receive a discounted price by logging into their account.
The JX-8P is a decent analog polysynth. It has 6 voices of polyphony, great MIDI implementation and patch storage as well as an external memory cartridge slot. Though it is far more advanced than its predecessor, the JX-3P, the JX-8P has its drawbacks. Hands-on programming is sacrificed and reduced to assigning the parameter you want to tweak to a data-slider near the pitch/mod bender. Enter the PG-800 controller which gives you total control of all the JX-8P's editable parameters with hands-on traditional slider control. Membrane buttons dominate the front panel of the JX-8P providing access to the various preset and user patches and to page through and assign editable parameters.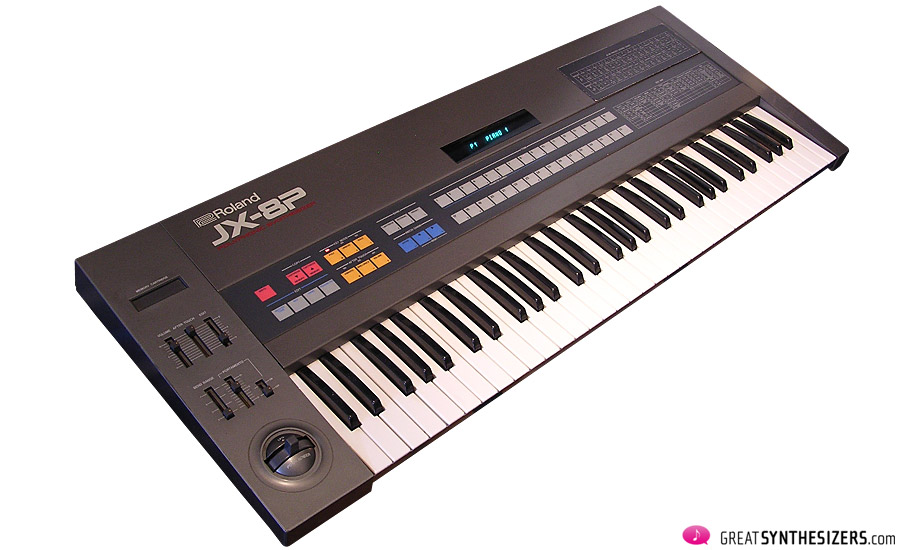 Professional features can still be found under the hood of the JX-8P. Its 61 note keyboard is velocity and aftertouch sensitive. Just like the Juno synthesizers it uses DCO's for a very stable system, however its sounds are a little thin and bright. It also features portamento, unsion and solo (monosynth) performance modes.
Background video description:
All video and audio content by G-Strom Electro c.2015
http://gstormelectronica.blogspot.com/
JX-8P bank #1 with 30 original patches are now available on my blog. The bank includes all the sounds from demo part I and II. Be sure to backup your own patches safely before loading mine.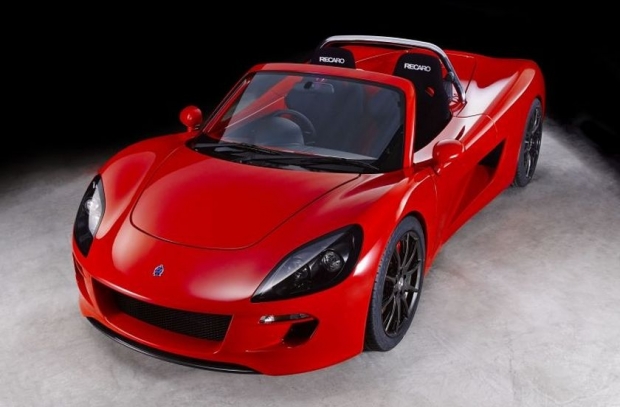 Interesting times indeed

Roland's SuperNATURAL synth engine is going to be providing the sounds for the new ZZ electric sports car from vehicle manufacturer GLM
Read the PR below:
Roland Corporation and GLM Co., Ltd., have announced an agreement to co-develop a neo-futuristic driving sound generation system for GLM's electric sports car. In this unprecedented collaboration between the world's leading electronic musical instrument maker and the manufacturer of Japan's first mass-marketed electric sports car, the driving sound system will be designed using Roland's renowned SuperNATURAL® synthesizer technology.
Herbie Hancock, Jimmy Page, George Duke and many more of the world's most talented musicians have relied on Roland synthesizers to create music. The new driving sound system for GLM's ZZ model will use this same professional synthesizer technology to produce sonically rich, studio-quality sounds. In addition to refined sound quality, the system will have the ability to change with each driver's real-time driving experiences. GLM and Roland are committed to creating a driving sound generation system that provides a one-of-a-kind driving experience that rivals anything currently on the market.
Roland's innovative SuperNATURAL* synthesizer technology will power the ZZ model's sound generation system with dynamic and dramatic sounds that seamlessly change depending on real-time driving situations like acceleration, deceleration, and motor load variances on sloping roads. This exclusive technology is based on responsiveness, which is especially important when recreating the subtleties of acoustic musical instruments electronically. That same technology will be used to create ingenious neo-futuristic sounds that will give sports car enthusiasts the experience of driving a space ship on the road. Electric sports cars are more popular now than ever, and as environmental concerns escalate, some drivers are learning to appreciate quieter electric engines. Driving sounds are still crucial for many, however ­– especially drivers of high-performance vehicles and those who want to have a fun and fulfilling driving experience.
For decades, the industry standard for reproducing the sound of traditional musical instruments was PCM sampling. The challenge with sampling is that most acoustic instruments respond differently to how hard they are struck, blown or bowed – most acoustic instruments grow brighter as they get louder, for example. By meticulously modeling the subtle characteristics and responsiveness of acoustic instrument sounds, Roland was able to create the most realistic electronic music sounds. Roland's SuperNATURAL technology makes it possible to recreate these nuances electronically, and will be used to create the best driving sounds possible in the electric sports car.
Main features of the Roland sound generation system:
Generates driving sounds depending on the driving situation (e.g. acceleration, deceleration, and motor load variances)
Roland's acclaimed SuperNATURAL synthesizer technology is used to synthesize dynamic, neo-futuristic sounds, then reproduce them through the car's stereo speakers
Driving situations are detected by the system in real time through a car-mounted network that measures the car's speed, pressure on the accelerator pedal, and load to the power system
Drivers can select from several driving sound types based on their personal preference, including neo-futuristic options
The driving sound system option for GLM's ZZ model featuring Roland's sound-making technology will be available this fall.
*Adapted sound engine of Roland's flagship digital synthesizer.
Roland V-Synth 2.0 "Essential Preset Pads & Strings"
by Rik Marston 100% No Talking!
Roland V-Synth Virtual Analog Sampling Synthesizer
audio demo recorded dry with no effects except for the
internal FX from the V-Synth itself. These are just presets,
but they are great to show off the sound engine power &
how multi-dimensional this synth can sound. I just love it!
I turn to this synth often because it can just do so much!
It has been used by Nick Rhodes of Duran Duran on tour
and can be seen in many great studios around the world.
Truly a great inspiring instrument, it should deserve a real
"classic" title in the near future because it truly is a monster!
Rik
8/17/2015
On August 8th (#808day), the global music community comes together to honor the iconic Roland TR-808 drum machine, an instrument that has inspired countless artists and changed the face of contemporary music. In 2015, the fan based U.S. festivities included events at Dubspot in New York / Los Angeles, Six01 Studios / Starry Records in Burbank, CA and the "Low End Theory" festival at the Shrine Auditorium in Los Angeles. Join us as we highlight a few moments that remind us about the BOOM of the "808".
LEARN MORE ABOUT #808day 2015 here:
http://www.rolandus.com/blog/2015/08/…