ReDominator is an emulation of the classic Alpha Juno 1/2 (JU-1/2), a polyphonic DCO (digitally controlled oscillator) based synth from 1986. The JU-1/2 became popular in the early 90′s techno and rave scene particularly by the classic Hoover sound (which ReDominator attempts to emulate accurately). But beyond those niche sounds there lays a versatile synthesizer that does bass, pads, leads, organs and a lot of other sounds waiting to be discovered!
Available at the Prop Shop:
https://shop.propellerheads.se/produc…
This is not a musical statement or composition. It's just a quick jam with a TR-909, TT-303 BassBot, Red Panda Particle Delay pedal, and an Emma Electronic PisdiYAUwot Distortion pedal. The purpose of this demo is to exhibit the sound of the Bass Bot, the most realistic Roland TB-303 clone to date.
Vintage synthesizer demo track
all synthesizer sounds: Roland Jupiter-4 Analog Synthesizer (1978)
drums: LinnDrum
recording: multi-tracking without midi
fx: reverb and delay
More on this machine:
The first Jupiter synth. It was among one of the first poly synthesizers (4 individual voices which could be synced together for one fat monophonic lead), it had a pitch wheel that could be assigned to the VCA, VCF, VCO or all together, there are 8 memory locations and a cool arpeggiator – the arpeggiator can be heard in the Duran Duran classic, "Rio". It also has a very slow LFO for those ever-so-long filter sweeps. Pretty good for 1978!
Not so cool however, are the 10 preset sounds which sound nothing like the piano, brass or strings they claim to be. The placement of all the preset buttons below the keyboard can be inconvenient, especially while playing it. And as with most old analog synths, the Jupiter-4′s tuning can go out often. Still it is a nice analog synth for creating weird trippy analog sounds.
BRUNO ENDER LEE – "Klangspiel" – performed live, December 7. 2013
Korg MS-20 Mini (sequence with Doepfer MAQ 16/3), MiniMoog Voyager OS, Roland Juno-106, Synthesizers.com Studio-88, Analogue Solutions Vostok, Korg MS2000
Martyn Ware, founding member of the Human League and Heaven 17, as well as the British Electric Foundation and Illustrious, demonstrates the Roland System 100 and the Korg 700S. These are the original instruments that he and Ian Craig Marsh wrote and performed the original version of Being Boiled on.
This was the climax to a 45 minute talk given by Martyn, accompanied by the great Peter Howell of the BBC Radiophonic Workshop, at the Queen Elizabeth Hall, Southbank Centre, London, on the night of November 30th 2013. It preceded a performance by the BBC Concert Orchestra in the main hall, as part of their "The Rest is Noise" season. They performed works by Andrew Poppy, Michael Nyman and commissions by Anne Dudley, which saw the orchestra take on reinterpretations, or "remixes" of Art of Noise's "Into Battle" as well as a new work, Rhythm of a Decade, a mash up of themes from the decade, accompanied by a narration from Paul Morley.
All the other original members of the Art of Noise were present in the audience (Trevor Horn, JJ Jeczalik, Gary Langan), billed by them as a one off 30th anniversary reunion
Five demo clips of the Roland Juno-60 and Roland Juno-106, two classic DCO-based analog synths of the '80s. LinnDrum – drums; Eventide H3000-D/SE = dual long delay
Clip 1: Juno-60: Bass; Juno-106: Brass — 00:10
Clip 2: Juno-60: Harp; Juno-106: Strings — 01:57
Clip 3: Juno-60: Syn Strings; Juno-106: Synth — 04:21
Clip 4: Juno-60: Strings; Juno-106: Bass — 07:09
Clip 5: Juno-60: Organ; Juno-106: Bass — 09:54
The Roland Juno-60 is a popular analogue 61-key polyphonic synthesizer introduced by Roland Corporation in 1982 and a successor to the slightly earlier Juno-6. Like its predecessor, the Juno-60 has some digital enhancements, used only for clocking the oscillators and for saving and loading patches. This instrument was succeeded by the Roland Juno-106 in 1984.
Roland was losing market share with the Juno-6 in competition against the Korg Polysix. Related in features and price-class, the Polysix featured external control and patch memory, which the Juno-6 lacked. These features were quickly added to the Juno-6′s design, which sonically and architecturally did not change notably between the two versions, and then released as the Juno-60.
The Juno-106 is a very common and widely used analog polysynth. It continues to be one of the most popular analog synths due to its great sound and easy programmability. It was the next major incarnation of the Juno-series, following the Juno-60. While it has virtually the same synth engine as the Juno-60, the 106 added extensive MIDI control making it one of Roland's first MIDI-equipped synthesizers. There was also increased patch memory storage, up to 128 patches instead of the 56 patches available in the Juno-60. However, the Juno-60 is often said to have a slight sonic edge over the more advanced 106. The 60 had the ability to modulate oscillator pulse from its envelope and has a "punchier" sound quality.
The Juno-106 is a six-voice polyphonic and programable analog synth with one digitally controlled oscillator (DCO) per voice. While classic monophonic synths used two or three oscillators to create a fatter sound, the Juno-106 uses built-in Chorus to fatten up its sound to dramatic effect. The nature of its DCO meant it was stable and always in perfect tune but still warm and analog. There is an excellent 24dB/oct analog lowpass filter with plenty of resonance and self-oscillating possibilities and a non-resonant highpass filter. The programable pitch/mod bender can be assigned to control the DCO pitch, VCF cutoff, and LFO amount all at once or individually.
The Juno-106 was the first MIDI equipped Juno and its implementation is quite good. There are 16 MIDI channels available and MIDI SysEx data can be transmitted/received from all the sliders and buttons for total remote control and sequencing capability. A switch on the back of the keyboard, next to the MIDI ports allows the user to switch between three types of MIDI modes: Keyboard and Hold data only; Keyboard, Hold, Bender, Patch selection data; or All data (including SysEx). Most users simply set it to MIDI Function mode 3 and forget it.
This synth is incredibly straightforward and very powerful. It's SH-series derived panel layout is easy to understand and very hands-on. Use it to generate lush pads, filter sweeps, and funky bass lines and leads. The Juno-106 is an awesome learning tool for anyone new to analog synthesis, as well as an electronic musician's dream for its warm analog sounds coupled with modern features like MIDI and memory – all at a very reasonable price. And still the Juno-106 has an even cheaper alter-ego in the form of the HS-60 – a hobbyist version with built-in speakers.
❐ Buy UVX-10P : http://www.uvi.net/uvx-10p.html
❐ UVI Official Website : http://www.uvi.net
Tap into the power of 3 analog super-synths—the JX-10, MKS-70 and JX-8P. UVX-10P recalls the last true analog synthesizers from the famed masterminds behind the Juno and Jupiter series, delivering a lush and extravagant analog sound. A fully-programmable interface lets you dive in and craft your own patches—utilize our high-quality amp and multimode filter designs, multiple effects, LFO, step modulator and much more.
In 1985 the world was introduced to the JX-10, a 12-voice, 24-oscillator analog synthesizer par excellence and the last true analog synth of its lineage. Following in the footsteps of the JX-8P and JX-3P, the Super JX was fashioned with a sparse aesthetic. A lack of knobs made the system a bit of a chore to program but an external controller (the PG800) could be attached, cheerfully reuniting synthesists with the immediacy and rapid programming speed of the ever-popular Jupiter and Juno lines. The JX-10 is known for an immense and capable analog sound, even some digital textures; it's simply a magnificent synth. Programming capabilities were equally rich with independent control of 2 DCOs per voice, 2 EGs, 2 VCFs, onboard chorus and even a sequencer (albeit a limited one).
UVX-10P was designed to deliver on all of the strengths of the JX series with none of the weaknesses. We started with a pristine JX-10, MKS-70, and JX-8P and set off, tirelessly programming and sampling these beauties in high-resolution through a world-class signal chain. As with the UVX-3P we made every sample twice, with and without the built-in chorus, providing an authentic and versatile foundation. This sonic backbone paired with the UVI Engine results in a lush and extravagant analog sound; faithful to the hardware with a modern studio bite. UVX-10P delivers a fully-featured and fully-programmable interface sporting ADSR control of our high-quality amp and multimode filter designs, multiple effects, LFO and step modulator, a tediously crafted library of 150+ patches and even original wave samples for you to create your own programs with.
A perfect complement to UVX-3P, UVX-10P delivers a tremendous analog sound at an outstanding price. Add a piece of vintage synth history to your collection today!
A jam with three classics of the '80s – the Moog Source, the Roland Juno-106, and the E-mu Drumulator.
Source = synth bass
Juno-106 = chorus pad with resonance
Drumulator = rhythm
FX = Eventide H3000-D/SE patch 795 "LONG & SMOOTH"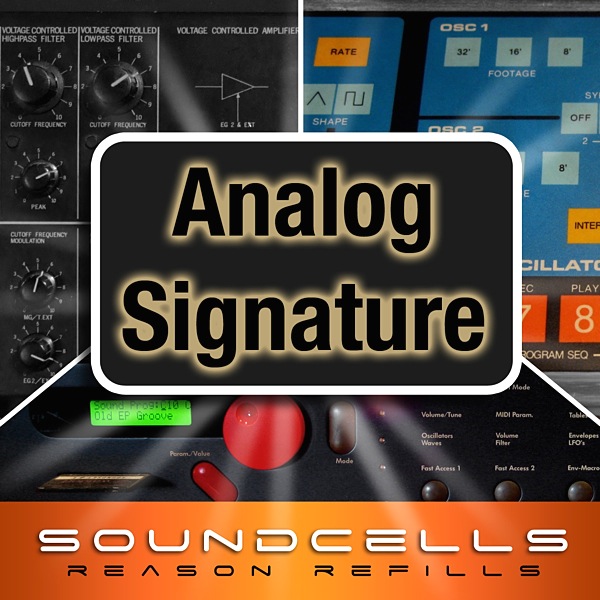 With version 4 of Analog Signature a new member is added to the family: the ROLAND Jupiter 6!
Moog Source, Korg MS20, the Waldorf Microwave 1, the Waldorf Pulse 1, and – from version 4 onwards – the Roland Jupiter 6 have been accurately sampled in such a way that their charming inaccuracies are still there in this perfect Reason environment in which Soundcells took their chance to add polyphony and velocity. A good balance of retro 1970′ s and 80′ s analog / digital sounds with modern programming makes this ReFill versatile for current styles of music as well as retro …
Analog Signature v4 Contents:
• 540 combinator patches.
• 276 NNXT patches containing the basic patches which were used to build the combinators.
• 1792 samples, 44 khz / 24bit.
• Samples coming from five classic synthesizer.
• 10 demo tracks in Reason format included.
Free Ableton Live Pack #95 features samples of the Roland Juno 106. Those samples were constructed into an Ableton Live instrument rack to create a lush beautifully vintage sounding pad.
Free Download: http://bit.ly/freesynth95
Collection of over 20 Roland Juno 106 Ableton Instrument Racks: http://afrodjmac.com/2012/04/14/rolan…
Visit his site for more stuff like this, including Live Instrument downloads, tutorials and music! http://www.afrodjmac.com