Coming soon!!!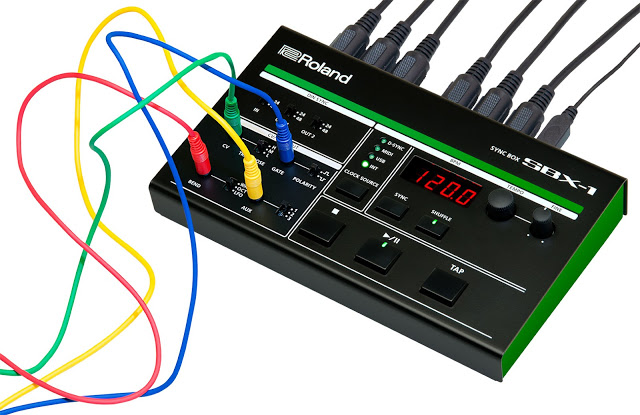 Roland has announced the SBX-1 Sync Box, a universal synchronization hub for electronic musical instruments and computers.
Equipped with USB-MIDI, standard MIDI, and DIN sync ports, the compact SBX‑1 provides a convenient way for music creators to use modern production tools and legacy analog devices together at one time. Going far beyond simple synchronization, the SBX-1 also provides hands-on control of timing and groove, and includes CV/Gate outputs for triggering old-school instruments such as the SH-101, TB-303, and TR-808.

With support for a vast array of past and present devices, the SBX-1 lets computers and electronic instruments from different eras seamlessly communicate and synchronize with each other. Users can easily add analog and modular synthesizers to a computer-based production environment, or design totally new and innovative live-performance setups combining Roland AIRA gear like the TR-8, TB-3, and SYSTEM-1 with vintage rhythm boxes and synths.

The SBX-1 provides USB, DIN Sync, and MIDI I/O, and any connected device can be the master clock source. The SBX-1 itself can also be the timing master, allowing control of external devices with a rock-steady modern clock. Tempo and Fine knobs plus a Tap button offer deep control of the overall groove, letting users freely adjust timing to sync up with DJs or other performers in a band.

Also included in the SBX-1 is a Shuffle function for adding variable swing to patterns generated by external sequencers and rhythm machines. This is extremely useful for working with instruments like the vintage TR-808 and TB-303, which are not equipped with onboard shuffle capability. Users can choose between 16th-note and 8th-note swing, and are able to correct timing errors on the fly with the quick-access Sync button.



With its four CV/Gate output jacks, the SBX-1 also provides the ability to control analog and modular synths with MIDI data from an external device or computer. Incoming MIDI notes and CC messages are converted and output as CV/Gate information, opening up a world of creative possibilities for fans of classic electronic instruments. In addition to external data conversion, the SBX-1 can internally generate gate trigger signals from quarter notes to 32nd notes, including triplets and dotted 8th notes.

The SBX-1 is capable of generating LFO signals that are synced to either the internal clock or an external source. Users are able to register up to five types of LFO settings and output them as CV signals simultaneously from three channels.

The CV/Gate section on the SBX-1 also features an Aux jack that has been specially optimized for the TR-8 Rhythm Performer. This dramatically speeds up performance workflow, allowing users to check values on the SBX-1's display as they set up a TR-8 tone for gate triggering.
A mashup with Front 242 – Circling Overland and Gesaffelstein – Hate And Glory.
All live, no computer.
Gear used:
Elektron Octatrack
Elektron Analog Four
Roland Aira TR-8
Roland Aira VT-3
All video and audio c.2014 G-Storm Electro
http://gstormelectronica.blogspot.com/
The focus of this demo is the SH-101 plug-out: down-n-dirty short basses, basic arpeggios, and sequences from Arturia Beatstep. I don't have an original SH-101 so I can't comment on how similar it may be. I stayed away from tone/crusher and kept the delay/reverb to a minimum just so you could hear the SH-101 sound engine in all its monophonic glory. Some backing rhythms provided by SCI Drumtraks and Roland MC-303.
I have quite a few analog synths running in this video. First the Roland MC-909 is sequencing the Roland D-550, MKS-50, and Gray SH-101 (via Kenton Pro Solo) on top. The drums are running from the Boss RC-300 Loop Station on the floor. I am playing the Synth FX using the red Roland SH-101 and the Oberheim Matrix 1000 triggered by the Fantom X6. I then add a Roland Juno-106 synth part. Other than the sequenced parts, the entire groove is improvised. Enjoy!
All sounds in this song except the choir and speak and spell voice is made with the Roland SH-101.
All photos and video by Youtube alias 'Analog Synthesizers'.
Demo of a few patches on the Roland DEP-5, a digital effects processor from 1986.
Trying to emulate a Roland TB 303 with a Juno 106. It sounds pretty convincing (except the absence of slide and accent feature). The first part is clean and the second part is with overdrive (Danelectro Daddy-O).
Off course this is an emulation and with the absence of a decent sequencer, slide and accent feature it won't sound exactly like the real deal. Anyways it was fun trying.
The entire AIRA family has been updated with exciting and useful new features requested by users from around the globe. Easy to install and free for all users, this update includes enhancements to the whole line, such as backup and restore facilities, and better overall MIDI management. It also provides a wealth of product-specific enhancements, such as external MIDI pitch control for VT-3, tuning control for TB-3, and instrument gain control for TR-8.
Video description:
Product specialist David Ahlund came to show us the new features in the firmware updates for the TR-8 TB-3, VT-3 and System-1 synth. We also got a loot at the new SH-101 Plug-out.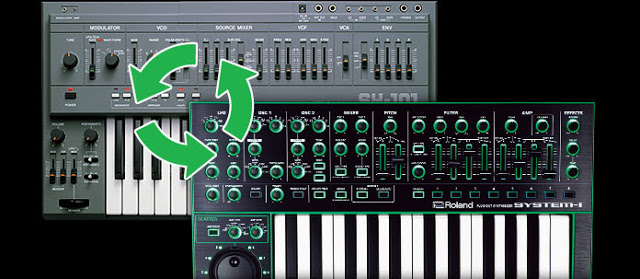 Vintage synthesizer demo track featuring the Juno-106
all synthesizer sounds: Roland Juno-106 analog synthesizer (1984)
drums: Roland TR-707 (1985)
recording: multi-track
fx: a bit reverb and delay