DJ and producers Sharooz explains why he loves his Roland SH-101 synthesizer, showing off the features of the synth and some of his favorite sounds.
Felix takes a tour on the recently released Aira series
Legowelt explains why he loves his Roland JV2080
The JV-2080, released in 1997, uses a sample + synthesis synth architecture.
The JV-2080 is everything you could expect from a modern sound module, but more! A massive 64 voice multitimbral performance module that strives to offer the best all-around features for creating new and vintage sounds for any musical style. Excellent acoustic sounds of all instruments both common and ethnic. A massive amount of techno sounds complete with pulses, blips, sweeps, and the ever popular LFO, VCF and VCA type controls for patch editing and real-time editing. The 2080 is extremely expandable with room for 8 sound cartridges from the JV-80 series, as well as a data card slot. The 2080 has 5 excellent effects processors too, including the new EFX processors. Verb, delay, panning effects, chorus, flange, etc
Key Features:
Accommodates up to 8 user-installable sound expansion boards, allowing access to approximately 2,900 patches when fully expanded
768 internal patches; 16MB of wave data expandable to 144MB (16-bit linear format)
320 x 80 dot graphic backlit LCD
Patch Finder function groups similar patches from internal banks, expansion boards and memory data cards together
Phrase Preview function allows users to hear patches within the context of a musical phrase by pressing volume knob; no keyboard needed
3 onboard EFX sets with 40 effects each
Background video description:
I'm only a day back from this years Moogfest in Asheville and already have my new Moog Werkstatt synth talking to my TB-303 with CV and Gate.
This is just after i got it working for the first time…
www.leecoombs.net
Acid baby! I made this in 5 minutes
So excited about the possibilities this little Werkstatt synth has…
This is Felipe Frigerio aka "Barrote" in his home studio
Bronte play the following instruments:
DSI Mopho Synthesizer
DSI Evolver
Waldorf Blofeld Synth module
Elektron Octatrack
Roland Juno Gi
Korg Radias
coming soon in youtube!
M-Audio Venom (only to control other synts)
Scott Tibbs from Roland US takes us through the FA-08 workstation at Nova Musik.
Roland's FA series completely reimagines the music workstation, streamlining it for effortless real-time power, ultra-fast workflow, and maximum versatility. Ready to support any type of music you play, the FA-06 is packed with a massive sound collection inherited from the flagship INTEGRA-7, a ton of studio-quality effects, and expressive real-time controls, plus onboard sampling with zero load time for instant audio playback from the 16 backlit pads. The sequencer features simple operation and non-stop loop recording, letting you capture songs and ideas as they come and export them as multitrack data to use with your DAW. Flowing seamlessly into every part of your creative world, the FA-06 morphs instantly from a standalone keyboard to become the command center of your computer music studio, with USB audio/MIDI interfacing, powerful real-time controllers, DAW transport controls, and much more.
Shop Nova Musik and get more value and the best customer service with your new Roland workstation
Background video description:
waldorf rocket sequenced by roland aira tb3 effects come from the mc808 in the beginning i used a little reverb later some more effects
this is just an example nothing special tb3 volume is turned down so all you hear is the waldorf rocket damn i really love the rocket great little synth
Close-up Unboxing video of the new Roland TR8 (AIRA) Rhythm Composer. What's in the box, the manual, questions on DAW integration. And as always: how does it feel ?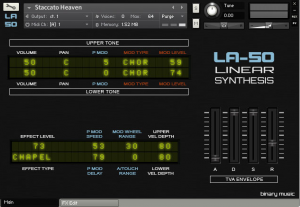 Binary Music has released LA-50, a new virtual instrument based on the classic Roland D-50 keyboard.
The upper and lower tones of each patch were sampled separately and their levels, pans and modulation can be adjusted independently. In total there are 100 instruments made from 2,486 samples – 2GB uncompressed.
The samples were recorded dry, then carefully matched reverb impulses were created using a Roland SRV3030. All samples were recorded in 24 bit at 44.1 kHz.
Released in 1987, the D50 was Roland's answer to the Yamaha DX7. Although much easier to program, many of the presets found their way unedited straight onto hits during the late '80s and early '90s. Sounds such as Digital Native Dance, Soundtrack, Pizzagogo, Staccato Heaven and Fantasia, (all included in LA-50) became staples of many producers. The D50 features on albums by artists as diverse asMichael Jackson, Seal, 808 State, Duran Duran, Foreigner, Enya and Vangelis.
The D50 used a combination of PCM samples and a form of synthesis called Linear Arithmetic, which was actually quite analogue sounding. It was also the first synth to include an onboard digital reverb. On the D50 the reverb had to be switched off on a per patch basis, but on the rack mount D550 it could be switched off globally. By recording the tones dry, it's possible to use a third party reverb instead of the included impulses.
Youtube alias 'massivebeatzz' checks out the Aira, details below:
Just got my hands on a Roland AIRA series TR8! Watch the shaping of a Live house beat with this new concept of virtual analog drum box. Going through different kicks and snares etc, to put this "glowbaby" to the test!