Dark electronic madness by Glenn Keteleer with pounding Rave sounds and techno hooks. No excuses regarding styles, Gloomy atmosphere's ,Wave & Elektro infuences by legendary bands as TNJ and Front 242 are part of the game" – radicalg.com
"808" | The heart of the beat that changed music.
Film & Soundtrack Coming 2015
"808" features appearances and commentary from: Arthur Baker, Pharrell, David Guetta, Phil Collins, Lil Jon, Afrika Bambaataa, Norman Cook (Fatboy Slim), Rick Rubin, Diplo, Goldie and more.
Produced by You Know Films in association with Atlantic Films
Directed by Alexander Dunn
Executive Producer: Alex Noyer
Producers: Alex Noyer, Craig Kallman & Alexander Dunn
Producer & Co-Executive Producer Arthur Baker for Re-Covered Content Ltd
Written by Alexander Dunn & Luke Bainbridge
Follow 808 online:
Site: http://808themovie.com
Facebook: http://fb.com/808themovie
Twitter: http://twitter.com/808themovie
Instagram: http://instagram.com/808themovie
http://youknowfilms.com
http://atlanticrecords.com
Keio (Korg) Mini Pops 7 Drum Machine + Roland RE 101 Space Echo
Keio Giken (former name of KORG in 60's) Mini Pops 7 (1966, aka UNIVOX SR-95) + Roland Space Echo RE-101
Test of Roland System 1 with 3 covers of famous Vangelis songs:
– Blade Runner End Titles, where System 1 is used for pads / leads (CS80)
– Chariots of Fire (suite), where System 1 is used for lead (CS80)
– Soil Festivities Movement 4, where System 1 is used for lead (Prophet 5/10?)
Other instruments used in the covers:
– Xils-lab V+ for VP330
– U-He Diva, for different parts (for example the "blades" in B.R.)
– Steinberg The Grand 3, for piano parts
The patches used for Roland System 1 in this demo can be downloaded for free here:
http://purebits.com/system1.html
* NOTICE *
All played music composed by Vangelis. The above music is property and copyright of its rightful owners and there is no claim nor ownership of the music. This is a video made for demonstrating and testing musical instruments purposes only.
NO COPYRIGHTED SAMPLES were used in this video, all sounds are recorded live from musical instruments
Mitch Gallagher demonstrates the Roland System-1 synthesizer, and shows how plug-out technology lets you play this plug-in-based synthesizer without a computer.
Features:
Four oscillators for buckets of fat synth tones
Oscillator colors create continuous waveform changes from simple to complex
All parameters can be controlled with physical knobs and sliders with LED indicators
Advanced arpeggiator with Scatter function
Scatter jog dial offers 10 different phrase variations with dynamic, real-time control over 10 stages of depth
-12 dB and -24 dB filter types with independent high-pass filters
Tone knob for easy tonal balancing
Crusher knob for modern edge
Integrated delay and reverb effects
Tempo syncing for LFO and delay
Innovative thin keyboard with 25 normal-sized keys
The most compact Roland synth ever
The Roland System-1 has a street price of about US $600. Additional Plug-Out synths, including the SH-101 Plug-Out software synth and the SH-2 synth, are available at theRoland site.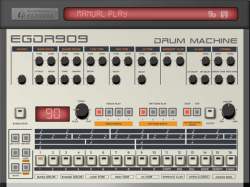 Elliott Garage has released EGDR909, a drum machine that emulates the sound of the classic Roland TR-909.
The iPad virtual instrument lets you create tweak sounds and create beats, and supports Inter-App Audio, Audiobus, Core MIDI and clock MIDI.
You can also share your drum patterns with iTunes filse sharing or Audio Copy.
Features:
16 steps sequencer, with variable length
48 programmable rythm patterns
Save the pattern you've created and play your songs
Manual Play, Pattern Write and Pattern Clear mode
Drumkit pieces parameters control (tuning, decay and snappy)
Song Mode page (swipe to left to open) with loop option
Swing and tap tempo
Core MIDI & clock MIDI (network session, external controller, inter app midi)
Audiobus
Interapp (generator)
Export with iTunes, mail or Audio Copy
Korg Wist sync
EGDR909 is available in the App Store for US $2.99.
The SH-2 PLUG-OUT Software Synthesizer is a total reproduction of the classic SH-2 synthesizer from 1979. Renowned for its raw vintage tone, the SH-2's dual VCO plus sub oscillator configuration dishes out devastatingly fat basses, edgy leads and wild effects. With or without a SYSTEM-1, this VST3 and AU plug-in support multiple instances and can be used in any compatible DAW. SYSTEM-1 owners get a dedicated controller and can take advantage of the SH-2's PLUG-OUT capability and turn their SYSTEM-1 into a stand-alone, hardware SH-2 that can go anywhere and doesn't require a computer. And this is just the beginning. More synthesizers based on Roland's acclaimed Analog Circuit Behavior are on the way.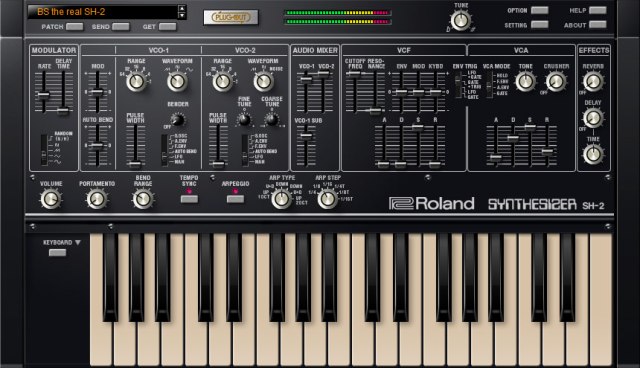 Everything has been reproduced exactly, from the VCF which is capable of self-oscillation to the attack and long decay characteristics of the steep envelope. The unique harmonic makeup and pitch wavering are present as are the complex interactions between parameters that result from the original analog circuit design.
Even behaviors that occur only in analog circuitry are accurately reproduced, like the subtle effect on tonality when the user tweaks parameters unrelated to the actual tone being produced.
There are even some new features that were not available on the original. This new SH-2 has a VCO range that is expandable to 64′, two envelopes, reverb, delay and crusher effects, Autobend with support for reverse actions, and a tempo-syncable arpeggiator.
A remake of The Prodigy – Smack My Bitch Up.
Only hardware used.
Gear used:
Elektron Octatrack
Elektron Analog Four
Roland Aira TR-8
Roland Aira TB-3
www.facebook.com/nerwrak
Thanks Liam Howlett and "jimpavloff" for the inspiration

Vintage synthesizer demo track featuring the Juno 60
supported by UVI: http://www.uvi.net
synthesizer sounds: Roland Juno-60 Analog Synthesizer (1982)
drums: LinnDrum (1982)
bass: SCI Pro-One (1981)
recording: multi-tracking without midi
fx: a bit reverb and delay
Coming soon!!!