Demo of a few patches on the Roland DEP-5, a digital effects processor from 1986.
Trying to emulate a Roland TB 303 with a Juno 106. It sounds pretty convincing (except the absence of slide and accent feature). The first part is clean and the second part is with overdrive (Danelectro Daddy-O).
Off course this is an emulation and with the absence of a decent sequencer, slide and accent feature it won't sound exactly like the real deal. Anyways it was fun trying.
The entire AIRA family has been updated with exciting and useful new features requested by users from around the globe. Easy to install and free for all users, this update includes enhancements to the whole line, such as backup and restore facilities, and better overall MIDI management. It also provides a wealth of product-specific enhancements, such as external MIDI pitch control for VT-3, tuning control for TB-3, and instrument gain control for TR-8.
Video description:
Product specialist David Ahlund came to show us the new features in the firmware updates for the TR-8 TB-3, VT-3 and System-1 synth. We also got a loot at the new SH-101 Plug-out.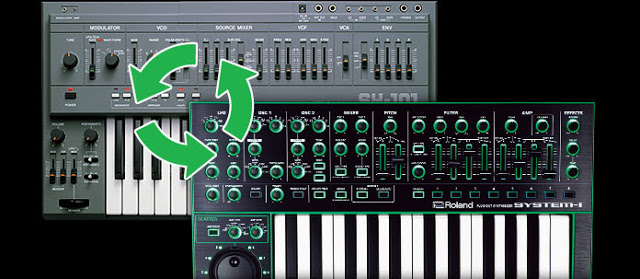 Vintage synthesizer demo track featuring the Juno-106
all synthesizer sounds: Roland Juno-106 analog synthesizer (1984)
drums: Roland TR-707 (1985)
recording: multi-track
fx: a bit reverb and delay
New "ethnic" style composition using the Yamaha Motif-6 flute with delay and reverb as well as Motif-6 cymbals. Roland JV-880 is used for a classic analogue string patch and Roland D-50 patch "Juno clav" is used for the accompaniment.
Synths: Yamaha Motif 6 classic
Roland JV-1080 and JV-880
Roland S-10 sampler- midi controller for JV-880
Watch the world premiere of the SH-101 Plug-Out Software Synth as David Ålhund (Roland Expert, V-Topia, NUDE, Tweeky) demonstrates the new software synth running on the new Aira System-1 synth, giving the attendees an exclusive first look at this new Roland hardware and software. He also delivered his signature performance with the Aira TR8, TB3 and VT3 and answered some questions from the audience.
System-1 Plug-Out Synth – http://www.roland.co.uk/products/prod…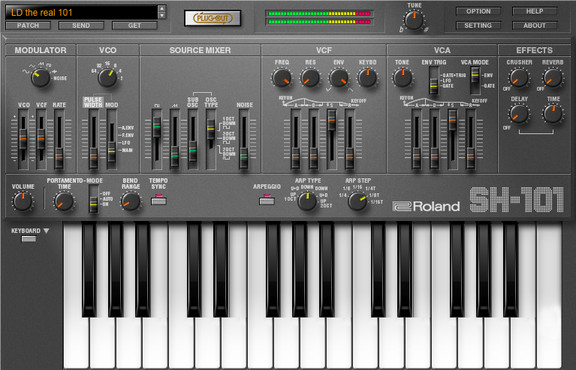 Roland has introduced the SH-101 PLUG-OUT, a software synthesizer for the SYSTEM-1.
The SH-101 PLUG-OUT Software Synthesizer is a complete reproduction of the iconic SH-101 – right down to the fine details and odd quirks that make it one of the most popular classic synthesizers of all time.

Based on Analog Circuit Behavior (ACB) technology, it not only reproduces the SH-101's legendary sounds, but faithfully recreates the very behavior of its analog circuitry – all with a level of authenticity that could only come from the company that created the original.
SH-101 PLUG OUT features
Total authenticity through face-to-face consultation with the original designers and relentless research beyond the original schematics.
Meticulously recreated oscillator and filter behavior – hallmarks of the SH-101 sound.
Authentic behaviors including the unique interaction between low pass filter and envelope controls.
Faithfully reproduces the unstable fluctuations that resulted from quirks in the SH-101's circuitry.
Classic SH-101 synth sounds – bass, lead, noise, and sound effects.
Software layout features standard gray model, as well as red and blue models originally sold as limited editions.
Two envelope sections allow different settings for VCF and VCA while maintaining the option of classic SH-101 envelope behavior.
Reverb, chorus, delay and crusher effects that were not included in the original.
Run as many instances as your computer can handle.
Use SYSTEM-1 as a dedicated USB keyboard controller with lighted knobs and sliders that show only available parameters.
PLUG-OUT with SYSTEM-1 lets you take an authentic SH-101 wherever you go, from mobile production to live performance.
Transfer sounds between SYSTEM-1 and SH-101 with PLUG-OUT.
Supports Macintosh and Windows, and AU and VSTi formats.
The SH-101 PLUG-OUT synthesizer will be available to SYSTEM-1 users on July 24th, 2014.
Roland TR-909 Roland vs Korg Electribe "Spirits"; live electronic music jam with drum machines.
Shadowgate Ending musical theme on a modified Minimoog Model D with OSC sync, env. re-trigger and VCO3 Reset.

Polyphony was made with a VST called Notelogic
Life Force Stage 1 musical theme on a modified Minimoog Model D with OSC sync, env. re-trigger and VCO3 Reset.

If you have any questions, leave me a message
Double Dragon – Stage 1 – Nintendo Musical Theme – Roland Jupiter 4
Roland Aira line has been one of the biggest introductions of the year. But months after the introduction, people are still debating how closely the Roland Aira TR-8 and Aira TB-3 match the original Roland TB-303, TR-808 and TR-909 , Paul Barker of DIN Sync, takes an in-depth look at the Aira TR-8 and TB-3.