An instrumental version of Depeche Mode – Shouldn't Have Done That using Elektron Analog Four and Roland Aira TR-8.
Cover of Nitzer Ebb – Join In The Chant using Elektron Analog Four and Roland TR-8.
Catching up with David Arlund at the Dancefair Utrecht to walk us through the features of the Roland Aira TR-8 drum machine. The TR-8 is a hardware model of two of the most coveted drum machines of all time, the TR-808 and TR-909.
Miles from Sonic Sense Pro Audio demonstrates some of the little known features and functions of Roland's new Aira TR-8 drum machine.
For more demos,comparisons, and tutorials, visit sonicsense.com/blog
We take a look at the features of the Roland VT-3
Product info from Roland:
Aggressively processed vocals are common in electronic music today, but producing these effects easily and reproducing them live has been a challenge—until now. With the VT-3 Voice Transformer, you can smoothly alter pitch and formant in real time to introduce heavily processed vocal sounds into your studio tracks and stage performances with zero hassle. On top of that, the VT-3 looks great and works seamlessly with other products in the AIRA series.
- Create heavily processed vocal sounds in real time
- Smooth control with dedicated Pitch and Formant sliders
- Large dedicated Reverb and Mix Balance sliders
- Save three favorite settings for instant recall
- Connect an optional footswitch for additional control in live performances
- Pure green LEDs and brightly lit controls for great visibility
- Lightweight and durable construction for easy portability
- Standard XLR/TRS combo jack (with phantom power) and 1/8-inch mic jack (with plug-in power)
- Stereo outputs can be configured as separate mono wet/dry channels
- Built-in USB audio interface with loopback recording to overdub vocals on existing tracks
- Great for podcasts and live web streaming
- Powered by USB bus or included AC adapter
)
MESSE 2014: Roland Aira System 1 Raw and un-effected, and yes we have pitch bend
A look at the new Roland Aira TR-8 Rhythm Performer, their new drum machine, modeled on the classic Roland TR-808 and TR-909 drum machines, video details below:
A review and demonstration of Roland's new Aira TR-8 Rhythm Performer. www.SonicSense.com

For more information, visit our resource center: http://bit.ly/1fklpfv
Preorder AIRA now: http://bit.ly/1d5wjlb
Browse our website: http://www.SonicSense.com
Sonic Sense takes a look at an early prototype of the Roland Aira System 1 Plug-Out Synthesizer.
Features:
Four oscillators
Oscillator colors create continuous waveform changes from simple to complex
All parameters can be controlled with physical knobs and sliders with LED indicators
Advanced arpeggiator with Scatter function
Scatter jog dial offers 10 different phrase variations with dynamic, real-time control over 10 stages of depth
-12 dB and -24 dB filter types with independent high-pass filters
Tone knob for easy tonal balancing
Crusher knob for modern edge
Integrated delay and reverb effects
Tempo syncing for LFO and delay
Innovative thin keyboard with 25 normal-sized keys
The Roland AIRA System-1 is priced at US $599
DemoBackground video description:
I`ve had a chance to try out these new toys. Not for too long though… Anyway I out together a tech-like, rap-like, chill something with no use of external FX, compression or EQ. Some standard limiting added. I had lots of fun with the gear
All sounds from the 1978 Roland Jupiter-4 analog synthesizer. One of the best sounding analog poly synths ever built.
The first Jupiter synth. It was among one of the first poly synthesizers (4 individual voices which could be synced together for one fat monophonic lead), it had a pitch wheel that could be assigned to the VCA, VCF, VCO or all together, there are 8 memory locations and a cool arpeggiator – the arpeggiator can be heard in the Duran Duran classic, "Rio". It also has a very slow LFO for those ever-so-long filter sweeps. Pretty good for 1978!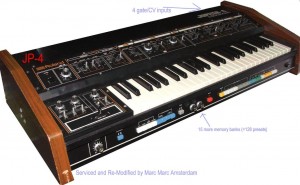 Not so cool however, are the 10 preset sounds which sound nothing like the piano, brass or strings they claim to be. The placement of all the preset buttons below the keyboard can be inconvenient, especially while playing it. And as with most old analog synths, the Jupiter-4's tuning can go out often. Still it is a nice analog synth for creating weird trippy analog sounds.