The Mixer. Reimagined as an instrument.
Armed with only a few sustained sounds from Ableton Live and a TR-8, KiNK shows how the MX-1 takes electronic music performance to the next level. The latest in Roland's AIRA line, the MX-1 Mix Performer is a mixer that plays like an instrument. It brings spontaneous, hands-on control to live electronic music performance. With per-channel step based FX and playable Master FX, the MX-1 brings together your synths, drum machines, DAW tracks and more.
In this video, KiNK is streaming a handful of sustained sounds from Ableton Live directly to the MX-1. A TR-8 is connected with a single cable via AIRA Link. The MX-1 is controlling transport and master tempo of the entire setup. You'll see how KiNK uses the per-channel Beat FX to add rhythm to the sustained loops from Ableton Live and then incorporates the TR-8 in perfect sync. Using the MX-1's "External Mode" KiNK is even able to apply Ableton Live's own internal FX processing to the TR-8 hardware.
Finally, there's a mixer that's meant to be played.
Learn more about the MX-1 Mix Performer at http://www.roland.com/products/mx-1/
Gears inside the restaurant:
Roland SH101(blue),TR808,
ARP Odyssey,2600,Quadra,
Korg Mono/Poly,
Gakken SX150
and Denki-Soba Hell Synth
*Special thanks to:
Denki Soba, Risa, Keizo Suzuki from Osaka, Japan.
Copyright: E.D. Music Co.
A few clips from Roland's press conference with some important points about Roland's new direction at NAMM 2015 concerning the JD-XA.
Alesis Andromeda A6 + EHX Small Stone + Deluxe Memory Boy + Cathedral Stereo Reverb
Moog Taurus III
Roland SH 01 GAIA
Roland Juno Di
Moog Minimoog Voyager
Roland's Ed Diaz demos the SuperNATURAL part of the JD-Xi. The JDXi consists of 4 parts, SuperNATURAL, Vocoder, Drums and an Analog Monophic Synthesizer. Other bonuses include a TR-707 style sequencer, multi-effects and more under the hood. Demo was recorded straight into my recorder 48k 24bit stereo. There is some distortion here and there in the video due to moments of loudness. (not many though)
JD-Xi Interactive Crossover Hybrid Synth with Analog and Digital Sound Engines, Vocoder and more.
Learn more here:
http://www.rolandus.com/products/jd-xi/
http://www.rolandus.com/blog/2015/01/…
Demo of the classic Juno 60. No other instruments used. External delay and reverb added.
Roland talk us through the new JD-Xi synthesizer, which has both analogue and digital oscillators, as well as an integrated sequencer.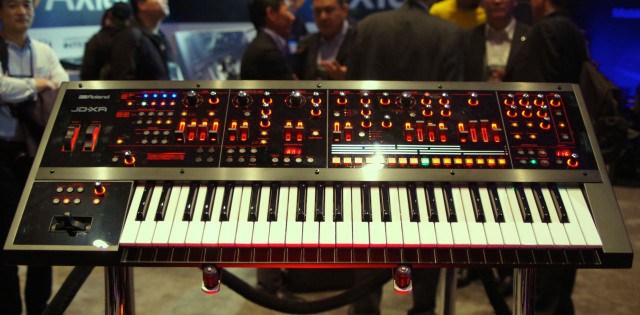 The Roland JD-Xa is not being officially introduced, because it is still under development. But they expect to give the new synth its official introduction at Musikmesse 2015.
The JD-Xa is described as a 'flagship' keyboard in the JD-X line – offering:
a knob-filled interface & full size keys
4 independent analog monophonic voices, each with fairly deep synthesis capabilities, that can also be used as a four-voice polysynth;
4 additional synth voices, based on Roland's SuperNatural technology;
8 channels of step sequencing
Official details are to be announced.
The JD-Xi puts a true analog synth engine, Roland's famous SuperNATURAL synth sounds, and other creative tools including onboard pattern sequencer and vocal FX. Small in size and Large in versatility, the JD-Xi is all about big sounds and big fun! This video is a solo performance of Dorian Concept featuring the JD-Xi. Dorian creates the track from scratch, while he performs in real time.
http://www.roland.com/products/jd-xi/
Dorian Concept tells his impression about the sounds, usability and applications, of the JD-Xi.
http://www.roland.com/products/jd-xi/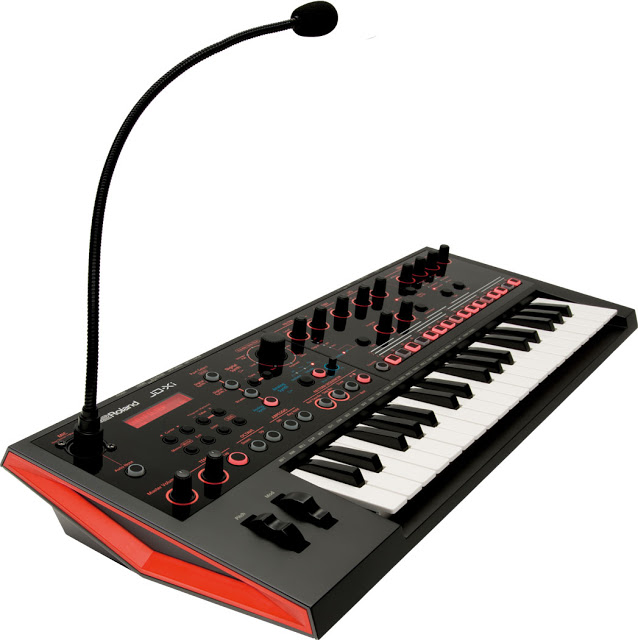 ROLAND DEBUTS JD-XI INTERACTIVE ANALOG/DIGITAL CROSSOVER SYNTHESIZER
Powerful Compact Synth with Pattern Sequencer and Vocal FX
Los Angeles, CA, January 22, 2015 — Roland is proud to announce the JD-Xi Interactive Analog/Digital Crossover Synthesizer, a new compact keyboard that's powerful, versatile and fun. Equipped with 37 mini keys, the JD-Xi features a true analog synth engine along with a wide selection of Roland's acclaimed SuperNATURAL digital sounds. This affordable instrument also comes packed with many great extras for self-contained music creation, including built-in drum kits, a four-track pattern sequencer, and a gooseneck mic for using the synth's Vocoder and AutoPitch effects.
Thanks to its unique crossover sound engine, the JD-Xi gives musicians the best of both worlds: the warm, smooth response of classic analog, and the clarity and versatility of modern digital. In one keyboard, players can enjoy fat, warm analog bass and lead tones with ample controls for hands-on tweaking, plus polyphonic PCM essentials like electric piano, brass, guitar, and many others.
The newly developed analog synth section in the JD-Xi features saw, triangle, and square waveforms with pulse-width modulation and an analog filter, plus an independent sub oscillator for low-end power. Two digital synth sections offer 128-voice polyphony and a wide range of SuperNATURAL-based PCM tones for playing any style of music. Sounds can be enhanced with the JD-Xi's effects section, which includes delay, reverb, and processing options such as Bit Crusher, Slicer, Ring Mod, and others.
The JD-Xi comes with a sturdy, high-quality gooseneck mic and onboard vocal effects. With the Vocoder, users can sing into the mic and control the tone and pitch via sounds played on the keyboard. AutoPitch makes it simple to achieve the robotic vocal sounds common in today's pop and electronic music styles, while the cool Auto Note function provides the ability to "sing" JD-Xi synth sounds without touching the keyboard.
Using the built-in pattern sequencer, it's possible to create and perform sophisticated music with only the JD-Xi. Four separate tracks—two digital synth parts, analog synth, and drums—make it easy to build rich-sounding loops. Real-time and step recording modes are provided, along with a special TR-REC mode for programming in the style of Roland's classic TR-series beatboxes. Patterns can be queued up and manipulated while playing the keyboard, and many preset patterns are included for jamming right out of the box.
The dynamic drum kits in the JD-Xi offer high-quality rhythm tones to support any groove. Included are many types of electronic and acoustic kits, and the drum instrument assignments are conveniently labeled above the keys for quick identification. Users can modify the sound of the kits with filter, envelope, pitch, and pan parameters.
Supporting both MIDI and audio over USB, musicians can use the JD-Xi with their favorite computer music applications. USB also provides the ability to access a growing collection of free JD-Xi patches programmed by top engineers and artists, which are available at Roland's Axial sound library site.
Featuring red and black styling to match the synth, the optional CB-JDXi gig bag provides a convenient way to carry the JD-Xi and its gooseneck mic along with cables and other accessories.
For more information, visitRolandUS.com.