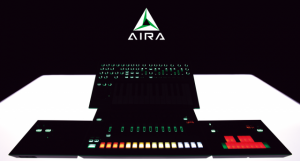 Roland has released another set of Aira teasers, showing that they've got four new devices on the way. With roots in the very origins of electronic music, AIRA is the new series of products designed to meet the evolving needs of today's electronic musicians. In the studio or on the stage, AIRA brings genre-defining sound and modern performance features to a new generation.
Roland also released a video that covers one of the technologies used in the Aira line - Analog Circuit Behavior, which appears to be a type of circuit modeling technology. Roland's newly developed Analog Circuit Behavior (ACB) faithfully captures the sound and feel of some our most revered classics. ACB is the technology behind the authentic sound and responsive behavior of the AIRA products.
It utilizes original design specs, consultation with original engineers, and a detailed, part-by-part analysis of each analog circuit in Roland's own pristine units.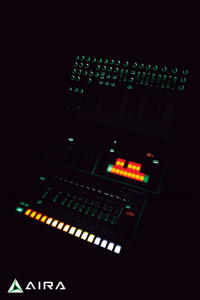 "With this project, we really focused on analog instruments. However, this does not mean we only wanted to reproduce the analog gear, rather that we wanted to create a new technology to produce new electronic instruments," says Watanabe. "We wanted to create the next step in electronic music, and I believe that with ACB technology we just might have succeeded."
Time for a new vintage machine demo, additional details below:
You can buy these patches – read the description for further details.
Synthesizer demo of the analog synthesizer Roland JX-3P from 1983.
In this movie I play some of my own sounds – on some sounds I used a small amount of digital delay from a Roland DEP-5 (my favourite unit for delays). In the intro I used the sequencer of the JX-3P.
The JX-3P has a flexible sound architecture with 2 DCOs, oscillator synch, ring modulation and more LFO waveforms. Just one ADSR, like the Juno series. It also has chorus (just one setting).The JX-3P has not many sliders and knobs… you get them if you buy the programmer PG-200 from Roland.
________________________________________­_____________
THE SOUND PROGRAMS IN THIS MOVIE:
Do you own a Roland JX-3P or a MKS-30 and want to get these fantastic sounds for your synth?
The brandnew "ANALOGAUDIO1 JX-3P PATCH BANK" costs 12,99 Euros and includes 64 great patches (two banks with 32 patches) fat analog pads, great retro sounds, fantastic basses, sequencer sounds and funky leads (in one word: all you hear in the video and some more).
As an experienced synth player and composer I created these patches for professional use. This patchbank gets the most out of your Roland JX-3P. Also included is a patch list (PDF), to find the right sounds quickly. The sounds are not available anywhere else.
The patchbank will only work with the JX-3P and with the MKS-30 Planet S (which is the rack format of the JX-3P).
After payment through PayPal you will get the patchbank as a sound file (wav) for the built in tape interface of your JX-3P and a patchlist (list with names of the patches) via email.
If you want to buy the "ANALOGAUDIO1 JX-3P PATCHBANK", send a message to ceramic-man@gmx.de (and check your spam folder, I answer quickly).
________________________________________­__________
I also offer ANALOGAUDIO1 patchbanks for the following synths:
KORG POLY-800 http://www.youtube.com/watch?v=K6bG8P…
KORG POLY-800 II http://www.youtube.com/watch?v=fPrp8a…
KORG POLY-61 http://www.youtube.com/watch?v=9R0bva…
KORG DW-6000 http://www.youtube.com/watch?v=cOoF7T…
KORG DW-8000 http://www.youtube.com/watch?v=9Bh_xr…
KORG POLYSIX http://www.youtube.com/watch?v=Bc0uMD…
ROLAND JUNO-60 http://www.youtube.com/watch?v=GaTLk6…
ROLAND JUNO-106 https://www.youtube.com/watch?v=Gdsuc…
Vintage gear demo, details below:
The sample based Roland TR-707 from the year 1985 was my first drummachine and I really love the crisp 8bit sound.
- 15 sounds (kick 1, kick 2, snare 1, snare 2, low tom, mid tom, high tom, rim-shot, cow bell, hand clap, tambourine, open and closed high-hat, crash/ ride cymbals)
- 64 pattern
TR-707 review written by me for the german amazona music magazine:
http://www.amazona.de/black-box-rolan…
Here's a presentation of the new Roland FA-08 at the NAMM Show 2014.
The Jupiter-8 was Roland's first truly professional analog synthesizer. The Jupiter-8 features 16 rich analog oscillators at 2 per voice, eight voice polyphony and easy programming! At eight voices you can get some pretty thick analog sounds. Easy and intuitive programming via front panel sliders, knobs and buttons for all your tweaking needs. The legacy of the Jupiter synthesizers is due to their unique voice architecture and design, creating sounds that were so unreal and amazing that they have to be heard! No other synths in the world can create analog sounds as cool and authentic as these.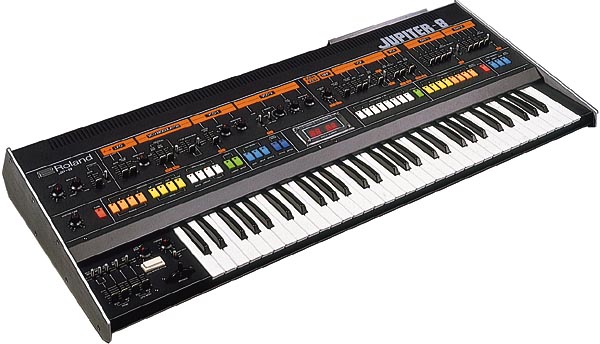 The Jupiter-8 was the biggest and fattest of them all (Jupiters and Junos)! It was one of the first synths to allow its keyboard to be split and layered – it's eight voices of trance heaven! Cross-mod, oscillator sync, a great LFO and a classic arpeggiator are also on-board. There's also a killer resonant analog low pass filter, same as the Juno-6 / 60, with the added option of choosing 2-pole (12 dB/oct) or 4-pole (24 dB/oct) modes as well as a separate high-pass filter. Unfortunately for the earlier models, tuning was very unstable but that seemed to be resolved in later models. Unlike its smaller counterpart, the Jupiter-6, the Jup 8 does not feature MIDI, only Roland's DCB sync can be found on some models. However, MIDI retro-kit's are available from various companies. Patch presets can store keyboard splits, arpeggiator settings, voice assign mode, hold, portamento and modulation settings.
Roland engineers discuss the technologies involved in getting the right sounds for the successor to the TR-808. The TR-909 Rhythm Composer evolved from the TR-808, adding digital samples and MIDI. House and Techno were born. Now the next step begins.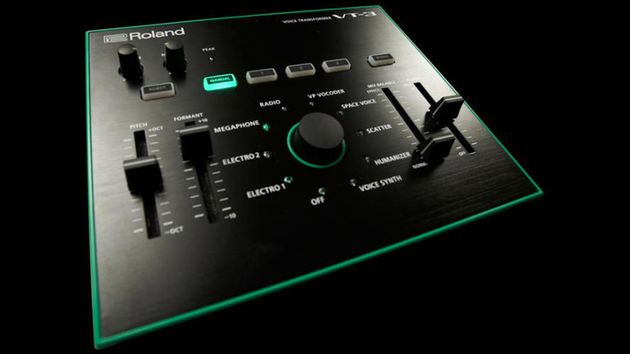 Much more than a standard drum machine like the TR-08
Designed to change the sound of your voice, it looks like this comes with a selection of presets and hands-on Pitch and Formant controls.
Unofficial details are below. Keep an eye on the Roland Aira website for updates.
Roland VT-3 unofficial specs
Features
Effects unit intended for the human voice
Quickly controlling pitch and formant
Various effects, subtle and extremely
User-friendly operation
Input peak indicator
Compact, easy to transport
Effects
Electro 1
Electro 2
Megaphone
Radio
VP-vocoder
Space Voice
Scatter
Humanizer
Voice Synth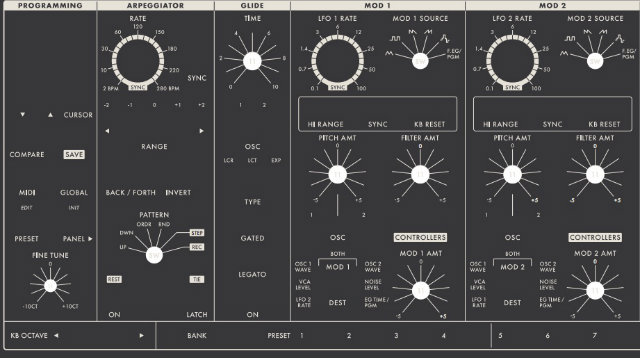 A new Moog Paraphonic synth –  the Sub 37  - from what's visible one the images below it will have:
Paraphonic – multiple voices through a single VCA and filter
Dual oscillators with a single Sub
LPF Filter with vriable slope  from 6 to 24db
Multidrive
Programable arp
Two LFO's/Mods
Buttons and knobs for some hidden functions
At least 16 memories
37 keys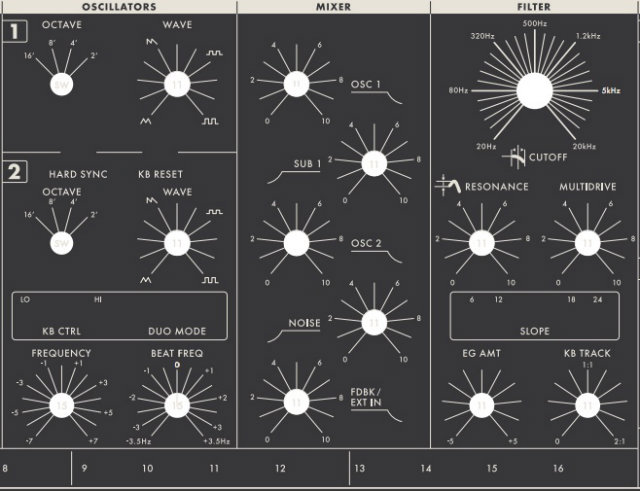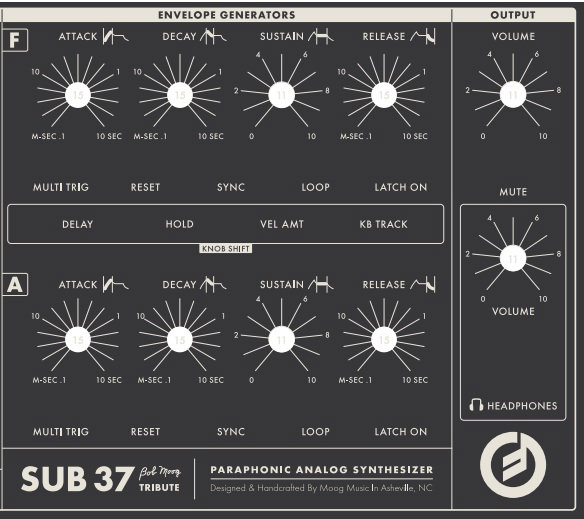 And from Roland: a picture featuring what seems to be the new vocal transformer Roland VT-3.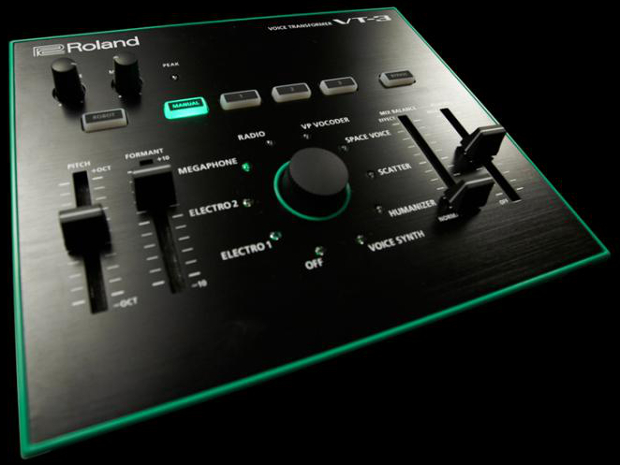 Roland Engineers discuss the initial concept of the TR-808 which was conceived and built in 1980. Although it was designed to create "backing tracks", creative musicians started to use the Rhythm Machine as an instrument and music changed forever. Now the evolution begins again.
ReDominator is an emulation of the classic Alpha Juno 1/2 (JU-1/2), a polyphonic DCO (digitally controlled oscillator) based synth from 1986. The JU-1/2 became popular in the early 90′s techno and rave scene particularly by the classic Hoover sound (which ReDominator attempts to emulate accurately). But beyond those niche sounds there lays a versatile synthesizer that does bass, pads, leads, organs and a lot of other sounds waiting to be discovered!
Available at the Prop Shop:
https://shop.propellerheads.se/produc…