The all new Novation Impulse – Professional USB/MIDI controller keyboard
Impulse is a range of professional USB/MIDI controllers. They each have a precision keyboard and a full control surface powered by a brand new version of Novation's Automap control software – Automap 4 (which makes getting hands-on with your DAW/plug-ins fast and simple). Impulse also has 8 back-lit drum pads which can warp arpeggios, roll beats and launch clips in Ableton live.
Impulse also comes with a stack of free software and sounds:
• Ableton Live Lite – powerful loop based music-making software
• Novation Bass Station – legendary analogue bass synth as a software plug-in
• Loopmasters sample library – over 1GB of royalty-free samples
• Mike The Drummer – 502MB of live drum loops and breaks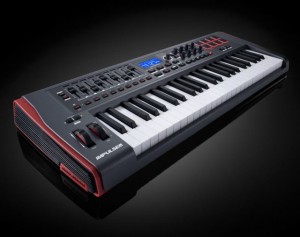 Some unique features:
Aftertouch. Keybed quality is paramount for obvious reasons. What's typically missing, for those who like it, is aftertouch support, available here.
Full DAW control. Available on the Axiom but previously missing on Novation's offering, you get 8 knobs, 9 faders and buttons, and an LCD for controlling your DAW. (Only one fader on the 25-key model, since all of that wouldn't fit.
Automap. It wouldn't be a Novation keyboard without the company's Automap feature. Whether that's good or not depends on whether you like the functionality; I've tended to find it a bit fiddly at times, though the implementation with Propellerheads' Reason is fantastic. (Hosts are a big part of the variable here.)
Pads that do more. This one's rather interesting: you get drum pads set up to do arpeggios, rolls, and Ableton Live clip launching. You could do that with any pads, but neat to see it on the keyboard, and I'm curious to learn more about the specific implementation.
Comments