Live modular performance – Muon Dependency
Would love to spend some time in this dude's studio

A live performance. A 137 space modular synthesizer, Waldorf MicroWaveXT, Dave Smith Prophet 08, Nord Lead 2X, Yamaha TX816, DX7II, and Oberheim Matrix 6.
All synthesizers are controlled either with Numerology 3 Pro or from the modular synth on-board sequencers. Recorded in Cubase 4 from Steinberg.
I played a single line at various times on the DX7II. Everything else is fully automated including a pseudo-random sequence generated by a Catgirl Synth Suboscillator/Harmonic Sequencer module by Ken Stone.
The baseline is the Prophet 08 controlled by a midi output from the synthesizers.com Q172 midi output of a Q960 8 step sequencer pattern.
Background info on the Numerology 3 Pro:
Numerology 3 is a music sequencing and audio plugin environment which uses an innovative approach to electronic music composition based on modular step sequencing. With version 3 Numerology now comes in two flavors: a Standard Edition for anyone that wants an economical step sequencing addition to their studio, and a Pro version with advanced features for users looking to make Numerology a cornerstone of their compositional workflow.  Another major addition is an AudioUnit version of Numerology that allows users of supported hosts to add advanced step sequencing to their DAW-based workflow. The Numerology AU is the first Audio Unit plugin to offer sample-accurate MIDI scheduling and built-in latency control.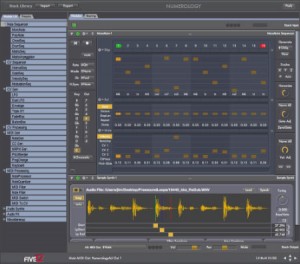 Other highlights of Numerology 3 include new generative sequencing options, a completely revised user interface, a preset playlist, a humanize function, Audio and MIDI recording for every part, and several new and updated modules. These features expand and complement the capabilities provided by Numerology's extensive list of sequencing and signal processing modules. With version 3, Numerology's library of modules now numbers more than 50, not including hosted Audio Units.
The Generate and Evolve features in Numerology 3 allow users to explore new compositional territory by using generative algorithms both to create new patters, and to make transformations to existing patterns. The Generate feature includes 18 algorithms for generating new patterns, and is setup to allow users to easily control the musical context in which the pattern is generated. Evolve goes a step further by allowing users to program specific algorithmic changes to a sequence. These changes can be triggered directly, or setup to automatically repeat for regularized pattern modulation.
Features specific to the Pro version of Numerology include multi-output support for hosted AudioUnits, monophonic audio routing support, OSC support, custom scale quantization, and several new modules specifically oriented for building advanced sequencer setups. Included in that set are gate generator and clock offset modules, a CV To Audio module for driving an analog synthesizer directly from Numerology (with a DC-capable audio interface), and a pair of operator modules supporting a total of 61 functions.
Both the Pro and SE versions of Numerology 3 come with much improved synthesis options for the built-in sample-based SampleSynth and DrumKit modules.  These modules now include a multi-mode filter, 2 AHDSR envelopes, a beat-synchronized LFO and a modulation matrix.  Complementing these additions are a new set of built-in audio effects, including tempo-synchronized delays, multi-mode filtering, and a ring modulator.
Two new features in Numerology 3 greatly expand user options for storing and sharing presets and patterns, the Stack Library and Module Presets. The Stack Library is a new centralized location for storing part-oriented sequencing and synthesis setups. The Numerology 3 download comes with a library of stacks that include a variety of demo tracks, examples and core sequencing templates. In addition, the new module preset function in Numerology 3 allows users to easily store and load settings for any module. This feature is particularly handy for keeping track of sequencer patterns as well as building preset libraries for the SampleSynth and DrumKit modules.
Comments