New VSTs and Plug-ins for music creation mix
Vintage Space Chorus VST Demo by Softrave:
Vintage Space Chorus is intended to create unusual stereo chorus space effects good for rock, electronica, disco and experimental styles of music
Price is 11 Eu \ 15 usd
you can purchase plugin here
http://www.tikov.com/softrave/vschorus.htm
New Reason rack extensions – DR-1, AP-12 and VE-3:

Synapse Audio has announced the release of its DR-1, AP-12 and VE-3 Rack Extensions Propellerhead's Reason.
Synapse Audio Software introduces three high quality Rack Extension effect plugins for Propellerhead's Reason: DR-1 Deep Reverb, AP-12 Analog Phaser, and VE-3 Vintage Equalizer.
New Synapse Audio Rack Extensions
DR-1—Inspired by a high-end 1980s outboard reverb, the Synapse Deep Reverb DR-1 delivers a deep, lush sound not found in modern software reverbs. Rather than trying to imitate real spaces, the DR-1 gives an uncolored and pleasant reverb sound that is especially well suited for synthetic material and lead sounds.
AP-12—The Synapse AP-12 emulates vintage analog phasers, which are composed of a series of phase shifting stages with a feedback path wrapped around them. The phase shifting stages (switchable between 6 and 12 stages) are modulated by a LFO, which can be synchronized to the current song tempo.
VE-3—he Synapse Vintage EQ-3 is a precise model of a 3-band analog tone stack, as found in late 50s guitar amplifiers. The unique sound of these devices is due to the coupled, passive circuits employed, where changing any parameter affects the entire network in a complex way. This is different from a digital parametric EQ, which operates on just one isolated region of interest.
The DR-1 and AP-12 are available to purchase at 32 EUR each, VE-3 is 25 EUR.
Twin Bass free bass synth plugin: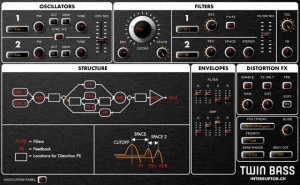 The Interruptor has released version 1.1 of the Twin Bass bass synthesizer instrument for Windows.
VSTi Bass Synthesizer with a double filter architecture allowing to create rich mid-range bass textures together with a solid sub bass foundation. Also vocal-like timbres can be easily created. Features an extensive modulation matrix and individual outs for the filters.
Twin Bass features
2 Oscillators: Sine, Saw, Ramp, Triangle, Pulse, Noise.
2 Filters operating in parallel (connection in series is also possible).

Filter 1: 2 x Low pass, 2 x High pass, Bandpass.
Filter 2: stereo filter with separate cut-off for left and right side (2 x Low pass, 2 x High pass, Bandpass).

Feedback loop for the entire filter section.
Distortion effect with two modes

hard: metallic distortion sound.
soft: tube-like warm distortion.

Modulation

3 x LFO, synchronized to host application.
3 x ADSR Envelope.
Matrix: 5 modulation slots connect 12 modulation sources to 26 modulation destinations. Pitch bend, amplifier envelope and filter envelope are pre-wired.

Process external signals: In Oscillator 2 an external signal can be selected as the waveform.
MIDI learn: Right-click any control to assign a midi control and automate the parameter from your DAW.
Monophonic modes with glide.
Polyphonic modes with max. 8 simultaneous notes.
Individual Outs are available for the two Filters.
Structure display shows the signal flow of the synth as it results from your settings of the filter and FX routings.
Pop-up hints: While the mouse hovers over a control a hint appears explaining the function of the control.
The Twin Bass is available to download as a freeware VST plug-in for Windows.
Comments