drum pattern on the ARP 2500.
"Had Stephan in yesterday working on a new Natural Habitats track. We set up the ARP2500 and made some drum sounds. It really is an amazing instrument the 2500. Here is a live tweak I did a bit later messing with a snare drum type sound. There is absolutely no reverb added to this, it is all done with the envelope generator and various filters and white noise. The rest of the loop is done with cross-mod vcos and the sequencers. Listen on headphones"
see http://myblogitsfullofstars.blogspot…. for more
BRUNO ENDER LEE – "Galaxies (part 2)" – studio recording May 19. 2013
-stereo-track 1: Absynth 4 – (drone)
-stereo-track 2: Korg Mono/Poly VST (arpeggio)
-stereo-track 3: MiniMoog Voyager OS (bass)
-stereo-track 4: MiniMoog Voyager OS (leads)
-stereo-track 5: Synthesizers.com Studio-88 (effects)
-stereo-track 6: ARP Odyssey (leads & effects)
composed, arranged & produced by Bruno Ender Lee
2013 Velvet Voyage Productions
Vintage synthesizer demo track by RetroSound
"Games"
bass and sequencer sounds: ARP Odyssey Mk III Analog Synthesizer from the year 1980, sequenced by the SCI Pro-One internal step sequencer
all other sounds: Oberheim OB-Xa Analog Synthesizer from the year 1981
drums: Roland TR-707
recording: multi-track without midi
fx: a little bit delay and reverb
more info: http://www.retrosound.de
BRUNO ENDER LEE – "ARP Odyssey – spiral sequence" – November 2. 2012
Every sound was created with ARP Odyssey MK III, recorded on 4 stereo-tracks (sequence with Doepfer MAQ 16/3, bass, effects & leads) with stereo-panning-delay. Filmed during recording of the bass
composed, arranged & produced by Bruno Ender Lee; 2012 Velvet Voyage Productions
BRUNO ENDER LEE – "Return to the Pleiades" – performed live, October 14. 2012
MacBeth M5N & Doepfer MAQ-sequencer, Synthesizers.com Studio-88, ARP Odyssey, MiniMoog Voyager OS, Moog Little Phatty, Analogue Solutions Vostok, Korg Polysix, Korg DS-8, Korg MS2000, Roland Juno-60
2012 Velvet Voyage Productions, all rights reserved
David Baron goes through keyboards one by one. Yamaha Piano, Elka Synthex, Glockenspiel, RMI Electrapiano, Roland System100, Arp Omni 2, Korg PS-3200, Celesta, Korg MS-20, Oberheim 4-Voice, Multivox MX3000, Oberheim OB8, Moog Minimoog, Synton Syrinx,Moog Vocoder.
Studio Electronics Boomstar 4075 – ARP Filter Sneak n' Peak (Take 2)
Get the .aif.zip here: http://studioelectronics.com/assets/Audio/boomstar/Boomstar-4075-GSR-1.aif.zip (for you listening pleasure only).
Greg St. Regis' clever twists and turns launched the first 4075 Boomstar past "the surly bonds of earth," via a cheap audio interface that happened to be around. More Boomstar filter type demos, live footage and markedly superior D/A Converters to follow.
Headphones mandatory. Production units are mere weeks away!
MSR
Greg St. Regis comments:
We've spent the last month debugging the prototype pcbs and perfecting the analog circuits. At this point, I felt it was good enough to give you all a sneak preview of the sound. It has about 90% of it's hardware functional. Still to be implemented is the software LFO. This is raw BoomStar recorded though a Focusrite Scarlett interface (nothing special), into Reason with a Macbook Pro. We did this in about 20 minutes, one take. I played a small Akai controller with a built in arpeggiator with my left hand and turned knobs with my right. It's "kinda cool.
It was originally about 11 minutes long; Marc did a small amount of normalizing and edited it down to 8 minutes 30 some seconds.
Put some decent headphones on and listen to huge low booms end and searingly crisp filter sweeps. I tried to take it though a full compliment of waveforms, xmod, rmod, oscillator sync, feedback looping, resonance squeals and overdrive. There is quite a bit more to come when the LFO gets in on the action.
The chassis are getting screened this week. We'll post more demos in the days to come with video included. And no, this is not an SE1X or ATCX! They sound quite good, but there is nothing like the clarity and impact of pure discrete analog with hardware envelopes.
Enjoy!
GSR
p.s. Expect to see these in the shops in about 30 days… we're in love with this little beast.
Previous MSR comments:
"Four Boomstar hardware circuits: crossmod, ringmod, feedback, AND distortion are at play here at one time or another. The idea was to stretch out… and let things get greasy and messy."
"The "feedback" feature (a la the Minimoog) is employed throughout this track so that distortion is an effect. If you are attempting to listen to this through your laptop speakers they will be overwhelmed quickly."
Don't know what to get in terms of modular synths, then here's a nice starter
David Baron goes through vintage analog modular synthesizers one by one. Moog Modular, EMS Putney, Emu Modular, Roland System 700, Arp 2500, Serge, Fenix, Roland 100m, Arp 2600. www.edisonmusiccorp.com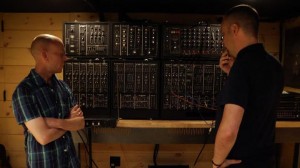 The I Dream of Wires crew checkod out Vince Clarke's new Brooklyn studio in July 2012. Above: Vince Clarke and Jason Amm (Solvent) contemplate The Roland System 700…check out the huge sequencer!
Vintage Emu Modular on the left and ARP 2500 in the background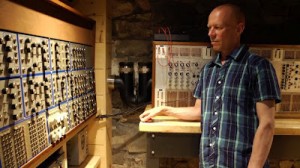 Oberheim SEM wall, OB-1, Xpander, Sequential Circuits Prophet-5 & more in the background.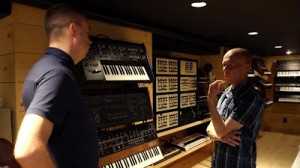 Remaining pictures can be found here >>
Kebu on stage performing a classic Jarre song, here's what he has to say about it:
This tune by Jarre is one of the most joyful tunes in the world and always makes me smile. Therefore, I picked this one as of the very few covers I performed at my mini-tour in May 2012. This video was recorded live at my show in Doo-Bop Club, Vaasa, 12th of May 2012.
The song was performed using only analog synthesizers, either played live or sequenced. The performance was recorded line in to one of the cameras. The ambience in the club was recorded using the built-in microphones on two of the remaining cameras and mixed together with the line signal.
Equipment used in this song: Arp Odyssey Mk II; Korg Polysix, Poly 61, Mono/Poly, Micro-preset M500; Roland TR-808, Juno 60, Alpha Juno 1&2; Moog Source, Touched-by-sound DRM1, Oberheim Matrix 6R, Yamaha RM1x (only for MIDI sequencing), Behringer DDX3216, Lexicon MPX500, as well as a midi patchbay and additional preamps for my mixer. Cameras: Canon HF100 (x2), HF200 and HF406.