runo Ender Lee – "Saturn" – studio recording August 16. 2014
the new album "Saturn" is now available:
http://brunoenderlee.bandcamp.com/alb…
Roland JP-8000 (Pads), Roland Juno-106 (bass), ARP Odyssey, Moog Little Phatty & Analogue Solutions Vostok (fx), Korg MS2000 (leads), Synthesizers.com Studio-88 (leads), MiniMoog Voyager OS (bass), MacBeth M5N & Korg MS-20 mini (sequence with Doepfer MAQ)
composed, arranged & performed by Bruno Ender Lee
2014 Velvet Voyage Productions / all rights reserved
all sounds: ARP QUADRA Analog Synthesizer (1979)
first demo of all four synth sections (Strings and Phase Shifter, Poly-Synth, Bass-Synth, Lead-Synth)
no multitracking, no midi
The Quadra is pretty much a hybrid version of ARP's Omni II and Solus synths. It's a four-section synthesizer consisting of a Bass synth, Poly synth, Lead synth, and String synth. It is quite good at emulating each of these sounds and can function in any of its four modes at a time with the ability of layering the different sections! Sounds you create in any of the four sections are instantly recalled from memory by the push of a button! There are 16 program patches for storing your sounds. Other major features are the incredible phase shifter, tons of balanced audio outputs for each section, dual portamento controls and a superior arpeggiator…that's pretty good for 1978! On the downside, it has a fragile mylar front panel, very limited programability and a weird feature that autotunes the keys to play weird intervals.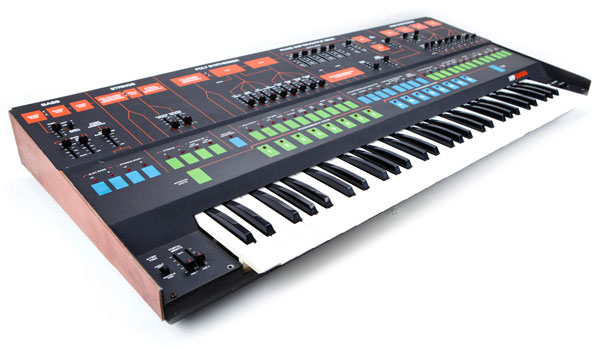 The Bass synth section is monophonic and can be programmed to occupy the lower two octaves of the Quadra's 5-octave 61-note keyboard. The bass sounds pretty good and has 16′ and 8′ presets each for Electric and String Bass sections.
The string section is based on the Omni II String synth. It sounds excellent and implements a phase-shift effect that is sort-of like a chorusing effect that thickens its already great string sound. In Polyphonic synth mode there are more effects available such as sample-n-hold and the phase-shifter. String and Poly Synth sections have 8′ and 4′ Polyphonic Waveform Generators each along with a preset called Hollow Waveform.
In Lead synth mode the Quadra becomes a two voice screamer with aftertouch sensitivity in the upper octaves of the keyboard! It's duophonic (like the Odyssey). Get a bass sequence going, switch over to another section and play along!
CL-Projects releases OSA (Old School Arps) for Kontakt 5.1 and higher.
Here's what they say: "Imagine yourself in a cellar, filled with vintage synthesizers and analog sequencers, flashing lights, knobs and faders everywhere, playing Berlin School electronic music. If you don't have any of that equipment to your disposal, this library is the next best thing. It tries to bring some of that sound and feeling to your home and studio by supplying vintage arpeggio patches."
The Berlin School electronic genre of music was first made in Berlin in the 1970s, hence the name, by electronic music artists like Tangerine Dream, Klaus Schulze and Ashra. Typical for this type of music are the evolving, atmospheric and hypnotic layered sequencer textures. The sound consists basically of ambient elements combined with short, repeating sequenced runs of notes, which gives the music a rhythmic element.
OSA is a Kontakt 5 library aimed at this genre of electronic music from the 1970s and 1980s and consists of vintage arpeggios, and a few modern ones too. Inspired by musicians like Jean Michel Jarre, Tangerine Dream, Klaus Schulze, Michael Hoenig and countless others.
Library Features:
For Kontakt 5.1 and higher (Full version).
24-bit 44.100 kHz ncw samples.
50 different waveforms per oscillator.
24 samples per patch, 12 per oscillator (76 notes).
Velocity and Aftertouch responsive.
6 folders containing a total of 151 patches.
Patches divided into Straight, Triplets and One Shot (separate folders).
4 Effects: Reverb, Delay, Chorus & Phaser.
Time and Speed parameters sync to Host tempo (Delay, Chorus and Phaser).
All parameters on 1 page.
Price: £19.99.
More info on the OSA product page: www.cl-projects-sound-design.com/osa
A small ARP ditty. A nice way to chill out after a late nite gig…
http://myblogitsfullofstars.blogspot….
Vintage synthesizer sound tutorial series by RetroSound
part two: the agressive synth lead sound from the new wave group Ultravox.
very important is the oscillator sync function and the pitch modulation.
unfortunately it came to a few disturbing noises during the recording. the output level was a bit too high for the electric mistress guitar pedal
A direct clone of the Arp 1601 sequencer.
Added an LFO which has a clock sync input. The LFO is based on Electric Druid's work.
A quick and dirty demo. Excuse some of the language…


KORG INC. is proud to announce that a faithful recreation of the legendary 1970s analog synthesiser, the ARP Odyssey, is being developed by Korg for release later in 2014.
The ARP Odyssey was released in 1972 by ARP Instruments, Inc. and quickly became famous for its unique rich sound and innovative performance controls. It was a staple for many recording and performing musicians worldwide and was used on countless hit records over many years. The Odyssey was one of the highlights of the ARP company and became a long selling product. With slight updates and improvements it was sold through to 1981.
Korg is also proud to welcome Mr David Friend as our chief advisor on the Odyssey. David Friend established ARP Instruments, Inc. along with Alan Robert Pearlman and is a past president of ARP Instruments, Inc. He was also the lead designer of the original Odyssey in addition to designing or co-designing many other products.
After ARP, Mr Friend became a successful technology entrepreneur. In 2010, he was named Ernst & Young Entrepreneur of the Year in the Emerging Technology category for the New England Region, he has been a lecturer at MIT's Sloan School of Management and is now Chairman & CEO of Carbonite, Inc. He has been a trustee of the New England Conservatory and Berklee College of Music.
In the last few years, KORG INC. has released several top selling analog synthesizers such as the monotrons series, the monotribe, the volca series and the hugely successful MS-20 mini, a faithful fully analog recreation of the 1978 MS-20. With Korg's technology capabilities and planning ability for analog synthesizers, and in collaboration with David Friend, we believe the legendary ARP Odyssey will become a "must have" for an all new generation of music makers.
The ARP Odyssey is scheduled for release in September 2014. – See more at: http://www.korg.com/us/news/2014/0217/#sthash.E2XWNMxZ.dpuf
Binary Music has announced that they are now supporting Reason's NN-XT with some Refills for Reason -ARP Odyssey, Valve 4 Op and Crosswave.
The ARP Odyssey Refill contains 101 NN-XT patches made from over 1,400 samples.
Valve 4 Op is a collection of samples from a Yamaha TX81Z – 65 patches for NN-XT and 47 Combinator patches.
The Crosswave Refill contains 133 NN-XT patches of an Ensoniq SQ80.
Pricing and Availability:
Pricing is £11 – €13 – $15 for the first week, thereafter £17 – €20 – $23, including VAT in EU.
More information:

This is what happens when you put a Buchla modular and an Arp 2600 together. At the Modular Synth Meet at Robotspeak in San Francisco.
The beauty of analog synthesizers.