A GForceSoftwareTV feature on the legendary ARP Odyssey synthesizer.
While the Minimoog proved to be a runaway success as the first compact studio synthesizer, ARP responded with a compact and user-friendly studio synthesizer of their own with the Odyssey in 1972. An almost equally legendary machine itself, the Odyssey was ARP's highest selling synth back then, and still is to this day in the second-hand market.
The Odyssey essentially gives you a simplified hard-wired ARP 2600 in a much smaller and affordable package. The Odyssey is a 2-oscillator analog synth (with duo-phonic capability) and it sounds really nice; the Minimoog has three oscillators and is capable of thicker sounds. The Odyssey comes well equipped with all the tweakable features and analog goodness you'd expect: a resonant low pass filter, ADSR envelopes, sine or square wave LFO, and a sample-and-hold function.
The Odyssey also added a few new features such as a high pass filter that could be used in series with the low pass, oscillator-sync capability, and pulse-width modulation. It is a very professional and expressive machine that can create nice analog basses, interesting leads, great effects and sweeping sounds straight out of a Tangerine Dream album!
There were many versions of the Odyssey over the years, each a little different. They can be broken down into 8 models spanning 3 Mark "Mk" version.
"When I was a teenager in the mid-1980s, like many of my teenager friends I was very fascinated by Joy Division, in particular by their album "Closer". I remember that in those days I used to put Closer on the turntable, turn off the lights in my room, and fall asleep to the music. The music from Closer was very beautiful and hypnotic, and left a big impression on me. In particular I loved the synth strings used in that album. It was the ARP Omni-2, also used in other songs by the band. A great album, a great performance by the band, a masterful production by Martin Hannett, and a big influence for my music since those days.."

The Omni is an analog synth with preset Orchestral String sounds. It has polyphonic Violin and Viola waveforms as well as monophonic Bass and Cello waveforms. It is split into 3 sections: Strings, Synthesizer, and Bass synth – all simultaneously available. It has traditional and simple VCA, VCF, and LFO controls for contouring your sounds as well as a nice chorus that really thickens up the string sound. It has no program memory.
ARP later released the Omni Mk 2. It was basically the same machine as its predecessor, except for a few minor enhancements and a cosmetic Orange & Black color-scheme upgrade. And it did have a much more advanced triggering system for the VCF and VCA for more expressive results.
http://youtu.be/_UMQjNU0Ins
"Brass, Strings, Organ and Piano sounds can be played individually or layered on top of each other in any combination (although, I can't hear Brass when added to Piano)"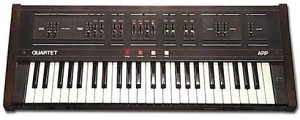 The ARP Quartet is identical to the Italian made Siel Orchestra. In fact, it is the Orchestra! ARP bought, relabeled and sold it as the Quartet without changing it much. It's a 4-part orchestral synthesizer with 4 sections: Brass, Strings, Organ and Piano. These 4 tone color families can be played individually or two can be simultaneously played. They are also individually tweakable. Selected presets will light up LEDs to show you which sliders and buttons can be used to modify the current section. The synth itself is very limited however, and there's no external control, no pitch/mod wheel and few edit parameters. But it sounds very good and it is, after all, a classic analog synth.
The Brass section creates Trumpet and Trombone sounds with independent attack and sustain controls. The String section creates Cello and Violin sounds with independent attack and sustain controls. The Organ section is 2-voice and has a Celeste sound available as well. The Piano section offers two types, traditional or Honky Tonk.
A little improve with two vintage synths. The MS-20 is also run through an mf-104z and mf-103 moogerfoogers.
Hardware:
Korg MS-20
ARP Odyssey MK 2
Moogerfooger MF-104z Analog Delay
Moogerfooger MF-103 Phaser
Software:
Valhalla DSP Room
PSP Vintage Warmer 2
Background data:
BRUNO ENDER LEE – "Astral Odyssey" – composed, arranged & performed by Bruno Ender Lee, April 22. 2012
Pre-recorded live tracks: ARP Odyssey & Doepfer MAQ-sequencer / MiniMoog Voyager OS (bass)
Filmed live tracks: MiniMoog Voyager OS (leads) / Moog Etherwave Theremin / ARP Odyssey (fx-sequence)
2012 Velvet Voyage Productions
"Today, I remade a title that I had written in long ago. I kept notes in my archives of every parameter of my machines but also the programming of all the sequence on the ROLAND MC-4 sequencer. 4 hours of work to achieve this title and again 2 hours of rehearsal before recording in live."
Recorded with : ARP Odyssey, RSF Polykobol, RSF Kobol, ROLAND System 101 & 102 (x2), ROLAND MC-202, ROLAND MC-4 Sequencer, ROLAND TR 707 (for synchronisation)… Two Mix Table… Effects pedals…
Video creation by NightBirds.
Publication & Copyright by NightBirds Electronic Music – 2012
http://fr-fr.facebook.com/people/NightBirds-Electronique/100000038001995
http://soundcloud.com/nightbirds-electronic
http://soundcloud.com/nightbirds-past-records
Benge Studios in action. Featuring Moog Modular, ARP 2500, Roland Juno 60, Yamaha CS80
See http://myblogitsfullofstars.blogspot.co.uk/ for more info
BRUNO ENDER LEE – "Spaceship" – performed live, March 3. 2012
MacBeth M5N, Doepfer MAQ-sequencer, ARP Odyssey, Synthesizers.com Studio-88, MiniMoog Voyager OS, Moog Little Phatty, Analogue Solutions Vostok, Roland Juno-60, Korg Delta, Korg Polysix, Korg MS 2000
(through 5 different stereo-panning-delays, 4 Behringer DD600 & 1 Boss ME-50)
composed, arranged & produced by Bruno Ender Lee; 2012 Velvet Voyage Productions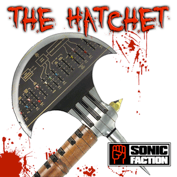 Sonic Faction has introduced The Hatchet – a new software synth for Ableton Live, based on the legendary Arp Axxesynthesizer.
The Hatchet comes with a Max for Live step sequencer patch for Launchpad.
Features:
Multi-sampled 'analog instrument' for Ableton Live
Oscillator blend, Analog detune, 'Vintage filter'
Original Portamento, S&H presets, Inifinte sound design possibilities
Built in FX Racks: Distortion, Waveshaper, Freq Shifter, Pumper, Delay
Includes custom made Max4Live Melodic Step Sequencer for Launchpad
The Hatchet is available now for $19.99 at the Sonic Faction site.
Recorded live & direct in the studio with 3 cameras.
Instruments used :
RSF Kobol & Blackbox, ARP Odyssey, KORG MS-20, ROLAND System 101 & 102 (x2), ROLAND Jupiter 6.
Race against time to get everything done in one take

Video by NightBirds.
Publication & Copyright by NightBirds Electronic Music – 2012
http://fr-fr.facebook.com/people/NightBirds-Electronique/100000038001995
http://soundcloud.com/nightbirds-electronic