Discover what the AudioFuse, the Next generation audio interface has underhood!!
More info:
http://www.arturia.com/audiofuse/over…
Features
14 Input, 14 Output channels
4 analog inputs: 2 x Mic/Instrument/Line, 2 x Phono/Line
4 analog outputs; 2 analog inserts
ADAT I/O, SPDIF I/O; Word Clock I/O
MIDI I/O; 3-port USB hub
2 microphone preamps with DiscretePRO technology
2 RIAA phono preamps
Latest generation 24-bit AD/DA converters at up to 192kHz sampling rate
Option for analog soft-clipping
Talkback feature with a dedicated built-in microphone
A/B speaker switching Direct monitoring
Separate Master and Monitor mix channels
USB interface with PC, Mac, iOS, Android, and Linux compatibility
Aluminum chassis, leather-covered top
Background video description:
I just wanted to see what an all mini brute track would sound like, Its not very musically interesting, but shows a good range of sounds available. I added some effects like delay and reverb in logic.
The KeyLab 88 is a professional-grade 88-note MIDI keyboard controller designed with the working musician in mind. Featuring a new hammer-action keybed from Fatar and deep integration with our award winning Analog Lab software, the KeyLab 88 is unique with its robust, solid metal construction and classic wooden side panels.
More info: http://www.arturia.com/products/hybri…
KeyLab 88, the largest in the KeyLab series, comes with Arturia's Analog Lab, a software synthesizer solution with over 6,000 presets derived from Arturia's range of Analog Classics. These include the TAE (True Analog Emulation) synthesis-powered Mini V (Minimoog monosynth emulation), Wurlitzer V (virtually bringing back to life the well-known 'Wurly' electric piano), among others.
The first 3,000 units shipped come with two virtual instruments: Grand Piano Model D from fellow French developer UVI, and Pianoteq 5 Stage, a physical modelling-based virtual instrument that provides acoustic and electric piano recreations as well as chromatic instruments.
The keyboard also acts as a controller which is compatible with any third-party software or hardware. Customizable MIDI assignments are accessible via the LED screen or the included MIDI Control Center software.
KeyLab 88 also sports a music stand, and a rubberized, attachable shelf extension to create a work surface for holding a laptop, tablet, or another small synth.
With a pair of trademarked DiscretePRO mic preamps, high-quality 24-bit AD/DA conversion, sample rates up to 192kHz and accurate clocking, the AudioFuse is an intriguing proposition.
When it comes to connectivity, the AudioFuse is well equipped and has been designed with musicians in mind. As such, it has two pairs of speaker outs, a pair of headphone outputs, each with 1/4-inch and 3.5mm sockets, and USB ports for connecting or powering other devices. On top of that, there's ADAT connectivity, MIDI, phono, S/PDIF, Word Clock, XLR/ balanced 1/4-inch combo connections.
The AudioFuse could easily form the centre of a small studio, providing a talkback function for communicating with recording talent, and insert points for adding line-level devices (EQ and compression for instance) between the preamps and the converters. Direct monitoring is also possible as well, to avoid the timing issues associated with recording latency.
Arturia's new audio interface is also road-ready with a sturdy aluminium chassis, and an accompanying box to protect it from knocks during transport and also to stop undesirables from messing with your settings! It is set to retail for around $549 and should become available in the Summer.
Via SOS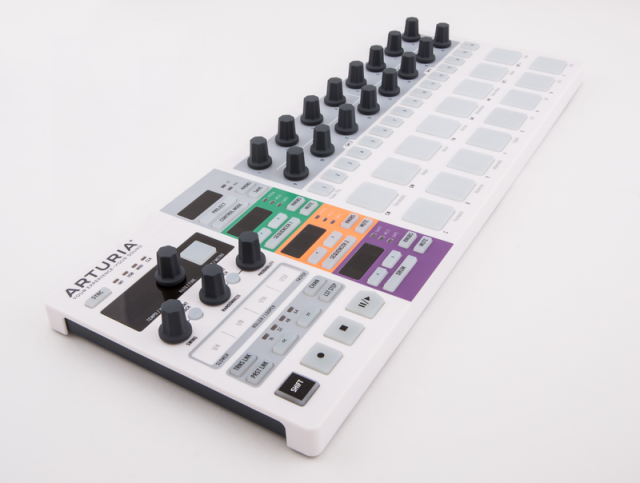 Arturia has introduced the BeatStep Pro — a flagship controller and dynamic performance step sequencer that they call 'a sequencing powerhouse'.
BeatStep Pro has been designed from the ground up to provide a hands-on hardware sequencing experience. It offers 16 touch-sensitive knobs, for entering of pitch, gate, velocity amounts, and timing shifts per step.
It includes two independent (colour-coded) monophonic step sequencers, each with dedicated displays to show the current playback position and bank length of the currently selected sequence. SEQUENCER 1 and SEQUENCER 2 have been greatly expanded with up to 64 steps per sequence, 16 sequences per project, and 16 projects, making BeatStep Pro one of the more powerful step sequencers ever made. each sequencer has its own 1V/Oct CV (Control Voltage) and (10V) GATE outputs to connect to suitably-equipped analogue synthesizers, together with a separate VELO (Velocity) output to allow for even more possibilities when working with a modular synth system setup.
An additional DRUM sequencer allows for 16 separate tracks of sequencing. Record in quantised realtime via the 16 pressure sensitive pads or use the 16 step buttons for a classic drum machine workflow. when working in SEQ1 and SEQ2 mode, the pads can control pitch transposition as well as accessing various musical scales — such as Chromatic, Major, Minor, Dorian, Mixolydian, Harm Minor, Blues, and also a User setting — while the DRUM sequencer itself also has eight DRUM GATES at its disposal (to send gate outputs from the corresponding pads for triggering external devices).
BeatStep Pro is also a controller. Switching from PROJECT to CONTROL MODE means users can trigger clips in their favourite DAW (Digital Audio Workstation), play drum sounds from an external module, or adjust parameters in their favourite plug-in. Possibilities are (almost) endless, limited only by (lack of) imagination.
Beatstep Pro also offers performance effects, including a realtime ROLLER/LOOPER touch strip; PROBABILITY, RANDOMNESS, and SWING settings.
Features:
2 monophonic step sequencers

Up to 64 steps per sequence
Note, velocity and gate time settings per step
Note tie

16-track drum sequencer (one track per pad)

MIDI controller mode
Fully customizable for knobs, step buttons and velocity and pressure sensitive pads
Send MIDI CC, note data, program changes

16 Projects, each with 16×2 sequences, 16 drum sequences and a controller map.
Performance controls
Randomizer with Amount and Probability settings
Real-time looper/roller touch strip
Independent swing amount per sequence
Touch sensitive knobs
Tap Tempo
Connectivity

CV/GATE outputs (1 volt per octave CV, 10 volt gates)
8 drum gate outputs
Clock sync with multiple standards
MIDI In/Out with supplied MIDI adaptors
USB class compliant

Kensington lock
BeatStep Pro will be shipping in Spring 2015 and available for €249.00 EUR/$299.00 USD. See the Arturia site for details.
All sounds are from the Moog Minitaur, the repeating sequence is a single track of the Minitaur through an analog delay, and it's sounds are altered manually in real time. The bass, drones and fx were overdubbed. An Eventide Space pedal and an old version of Lexicon's Pantheon plugin were used for the reverb.
A demo of the Arturia iSEM app being sequenced by the Elektron
Monomachine. The patch used was DN_PULSEECHO_KB on the iSEM. The signal
was fed through the Eventide Space.
Headphones highly recomended
An afternoon improvisation.
Gear used: Waldorf Blofeld and MicroQ, Arturia Microbrute through Eventide H9, Elektron Machinedrum, Akai mpc500 as main sequencer, Korg Ms2000, Clavia Nord Modular G2 and DSI Tetr4. Hardwire DL7 and RV8 were used on the Tetra.
A compact, computer-less performance setup that can create a wide variety of new (and old) sounds. The Dave Smith Instruments Pro 2 is the heart of the setup. In addition to its great sound engine, it provides the master MIDI clock to the H9 and sends tempo-synced LFOs, step sequences and more to the MicroBrute via one or more of its four assignable CV outputs.
The MicroBrute is in the cat bird seat here, but also shown is how that position can also be nicely filled by other analog, CV controllable synths. We also take a Moog Voyager for a spin.
Learn more at www.experimentalsynth.com
Arturia Minibrute – arpeggio and improvised melody
Volca Keys – pads and bass
A simple arp made from a sequence on the Minibrute, then random notes from a chord played by hand over the top. Pad sections were made with the Volca Keys in polyphonic mode, using a midi keyboard to play it.
More Minibrute SE here: https://www.youtube.com/watch?v=1Sxa6…