Arturia releases the V-Collection 4 including new software instruments: Matrix 12 V, Solina, Spark 2 and Vox Continental V.
More info:
http://www.arturia.com/products/analo…
Music: Stephane Schott (Lyynk)
Special thanks to: Stone Cavalli
The massively powerful Oberheim Matrix 12 has been resurrected at last. Using our TAE™ modeling techonology. we are able to recapture and bring you this beast of a synthesizer.
More info:
http://www.arturia.com/products/analo…
Music: David Grumel & Jérémy Rassat / Studio La Song Factory
The Solina V is our latest vintage keyboard recreation bringing back the classic Arp/Eminent Solina string machine.
More info:
http://www.arturia.com/products/analo…
Music: David Grumel & Jérémy Rassat / Studio La Song Factory
From October 20th to December 31st, get the MiniBrute SE at a very special price!!!
More info:
http://www.arturia.com/products/hardw…
Mitch Gallagher presents the Arturia iProphet synth app, based on the classic Prophet VS synthesizer. Enjoy the demo, then click the link above for more on this and other music-related apps!
Headphones highly recomended
An afternoon improvisation.
Gear used: Waldorf Blofeld and MicroQ, Arturia Microbrute through Eventide H9, Elektron Machinedrum, Akai mpc500 as main sequencer, Korg Ms2000, Clavia Nord Modular G2 and DSI Tetr4. Hardwire DL7 and RV8 were used on the Tetra.
A funky moog jam. Drums are 100% Tempest, I also added a moog bass line, some rhodes sounds off the nord, and a clav type patch off the prophet 08. The main moog lead is going through an MXR carbon copy.
MicroBrute SE synthesizer is a limited edition of a pure analog sonic powerhouse . Small in size but loaded with features.
This special edition is produced in limited quantity, 1500 units for each color, so make sure you don't miss out!!
More info:
http://www.arturia.com/products/hardw…
From the press release:
MicroBrute SE — a 'special edition' of its widely-acclaimed MicroBrute Analog Synthesizer, available in a choice of three tempting colours to suit whatever playful mood might make anyone's musical day, be it Christmas or otherwise — as of October 15…
Arturia's award-winning MiniBrute Analog Synthesizer rapidly reset the price/performance ratio benchmark when soaring through the subtractive synthesis sound barrier upon being launched in 2012 to much critical acclaim and subsequent success. Afterwards, Arturia built upon that success last year when introducing a 'special edition' of its namesake sibling, the MiniBrute SE, sharing the same physical footprint, but building upon this amazingly compact and bijou analogue monosynth in both looks and features. That same year, Arturia adventurously took the 'shrinking synth' concept one step further with its equally big-sounding little-brother, the MicroBrute Analog Synthesizer, an even smaller semi-modular monosynth with inbuilt step sequencer, boasting MIDI, USB, and CV connectivity with a whole host of unique features — guaranteed to bring big smiles to go with those massive sounds! Similarly, today the MicroBrute has been given the 'special edition' treatment to become the MicroBrute SE — same physical footprint and full feature set! So what's with those colours? Blue, orange, or white, they all sound the same… that is to say, sounds massive. But who's to say you can't make a bold style statement with a massive-sounding synthesizer, however small it may be? Thanks to the colourful MicroBrute SE, now you can!
But beneath those colourful, compact and bijou bonnets resides a living and breathing, fully-fledged analogue synthesizer that belies its diminutive dimensions and is actually anything but basic. For starters, just like its MiniBrute SE bigger brother, the OSCILLATOR that beats at its musical heart features SAW, TRIANGLE, and SQUARE waveforms that are all mixable to help shape the resulting sound without the limitations imposed by comparable contemporary and vintage synths alike. Additionally, the new Overtone oscillator generates additional harmonic content, ranging from one octave down to a fifth above the base OSCILLATOR pitch, while the Sub > Fifth control can continuously sweep spectrum. Moreover, Metalizer adds complex harmonics to the TRIANGLE waveform for creating harsh, harmonically-rich sounds, while Ultrasaw adds a lively and bright ensemble effect to the SAWTOOTH waveform — perfect for crafting sounds suited to dance anthems. And let's not forget the all-important Pulse Width control for creating nasal-thin tones or rich square sounds. Simply speaking, never before has such a small, single-oscillator synth sounded so big… or looked so good!
Of course, filtering helps shape any analogue synth's sound — be it big or small, and here the MicroBrute SE definitely does not disappoint. Indeed, its distinctive-sounding Steiner-Parker FILTER plays a big part in helping give the MicroBrute SE a unique sound — again, just like its big brother. This filter design dates back to the Steiner-Parker Synthacon, an analogue monosynth built by the namesake Salt Lake City-based synth manufacturer between 1975 and 1979. Its HP (high-pass), BP (bandpass), and LP (lowpass) modes make for far more filtering flexibility than that found in synths many times the price! And that's before factoring Arturia's acclaimed Brute FactorTM into the musical equation, adding anything from subtle overdrive to full-blown intermodulation havoc — choose your settings, and let the fun begin!
Speaking of having fun, the eight-Pattern step SEQUENCER is an almost endless source of inspiration and rhythmic creativity — step input notes and rests to create storable sequences that can be played back and switched between on the fly at a variable Rate or synchronised to external MIDI clock. Meanwhile, MIDI, USB, and CV GATE connectivity, of course, combine to ensure that the MicroBrute SE is ready and willing to talk to the outside electronic musical instrument world, wherever it may find itself. It's even blessed with an external audio Input with an adjustable Input Level control, so why not use it to process whatever you feel like sticking into its 1/4-inch socket — within reason, of course!
The front panel-mounted MOD MATRIX moreover allows adventurous users to control many aspects of the MicroBrute SE's massive-sounding single voice for different internal sources, as well as controlling them via external synths and modules. MicroBrute SE comes complete with two stackable jack cables for that very purpose. Preset sheets also come as standard, so no need to worry about forgetting those adventurous sound settings!
With a space-saving 25-note mini-keyboard and weighing in at only 1.75kg, the MicroBrute SE is as compact as it is colourful, yet positively punches well above its weight with a rip-roaring analogue sound spanning woofer-flapping bass, screaming leads, ear-opening effects, wave-folded growls, punchy drum sounds galore, and much in-between and beyond. Pick one — or even all three — up from an authorised Arturia dealer or retailer today! To make this perfectly portable package even more portable, Arturia has helpfully included a stylish carry bag guaranteed to turn heads wherever the stylish synth goes. Go ahead. Make a bold style statement while making a massive sound!
Vintage Synths at Arturia HQ in France – 15th anniv.
The Producer Packs combine Bitwig Studio's unprecedented workflow possibilities with Arturia's premium hybrid keyboard controllers: the KeyLab 25, 49, and 61. Also included are the legendary Arturia Mini V and Analog Lab virtual synths. The Producer Packs are a complete solution offering maximum control for sound design and production.
Together, Arturia and Bitwig have combined their strengths to raise the bar in keyboard design quality alongside the deep integration of hands-on control and rich virtual content with the workflow of Bitwig Studio.
THE PRODUCER PACKS are available in 3 versions
Arturia Keylab 25/49 or 61
Bitwig Studio full version including the installation DVD and a printed manual
Arturia Mini V Virtual Synth
Arturia Analog Lab
THE PRODUCER PACKS bundle are now available in limited quantities through Arturia's network.
More info:
http://www.arturia.com/products/produ…
"Bitwig Demo Song by David Westbom for Overclock, Inc." (http://overclockinc.com)
Glen Darcey, VP Product Management, takes you on a tour around the KeyLab and Bitwig integration.
Arturia has not officially communicated this yet, but it seems like they've got a new iPad synth on the way, iProphet.
According to leaked information that is making the rounds, iProphet is a recreation of the classic Sequential Circuits Prophet VS. The iProphet uses Vector synthesis to create its sounds, which allows for timbrel modulation. The raw sound can then be processed through a multimode filter and output effects.
Official specifications, pricing and availability are to be announced.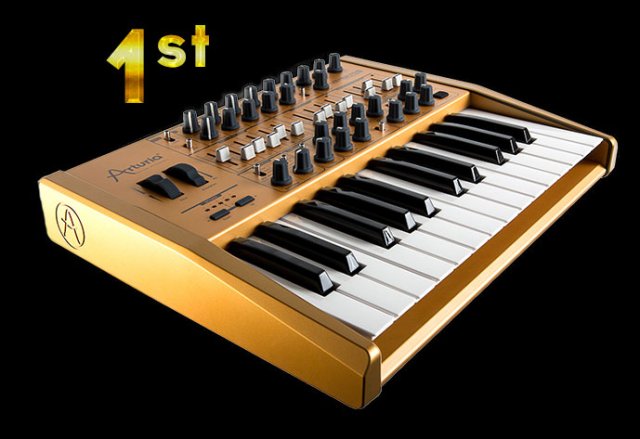 Arturia has announced a video contest to celebrate its 15th anniversary this year, with a first prize of a gold version of the MiniBrute SE.
Here's what they have to say about the contest:
Join the celebration and send us your best video describing your relation with Arturia products. Be crazy, be funny, be romantic or wild, but be CREATIVE!!!
The best movie will be shown during the 15th Anniversary Event, on October 3rd in Grenoble, France.
Prizes:
The winner will receive an exclusive and unique Gold version of the MiniBrute SE!!!
From 2nd to 5th, the prize is a regular MiniBrute!!
From 6th to 15th, the prize is a BeatStep!
Available now! Download: http://caramelfxapp.com/download
Audio demo of processing and distorting synthesizers using the Arturia Microbrute analog synth through Caramel for iPad.