Arturia Beatstep sequencing SH-5.
Arturia has announced the release of VOX Continental V, a vintage keyboard recreation, bringing back the classic sound of the famous VOX Continental 300.
As a high-end software recreation of the Sixties-vintage VOX Continental 300 transistor-based combo organ, VOX Continental-V is the latest addition to Arturia's acclaimed Analog Classics lineup where it sits alongside an authentic recreation of another archetypal Sixties staple, Wurlitzer-V (based on the classic 'Wurly' electric piano). Introduced in 1962, the VOX Continental — or 'Connie' as affectionately it became known — was originally designed to address the needs of touring musicians, but became musically much-loved in its own right. As such, it prominently featured on many hit records of the time, including The Animals' classic 'House Of The Rising Sun' in 1964 and, a little later, 'Light My Fire' by The Doors. Onstage, The Beatles performed a memorably frenzied version of 'Help!' B-side 'I'm Down' during their August 1965 performance at New York's Shea Stadium with John Lennon playing a VOX Continental using his elbows at times!

Despite being phased out of production in the early-Seventies, the VOX Continental has stood the test of time, too, playing a pivotal part in generating many of the distinctive keyboard sounds supporting later musical genres, including almost everything ever recorded by British Ska revivalists Madness, as well as New Wavers like Elvis Costello and The Attractions and American counterparts Tom Petty and The Heartbreakers. However, VOX organs have become increasingly difficult to acquire due to the high prices that they can command, compounded by the limited supply of working units. Today, VOX Continental-V gives contemporary, computer-based musicians instant access to those same hit-making sounds of yesteryear, and much more besides — and all without breaking the bank!
VOX Continental V features
Physical Modeling of the VOX Continental 300.
Added models of the ultra rare Jennings J70.
Extended mode allows for more controls and more sound possibilities.
Includes classic stompbox-type modeled effects.
Modeled Guitar Tube Amp and Rotary Speaker outputs for vintage live sound.
Extensive MIDI mapping of pedals, effects and sound engine parameters.
Modeled amplifiers: Fender Deluxe Reverb Blackface, Fender Twin Reverb Blackface, Fender Bassman, Marshall Plexi, Leslie Speaker.
Modeled microphones: Shure SM57, Sennheiser MD 421, Neumann U 87.
Convolution reverb with custom classic spring reverbs.
The Vox Continental V is available for Windows and Mac (VST/AU/AAX/Standalone) for $99 USD/99 EUR (download) / $129 USD/119 EUR (boxed).
Using Brute LFO running on two iPhones to modulate additional parameters in the patch bay on the MicroBrute in addition to the built in LFO.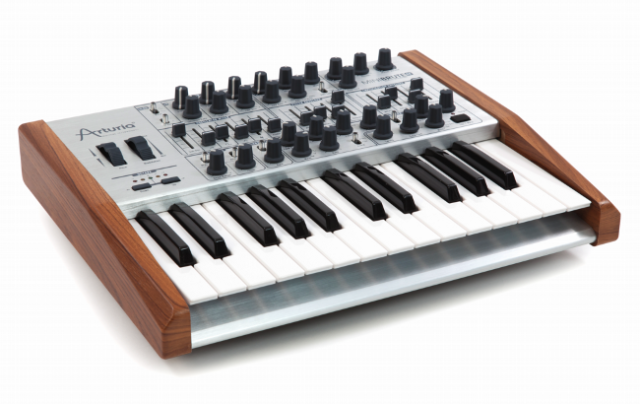 Arturia has released MiniBrute Firmware Version 1.0.3, a free update for MiniBrute owners. 
Here are the details:
* Arturia MiniBrute Firmware Update V1.0.3 *
* April 2014 *
FIXED:
——
116314: Can not Start on MacOSX with a guest account
114150: changing Midi In channel fixed
114304: compatibility with Ipad
114317: Arpeggiator does not retrig LFO in LFO retrig mode
115427: crash when long sysex are received
CHANGED:
——–
Compatibility with MiniBruteSE.
114256: Local ON/OFF supported.
116227: added octave -3 setting (by pressing octave – one more time).
116249: Tap tempo detection enhanced.
Added CC support for MiniBrute Connection parameters (see user manual).
Download the update via the Arturia site.
Arturia Beatstep controlling .Moog Animoog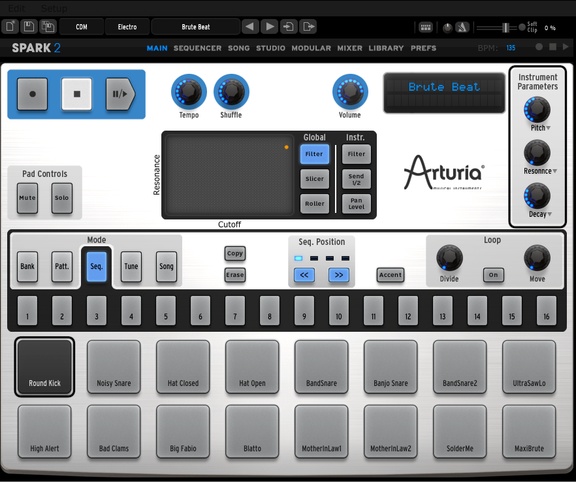 Arturia has announced the availability of SPARK 2, bringing a new look, new feel, and new features to its premier soundsculpting and performance drum machine software for Mac and Windows.
With the timely introduction of SPARK 2, Arturia has given its beat creation software a new look, new feel, and a whole host of new features fit to make it the premier sound-sculpting and performance drum machine on the market — all the more so when perfectly paired up with the award-winning SPARK Creative Drum Machine and SparkLE Creative Drum Machine controllers. It's a match made in hybrid heaven that's more flexible than ever before!
Changes in SPARK 2
All new graphics:

Tabbed pages.
Expanded Pattern edit screen.
New mixer.
Enhanced Library page for better data management.

Extended REX support:

REX file playback per pad.
Manipulation of REX File slices.

Modular Drum synth editor:

Create your own patches.
Edit existing patches.

Create custom instrument macro controls modules including:

Oscillators.
Multimode filters and Karplus strong filter.
ADR envelopes.
LFOs.
Mixers.
RingModulator.
Bode Frequency Shifter.
Spring mass.
CV processor.

Song mode:

NEW 16 song segments.
Song segment triggering from hardware.
SPARK 2 is available for the introductory price of 129 EUR/$129 USD between May 1st and June 30th, 2014 (regular 169 EUR/$189 USD). The SparkLE Creative Drum Machine controller (including SPARK 2) will be 199 EUR/$199 USD during this period (regular 249 EUR/$299 USD).
This is the same Depeche Mode cover you can find on 'PanzerLyu' channel, but now with the vocal line.
The singer is the one of the band Blue Orphans
https://www.youtube.com/channel/UCBKa…
Set up
Synths:
Arturia Microbrute
Korg Volca Bass
Korg Volca Beats
Korg Kaossilator2
Mixer:
Behringer Xenyx Q802USB
Behringer MicroMIX MX400
Audio interface:
Behringer U-CONTROL UCA222
Voice overdubbed with Audacity Software
PanzerLyu has made this  DM cover, video description below:
One of my favourite songs of Depeche Mode, from a great LP "Music for the masses"
Instrumental version.
no DAW , no overdubbing.
Background video description:
My second version of the classic Cure song.
I was not satisfied of my first run uploaded some weeks ago….so,
this time some changes on Volca Keys patterns, different bass sound whit FX., different ending.
And finally sound from the mixer.
Main Melody : Korg Volca Keys
Bass line : Arturia Microbrute , through Digitech BP 50 digital FX.
Added flanger and a little reverb
Drums : Korg Volca Beats
no overdubbing, no DAW.
what you hear is what I play.
)
Here's a presentation of the MiniBrute SE from Arturia at the Musikmesse 2014.
Arturia's red-hot MiniBrute Analog Synthesizer set the electronic musical instrument world alight immediately upon its introduction in 2012. Indeed, it rapidly reset the price/performance ratio benchmark when successfully soaring through the subtractive synthesis sound barrier while singlehandedly setting a new standard for what a hardware synthesizer should be. Hot on its heels comes a 'special edition' that is very special indeed. MiniBrute SE shares the same physical footprint as the original MiniBrute, but builds upon this amazingly compact and bijou analogue monosynth in both looks and features.
Although a sturdy and stylish brushed aluminium casing with wooden sides surely make MiniBrute SE stand out from the analogue crowd, skin-deep good looks are not the be and end all here, however, as added functionality runs deeper still. An all-new step SEQUENCER elegantly expands playing options with the MiniBrute SE — six Pattern sequences with up to 64 steps each to create multiple musical phrases, to be precise. Yet it is capable of so much more than simply replaying pre- programmed Pattern sequences ad infinitum. Users can create new musical phrases from existing ones by changing the playback Mode, Gate Len (timing), and Swing settings in realtime from the clearly labelled front panel — perfect for inspiring new musical ideas and creating exciting live performances on the fly.
)
MiniBrute SE is proof positive that the original MiniBrute was no fly-by-night success story. A pure analogue signal path and attractive features like a multi-wave OSCILLATOR and Sub Osc combined with a huge-sounding Steiner-Parker multimode FILTER (fittingly revised by Nyle Steiner himself) and wide-ranging modulation capabilities confirm that MiniBrute SE continues to innovate while breathing new life into recordings and stage performances. Add fantastic features like Ultrasaw (generating shimmering sawtooth waveforms), Metalizer (adding extreme triangle waveform-induced harmonics), LFO (with sample and hold), and full USB/MIDI/CV connectivity into the musical mix, and what have you got? A killer-sounding, step sequencing-capable synth with looks to die for, that's what!
Designed for the analogue purist with a creative spirit in mind, MiniBrute SE successfully squeezes an amazing amount of creative options into its eye-catching, exceptionally portable design. The truly hands-on artistic appeal of subtractive synthesis and supreme step sequencing are alive and kicking here — harder than ever! Indeed, it's all about analogue goodness — all gain and no pain!