Vintage Synths at Arturia HQ in France – 15th anniv.
The Producer Packs combine Bitwig Studio's unprecedented workflow possibilities with Arturia's premium hybrid keyboard controllers: the KeyLab 25, 49, and 61. Also included are the legendary Arturia Mini V and Analog Lab virtual synths. The Producer Packs are a complete solution offering maximum control for sound design and production.
Together, Arturia and Bitwig have combined their strengths to raise the bar in keyboard design quality alongside the deep integration of hands-on control and rich virtual content with the workflow of Bitwig Studio.
THE PRODUCER PACKS are available in 3 versions
Arturia Keylab 25/49 or 61
Bitwig Studio full version including the installation DVD and a printed manual
Arturia Mini V Virtual Synth
Arturia Analog Lab
THE PRODUCER PACKS bundle are now available in limited quantities through Arturia's network.
More info:
http://www.arturia.com/products/produ…
"Bitwig Demo Song by David Westbom for Overclock, Inc." (http://overclockinc.com)
Glen Darcey, VP Product Management, takes you on a tour around the KeyLab and Bitwig integration.
Arturia has not officially communicated this yet, but it seems like they've got a new iPad synth on the way, iProphet.
According to leaked information that is making the rounds, iProphet is a recreation of the classic Sequential Circuits Prophet VS. The iProphet uses Vector synthesis to create its sounds, which allows for timbrel modulation. The raw sound can then be processed through a multimode filter and output effects.
Official specifications, pricing and availability are to be announced.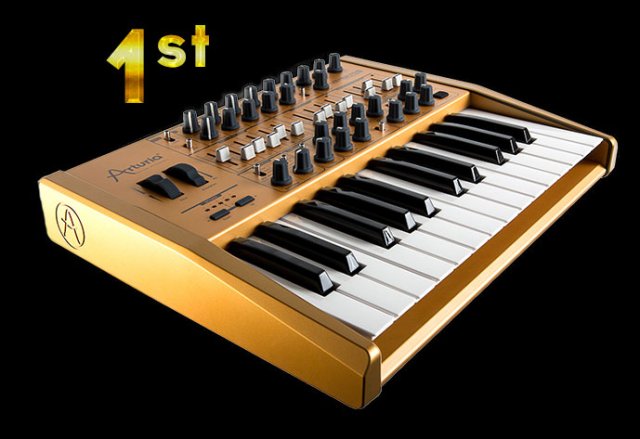 Arturia has announced a video contest to celebrate its 15th anniversary this year, with a first prize of a gold version of the MiniBrute SE.
Here's what they have to say about the contest:
Join the celebration and send us your best video describing your relation with Arturia products. Be crazy, be funny, be romantic or wild, but be CREATIVE!!!
The best movie will be shown during the 15th Anniversary Event, on October 3rd in Grenoble, France.
Prizes:
The winner will receive an exclusive and unique Gold version of the MiniBrute SE!!!
From 2nd to 5th, the prize is a regular MiniBrute!!
From 6th to 15th, the prize is a BeatStep!
Available now! Download: http://caramelfxapp.com/download
Audio demo of processing and distorting synthesizers using the Arturia Microbrute analog synth through Caramel for iPad.
Background video description:
A music I've made for a video game. I try to do sort of "8 bit music" only with my Volca Beats, Keys and my Microbrute.
Hope you'll like it

©Arthur Eloy 2014
Sunsine Audio is pleased to announce the release of Semester – 64 new presets for Arturia iSEM and SEM.
This release features thick leads, basses, creamy pads, keys and tricky arpeggios. In addition organ, brass, strings, percussion, synth patches and sequences are included as well.
Semester utilizes all the knowledge and insight gained from my personal experience beta testing iSEM with the Arturia and Tempo Rubato teams.
Contains:
• 14 Arps
• 10 Basses
• 1 Brass
• 2 FX
• 8 Keys
• 11 Leads
• 3 Organs
• 5 Pads
• 2 Precussion
• 2 Sequences
• 4 Strings
• 2 Synth
Format:
• 64 Presets for iSEM and SEM
• 1 Bank (.obsx file)
• Easy Installation Instructions
Price: $2.49
Product link – www.sunsineaudio.com/Semester-046.htm
Arturia Beatstep sequencing SH-5.
Arturia has announced the release of VOX Continental V, a vintage keyboard recreation, bringing back the classic sound of the famous VOX Continental 300.
As a high-end software recreation of the Sixties-vintage VOX Continental 300 transistor-based combo organ, VOX Continental-V is the latest addition to Arturia's acclaimed Analog Classics lineup where it sits alongside an authentic recreation of another archetypal Sixties staple, Wurlitzer-V (based on the classic 'Wurly' electric piano). Introduced in 1962, the VOX Continental — or 'Connie' as affectionately it became known — was originally designed to address the needs of touring musicians, but became musically much-loved in its own right. As such, it prominently featured on many hit records of the time, including The Animals' classic 'House Of The Rising Sun' in 1964 and, a little later, 'Light My Fire' by The Doors. Onstage, The Beatles performed a memorably frenzied version of 'Help!' B-side 'I'm Down' during their August 1965 performance at New York's Shea Stadium with John Lennon playing a VOX Continental using his elbows at times!

Despite being phased out of production in the early-Seventies, the VOX Continental has stood the test of time, too, playing a pivotal part in generating many of the distinctive keyboard sounds supporting later musical genres, including almost everything ever recorded by British Ska revivalists Madness, as well as New Wavers like Elvis Costello and The Attractions and American counterparts Tom Petty and The Heartbreakers. However, VOX organs have become increasingly difficult to acquire due to the high prices that they can command, compounded by the limited supply of working units. Today, VOX Continental-V gives contemporary, computer-based musicians instant access to those same hit-making sounds of yesteryear, and much more besides — and all without breaking the bank!
VOX Continental V features
Physical Modeling of the VOX Continental 300.
Added models of the ultra rare Jennings J70.
Extended mode allows for more controls and more sound possibilities.
Includes classic stompbox-type modeled effects.
Modeled Guitar Tube Amp and Rotary Speaker outputs for vintage live sound.
Extensive MIDI mapping of pedals, effects and sound engine parameters.
Modeled amplifiers: Fender Deluxe Reverb Blackface, Fender Twin Reverb Blackface, Fender Bassman, Marshall Plexi, Leslie Speaker.
Modeled microphones: Shure SM57, Sennheiser MD 421, Neumann U 87.
Convolution reverb with custom classic spring reverbs.
The Vox Continental V is available for Windows and Mac (VST/AU/AAX/Standalone) for $99 USD/99 EUR (download) / $129 USD/119 EUR (boxed).
Using Brute LFO running on two iPhones to modulate additional parameters in the patch bay on the MicroBrute in addition to the built in LFO.