)
Arturia has announced the MiniBrute SE, a 'special edition' of its analogue mono synthesizer.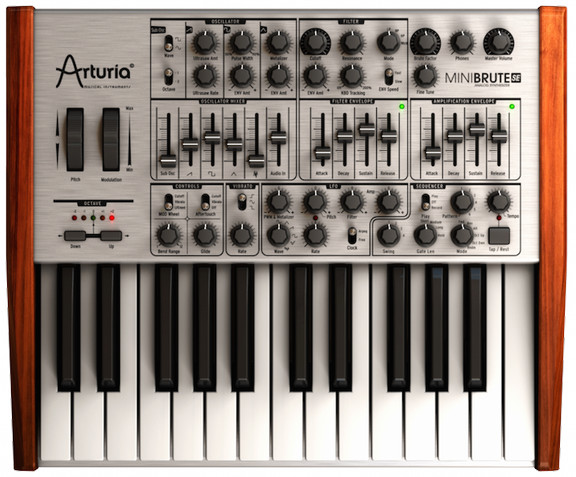 Arturia's red-hot MiniBrute Analog Synthesizer set the electronic musical instrument world alight immediately upon its introduction in 2012. Indeed, it rapidly reset the price/performance ratio benchmark when successfully soaring through the subtractive synthesis sound barrier while singlehandedly setting a new standard for what a hardware synthesizer should be.

Hot on its heels comes a 'special edition' that is very special indeed. MiniBrute SE shares the same physical footprint as the original MiniBrute, but builds upon this amazingly compact and bijou analogue monosynth in both looks and features.

Although a sturdy and stylish brushed aluminium casing with wooden sides surely make MiniBrute SE stand out from the analogue crowd, skin-deep good looks are not the be and end all here, however, as added functionality runs deeper still.

An all-new step SEQUENCER elegantly expands playing options with the MiniBrute SE — six Pattern sequences with up to 64 steps each to create multiple musical phrases, to be precise. Yet it is capable of so much more than simply replaying pre- programmed Pattern sequences ad infinitum. Users can create new musical phrases from existing ones by changing the playback Mode, Gate Len (timing), and Swing settings in realtime from the clearly labelled front panel — perfect for inspiring new musical ideas and creating exciting live performances on the fly.

MiniBrute SE is proof positive that the original MiniBrute was no fly-by-night success story. A pure analogue signal path and attractive features like a multi-wave OSCILLATOR and Sub Osc combined with a huge-sounding Steiner-Parker multimode FILTER (fittingly revised by Nyle Steiner himself) and wide-ranging modulation capabilities confirm that MiniBrute SE continues to innovate while breathing new life into recordings and stage performances.

Add fantastic features like Ultrasaw (generating shimmering sawtooth waveforms), Metalizer (adding extreme triangle waveform-induced harmonics), LFO (with sample and hold), and full USB/MIDI/CV connectivity into the musical mix, and what have you got? A killer-sounding, step sequencing-capable synth with looks to die for, that's what!
MiniBrute SE will be available to purchase at the end of May, 2014, priced at 549 EUR / $599 USD.
Marc Girard takes on the challenge to compare a classic synth with its emulated counterpart, background video description below:
Here's a quick video we made testing out the differences between a real Minimoog and a virtual one from Arturia, iMini. I was quite surprised!
BeatStep co-creator Glen Darcey chats to Source about the inspiration behind the design, his first experiences with synthesizers and also how he'll be using BeatStep in his own analogue-heavy synth studio.
BeatStep is also a 16-step analog sequencer for creating all kinds of musical phrases to be sent to analog synthesizers, MIDI drum machines, MIDI keyboard devices, or computer programs. Its connectivity options let you interface BeatStep with a computer or iPAD using USB, a drum module using MIDI or an analog synthesizer equipped with CV/GATE.
It's priced at US $129 / EURO 99, and is expected to be available in March.
Here is a description of some of the functionality associated with the connection of the Arturia MicroBrute to the Arturia MiniBrute: which results in a very powerful duophonic analog synthesizer.
For all of you who are inclined to respond "LESS TALK, MORE PLAYING!" In this particular instance, I agree. I really need to do a lot of "sounds of" videos of this combination to make up for it.
The BeatStep is much more than a pad controller–it's a groove sequencer that features analog CV-gate as well as MIDI out. We saw one driving a vintage Oberheim SEM and grooving hard!
Enjoy
Arturia's Beatstep offers a new degree of functionality and performance for a portable pad controller. BeatStep is highly versatile, capable of triggering clips in such applications as Ableton Live, playing drums in conjunction with such applications as BFD or EZDrummer.
But BeatStep is also a 16-step analog sequencer for creating all kinds of musical phrases to be sent to analog synthesizers, MIDI drum machines, MIDI keyboard devices, or computer programs.
Its vast connectivity allows you to connect the BeatStep to a computer or iPAD using USB, a drum module using MIDI or an analog synthesizer equipped with CV/GATE.
more info:
http://www.arturia.com/evolution/en/p…
FM get a video demo of a new USB hardware step sequencer with CV and MIDI. Plus, see an update to the Spark software.
The Techno legend welcomes Arturia in his boat studio in Amsterdam to tell you what he thinks about MiniBrute
About Clarke:
Educated at Brighton College, Clarke ran away from home at the age of 16 after his parents split up. After briefly sleeping rough, a friend offered him temporary accommodation. All that kept him going was his love for music, initially hip hop and post-punk (The Damned are a favourite of his to this day)and the money from his job in a shoe shop.His success as a DJ began with a residency at the Brighton nightclub Toppers.
In the late 1980s, Clarke used to write reviews for UK magazines such as Mixmag Update, Generator and ID, and was the first to review Aphex Twin.
In the 1990s, he began producing and releasing music using the moniker Hardcore. This project was subsequently licensed to the Belgian label R&S, enabling Clarke to be one of the first UK artists to record in the R&S studio in Ghent, and sign to the label.After this he recorded under various guises, including Graphite and Fly by Wire, but in 1993 he dropped these names and recorded only under Dave Clarke. Recognition of his talent came in 1994 when a series of EPs with the collective name of Red and his debut album Archive One received rave reviews, as they were seen as being innovative and crossing genres, something not common in the techno scene at the time.After the success of the Red series, John Peel gave Clarke his moniker, 'The Baron of Techno', which has stuck with him ever since.
Clarke's sense of rhythm and DJ skills have earned him the respect of his peers – he is mentioned as an influence on the 1997 Daft Punk song "Teachers". He has a longstanding relationship with visceral, intense techno, and is considered one of the innovators of the genre, even being used as a musical reference point in the German school syllabus.Clarke's DJ style consists of virtuoso cutting and scratching during his predominantly techno sets (although he sometimes plays electro and even other genres). His style is showcased on two mix albums World Service and World Service 2; the former was voted #9 in the Resident Advisor poll of best mix albums of the 2000s. His album Devil's Advocate, released in 2003, is a mixture of techno and hip hop featuring Chicks on Speed and DJ Rush. He also made an experimental John Peel Sessions EP under the name 'Directional Force' on the Strange Fruit label.
Clarke relocated to Amsterdam in 2008 and has become a key player in the annual Amsterdam dance event. He is a regular DJ presence at top global clubs such as Fabric in London, Berghain in Berlin, and Fuse in Brussels. He has also played a wide range of festivals including Glastonbury,Pukkelpop, and I Love Techno, as well as curating his own successful stage at Tomorrowland in Belgium since 2012.
The MICRO is beeing treated with ext Cotoff Trigger Seqencer Doepfer A.-155. In Sync with the internal sequencer + Modular Kick..
50 presets for Arturia SEM V virtual synthesizer. Make sure you check out what Modulation wheel does with all patches!
Buy this soundbank at www.mulperi.net
Background video description:
My reaction and playing around with the Minibrute. Also included is a quick look at the preset templates. Check out this awesome analog synth!