Just a quick little demo to show the Mother of ALL Sequencers controlling four virtual instruments in Abelton Live 8. The plugins where: Arturia MiniV, Artutia ModularV, 2 instances of Alchemy and drum Impulse
While sequencers are machines to control synthesizers, Octopus stands out for a broad user base as a musical instrument. The merit lies in the directness, intuitiveness and creativity that gets unleashed by interacting with Octopus.
User experience and musical creation are the centerpieces of the Octopus design: a no-compromise machine built from metal, wood, and modern real-time software technology. The thorougly structured user interface, its stunning looks, the materials and our care going into hand-assembling every unit make each Octopus a unique piece to stand the test of time.
Octopus' tactile and visual feedback is a physical experience so typical for traditional musical instruments. Music is being felt, heard and played with Octopus. And the numbers behind it all.. no display? Well, do you really care? Yes, computers love them. We love light, color, and most of all music!
The family of Octopi has three members which differ in the enclosure they come in: Octopus New Classic for the piano lacquered wood look, comes with white painted panels and a red-green-yellow LED matrix. Octopus Lion Head carries on the nature wood look legacy that our original (and now discontinued) model has set, and which many users still long for. And finally Octopus The Shell- thisone you will never have to leave again! Built in an industrial strength road case, it features black anodized panels, and sparkles with red-green-yellow LEDs.
All sounds are from the Arturia Minibrute. Spatial effects were created on the hats,toms, and bells, using the Electro-Harmonix Deluxe Memory Man and the Vermona Vintage Spring Reverb.
These sounds are free for you to use, but not to sell as a sample library.
Link for the Individual Sounds: docs.google.com/file/d/0BzLbZ1FMX…/edit?usp=sharing
If you like them, please follow my page and visit my shop at: www.darksideofthetune.com/shop.php
Live recorded jam session; mainly to demonstrate some analog/hybrid synths.
"Unfortunately since I had only 1 hand free I couldn't tweak that much realtime and also had to move fast on switching between synths, so there might be some delays. Only pre-recorded tracks were the drums and the synth midi tracks, which was basically 1 loop. This is not a worked-out track, but maybe I will do so one day

No effects used, only some minor mastering/compression on the total mix."
Keyboard Magazine's editor Stephen Fortner demos the MiniLab, a library of virtual analog soft synths from Arturia's V-Collection. It's bundled with a custom controller that pre-maps all knob assignments. All for $99.
Arturia's product description below: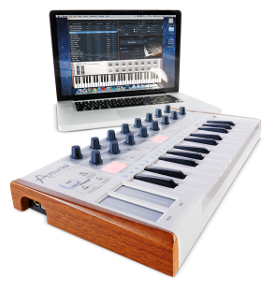 Arturia's MiniLab USB Controller marries the style you love with the hands-on control and portability you need to take your studio wherever you go.
Made for the musician on the go or the performer with limited space, the MiniLab gives you a great depth of features in a portable package that is sturdy and looks great.
Combined with the Analog Lab software, you get a real hybrid synthesizer that comes with a collection of 5000 sounds from the Modular V, CS-80V, Mini V, Arp 2600V, Jupiter 8V, Prophet V, Oberheim SEM V, and Wurlitzer V.
MAIN FEATURES:
25 note velocity sensitive mini keyboard.
16 encoders
16 pads (two banks of 8 pads/buttons)
Pitchbend/Modulation touch strip
Footswitch input
Recessed full sized USB jack
Bus powered, Class compliant
Works with iPAD (camera connection kit required)
Comes with Analog Lab software
5000 sounds from the best synths and keyboards
Arturia Minibrute controlling the Korg Monotribe via CV out, and Yamaha TNR-i for iPad with BeatMaker 2 drum samples.
"Arturia Minibrute controlando o Korg Monotribe via CV out e o Yamaha TNR-i para iPad usando samples de bateria do BeatMaker 2, também para iPad. "
A new video, via Verifyhuman, captures a "budget monophonic synthesizer smackdown":
It's a budget monophonic synthesizer smackdown: How does the new Korg MS-20 Mini compare against the Arturia Minibrute? A veiny arm takes you through the oscillators of these beasts to see just how similar / different they are.
I made the video as a scientific response to the bevy of forum discussions and questions regarding the two. For those in the market for a budget monosynth but only wish to buy one, I hope the video can remove some of the subjectivity and let the listener determine what sounds better to them. No audio editing or effects were added to the raw sound.
Questions? Opinions? Video comparison requests? Leave them in the comments below.
Recorded through Native Instruments Audio Kontrol 1 with Ableton Live 9.
Waldorf Nave – Live Loop with Elektron Octatrack
All synth sound came from Waldorf Nave on the iPad.
Minibrute was used as a controller only.
For this song, Arturia Minibrute was CV sequenced by Elektron Analog Four.
Output of the minibrute was feed back into Analog Four to use FX track.
As being a hardcore MiniBrute myself, it is really nice to see one of the legends using it

Check out our exclusive interview with synth legend Vince Clarke at his studio in New-York, talking about MiniBrute, his relation to synths and his up-coming projects.
Sunday Night (Elektron Analog Four and NI Maschine Mikro Mk2)
Wiked Delusion (Elektron Analog 4 – Arturia Minibrute – Maschine)