Arturia has put a page on their site, teasing a new hardware synthesizer. Arturia doesn't offer any details on the new synth, other than to say that it "Looks tiny, Sounds massive" and that it offers "Vintage sound, modern connectivity".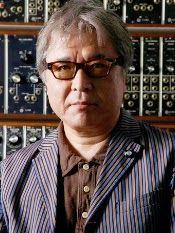 Check them out, and let us know what you think Arturia's 'sonic monster' is going to be!
"I really love the sound of the original , and IT's got that character and can be even wilder. You can get all kinds of crazy and musical interactions going on with other analog gear and drum machines. Combine the two together and you're rocking?" Adrian Utley (Portishead)
"IT takes me back to the joy I felt when I pushed that first key and a saw wave spoke back to me. IT allows for more than 100% values of such things as keyboard tracking. IT melds the best in a compact little powerhouse." Terry Lawless (U2 and P!NK)
"Once again Arturia has given me the best of both worlds with IT. It's blowing minds at both my recordings session and in concert. The perfect compliment to my already diverse rig." Roger Joseph Manning Jr (The Moog CookBook, Jellyfish, Imperial Drag, Beck)
"So Just when you think Arturia can't be any more practical than the Mini Brute. They bust you in the head with THIS." Keith Shocklee (Public Enemy)
"For me, a Synthesizer that has no presets is an adventure every time. IT is a recipe for audio joy. IT soon becomes a real electronic instrument, that develops with your knowledge and expertise."Chris Cross (Ultravox)
"The small form factor is disproportionate to the massive sound you can get out of IT. Having used many Arturia soft synths, this is a great piece to transition from a laptop. Turn the switch and go." Sandra Vu (Dum Dum Girls, SISU)
"Big, ballsy sound! Arturia has another sonic monster on its hands!" André Bowman (Will.I.Am)
"It's SMALL GIANT! I love it!!" Hideki Matsutake
Arturia has announced availability of iSEM, its second subtractive synthesizer recreation for Apple's  iPad. Here's the story in their own words…
Like Arturia's Oberheim SEM V desktop (or laptop) software solution before it, iSEM uses proprietary TAE (True Analog Emulation) technology to faithfully reproduce the analogue warmth and ingenious interface of the vintage Oberheim Synthesizer Expander Module (SEM) to which it also owes its inspiration and name, but brings it all kicking and screaming to this day and age in the most musical and ingeniously interactive ways possible by making the most of the latest developments available to its iPad host. Helpfully, Arturia has seen fit to take advantage of iOS 7′s inbuilt Inter-App Audio, allowing iSEM users to send MIDI commands and stream audio between apps on the same device. And that's just for starters!
But first, a little history: hatched by legendary synth designer Tom Oberheim back in 1974, the dual-oscillator SEM was originally conceived as a way of beefing up weaker-sounding compatible analogue monosynths of the time before becoming a sought-after sound in its own right — so much so that its American creator came up with a series of successive SEM-based instruments, first pairing up two SEMs with a 37-note keyboard and a simple analogue step sequencer to form the Two Voice, Oberheim's first self-contained compact, duophonic synthesizer in 1975, thereby beating rivals to the polyphonic punch. Programmability came courtesy of Oberheim's breakthrough Polyphonic Synthesizer Programmer which — when hardwired into the fair-sized Four Voice (featuring four SEMs and a 49-note keyboard) in 1976 and enormous Eight Voice (eight SEMs set across two tiers) in 1977 — enabled the control voltages of many parameters for up to eight SEMs to be memorised for the first time. Though these instruments were undeniably groundbreaking, quickly finding favour with the likes of popular prog-rockers Rush and electronic music trailblazers Tangerine Dream, polyphony was, after all, achieved with multiple SEMs so each voice/module had to be programmed independently, which was quite a daunting task — even by somewhat shaky Seventies standards!
Fast forward, then, to 2013 and the truly 21st Century musical landscape has changed considerably, as has music technology itself. Today, of course, we take polyphony and programmability for granted, though not necessarily that still-sought-after Oberheim sound. Ingeniously, iSEM quite literally taps into all of this and then some, putting more musicality at anyone's fingertips than its analogue namesake designer dared dream possible back in Oberheim's Seventies salad days!
On the surface, anyone in any way familiar with the original Oberheim Synthesizer Expander Module® will immediately feel right at home when launching iSEM since the majority of its MAIN screen graphically mirrors the VCO 1, VCO 2, VCF, ENV 1, ENV 2, and LFO 1 layout and all associated controls to a tee — right down to the old Oberheim logo within the VCF section! Speaking of recognition, recreating that still- sought-after Oberheim sound is a challenge that iSEM readily rises to meet from deeper within thanks to that TAE® technology. This allows accurate modelling of analogue circuitry behaviour — in this case, an original Oberheim Synthesizer Expander Module®. Meaty, Seventies- sounding sounds stream forth from iSEM with over 600 highly-usable presets always accessible from its eye-catching browser — a quantum leap forward from Oberheim's Polyphonic Synthesizer Programmer of way back when, surely?
Of course, communicating with the outside world in the pre-MIDI age was always a testing time back in the Oberheim SEM-launching Seventies. Not so today with iSEM… simply tap CONNECT and the iPad world is your musical oyster, thanks to Core MIDI, WISTTM, and Audiobus support — not forgetting the aforementioned Inter-App Audio.
But that's not all iSEM has to offer. Far from it, in fact! Pressing the VOICE PROG button brings into play a voice programmer that makes simulating a huge polyphonic sound similar to Oberheim's original Eight Voice hardware heavyweight a breeze — albeit without having to wrestle with eight monosynth modules hardwired together to create complex tones. Tellingly, MOD MATRIX makes creating complex modulation routings equally easy while the FX page brings built-in chorus, delay, and overdrive effects into the musical mix. Meanwhile, multiple performance parameters are accessible from the PERF page boasting ARPEGGIATOR controls, assignable sliders, and effects mix controls.
Amazingly, all of this is available in iSEM as an ear-opening iPad app for a tiny fraction of what its notable namesake analogue ancestor cost almost 40 years ago. The times they are a-changin' here for sure! And admit it. Will you miss having to haul heavyweight hardware around? That's progress. Portability pluses apart, iSEM is a supreme software recreation of a supreme subtractive synthesizer, pure and simple. So surely Apple's App Store should be your next port of call? Get iSEM today and get back to the future of that still-sought-after Oberheim sound with Arturia!
Appropriate iPad owners can purchase and directly download iSEM from Apple's App Store for $9.99 USD/€8.99 EURO/£6.99 GBP
Background video description:
Finally checking out the awesome little analog synthesizer from Arturia called the MiniBrute. This is a fully analog synthesizer with a Steiner-Parker filter, CV in/out, MIDI, and USB, all in a nice 25 key aluminium case.
full review: http://soundsandgear.com/arturia-mini…
product page: http://www.arturia.com/evolution/en/p…
BRUNO ENDER LEE – "Galactic Moog 2″ – performed live August 24. 2013
MiniMoog Voyager Old School (bass), Moog Little Phatty Stage II (arpeggios), Moog Etherwave Theremin, Arturia MoogModular V (fx-sequence)
composed, arranged & produced by Bruno Ender Lee; 2013 Velvet Voyage Productions
Arturia MiniBrute (not shown in the video) is running its arpeggiator and sending its notes as gate pulses to Korg Monotribe (Sync in). Monotribe plays the drum sequence and also the bass notes with some Sample & Hold modulation on the filter. The lead is a custom preset for the Novation MiniNova.
Just a quick little demo to show the Mother of ALL Sequencers controlling four virtual instruments in Abelton Live 8. The plugins where: Arturia MiniV, Artutia ModularV, 2 instances of Alchemy and drum Impulse
While sequencers are machines to control synthesizers, Octopus stands out for a broad user base as a musical instrument. The merit lies in the directness, intuitiveness and creativity that gets unleashed by interacting with Octopus.
User experience and musical creation are the centerpieces of the Octopus design: a no-compromise machine built from metal, wood, and modern real-time software technology. The thorougly structured user interface, its stunning looks, the materials and our care going into hand-assembling every unit make each Octopus a unique piece to stand the test of time.
Octopus' tactile and visual feedback is a physical experience so typical for traditional musical instruments. Music is being felt, heard and played with Octopus. And the numbers behind it all.. no display? Well, do you really care? Yes, computers love them. We love light, color, and most of all music!
The family of Octopi has three members which differ in the enclosure they come in: Octopus New Classic for the piano lacquered wood look, comes with white painted panels and a red-green-yellow LED matrix. Octopus Lion Head carries on the nature wood look legacy that our original (and now discontinued) model has set, and which many users still long for. And finally Octopus The Shell- thisone you will never have to leave again! Built in an industrial strength road case, it features black anodized panels, and sparkles with red-green-yellow LEDs.
All sounds are from the Arturia Minibrute. Spatial effects were created on the hats,toms, and bells, using the Electro-Harmonix Deluxe Memory Man and the Vermona Vintage Spring Reverb.
These sounds are free for you to use, but not to sell as a sample library.
Link for the Individual Sounds: docs.google.com/file/d/0BzLbZ1FMX…/edit?usp=sharing
If you like them, please follow my page and visit my shop at: www.darksideofthetune.com/shop.php
Live recorded jam session; mainly to demonstrate some analog/hybrid synths.
"Unfortunately since I had only 1 hand free I couldn't tweak that much realtime and also had to move fast on switching between synths, so there might be some delays. Only pre-recorded tracks were the drums and the synth midi tracks, which was basically 1 loop. This is not a worked-out track, but maybe I will do so one day

No effects used, only some minor mastering/compression on the total mix."
Keyboard Magazine's editor Stephen Fortner demos the MiniLab, a library of virtual analog soft synths from Arturia's V-Collection. It's bundled with a custom controller that pre-maps all knob assignments. All for $99.
Arturia's product description below: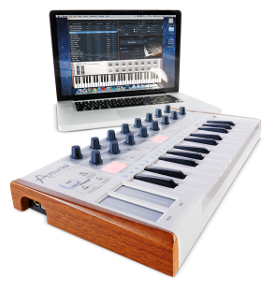 Arturia's MiniLab USB Controller marries the style you love with the hands-on control and portability you need to take your studio wherever you go.
Made for the musician on the go or the performer with limited space, the MiniLab gives you a great depth of features in a portable package that is sturdy and looks great.
Combined with the Analog Lab software, you get a real hybrid synthesizer that comes with a collection of 5000 sounds from the Modular V, CS-80V, Mini V, Arp 2600V, Jupiter 8V, Prophet V, Oberheim SEM V, and Wurlitzer V.
MAIN FEATURES:
25 note velocity sensitive mini keyboard.
16 encoders
16 pads (two banks of 8 pads/buttons)
Pitchbend/Modulation touch strip
Footswitch input
Recessed full sized USB jack
Bus powered, Class compliant
Works with iPAD (camera connection kit required)
Comes with Analog Lab software
5000 sounds from the best synths and keyboards
Arturia Minibrute controlling the Korg Monotribe via CV out, and Yamaha TNR-i for iPad with BeatMaker 2 drum samples.
"Arturia Minibrute controlando o Korg Monotribe via CV out e o Yamaha TNR-i para iPad usando samples de bateria do BeatMaker 2, também para iPad. "