September 20, 2011 · Posted in
Uncategorized
·
Comments Off

on Groove – Drum Station DT-010 by D-lusion
Groove – Drum Station DT-010 by D-lusion. (standalone application) This is not a plugin, but a standalone drum machine programme that as a lot of built in samples but you can use your own 16 bit drum samples and record and export the whole thing as a 16 bit wav. classic.
For more information visit. or check out all the other video's on youtube
http://www.d-lusion.com/News.html
delusion also are famous for the rubberduck or RDH30, 303 acid bass machine sequencer and the mj studio mp3 dj mixing application.
ive got this working on windows7. just download, run, then reinstall under recommended settings. all these third party applications work a treat. 10/10
June 17, 2010 · Posted in
Uncategorized
·
Comments Off

on Beatstation released
Don´t miss yesterdays review on Beatstation here at Stereoklang
http://stereoklang.se/blog/?p=3017
Ladies & gentlemen, we proudly present to you – Beatstation!
Part sound design tool and part audio engine, Beatstation brings the best aspects of musical creativity together in one EZ and powerful virtual instrument that is sure to inspire greatness in your next composition or project.
Offering drum, bass and lead instrument creation & arrangement with drag and drop simplicity, Beatstation is your "go to" instrument for quickly getting a full groove up and running in no time at all. As if that's not enough, we've also added full MIDI & REX file support. Couple those features with the flexibility of working in Beatstation as a stand alone instrument or an AU, RTAS or VST plugin inside your favorite DAW and Beatstation becomes a creative musical force to be reckoned with.
Beatsation comes standard with a 1.5 Gb core content library packed full of beautifully recorded instrument patches, loop ready REX files and even completely customizable MIDI arrangements.
If you can think of a sound, Beatstation can help you bring it to life.
Beatstation also lets you use and combine all of your existing Toontrack EZX & SDX drum libraries together to create one of a kind drum kits and sounds. From basic musical sketches to lavish complete productions – Beatstation gives you the tools and freedom to design your own musical agenda any way you want to.
Beatstation – sound design made EZ!
Check it out here: www.beatstation.com
I have had the opportunity to test Toontrack's new software the Beatstation (will be launched in June), for some time now and I must say that I am excited about this product. Beatstation is equally an inspirational tool, to find the beat and rythms you want, to a full fledge drum machine and bass line player. Supporting a range of different formats it is very easy to import whatever you have into the Beatstation and play around with it.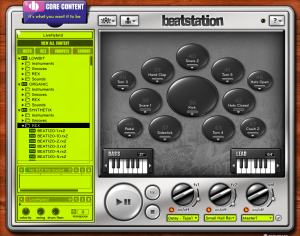 When you first open it up it reminds me very much of some of the iPad instruments that has been launched recently, but once you have gotten used to it there is a lot more to explore. Running it via MIDI you can really play around with the pre-loaded drum beats or tweak them as you plase, adding your own flavors to the sound.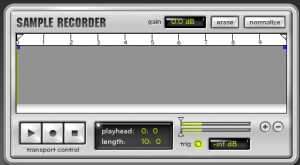 Speaking of the sound, the drum beats are of excellent condition, especially the snare drums which really kicks it. The easiest way to get started is to load any type of sample or loop, I used some old REX loops that I had in a recent project and added a selection of drum patterns – and this is when the fun starts because you have som many ways of altering the beat and perfect the groove.
The flexibilityto be able to load just about anything and the fact that it works equally well both as a stand alone inspirational sound system and as easy to use VST. I tried it using Reaper as the host and I had no problems hooking it up with Reapers built in Virtual keyboard and start improvising with different sound sets. Another good thing when using Beatstation is that you have the option of configuring the layout of the drums and synths in order to be in sync with what you are accustomed to, the illustartion below shows a bit of an overview on this.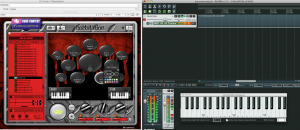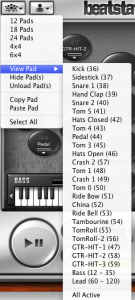 Would i want something more? Well, most of the effects are hidden i drop down menus, see illustration below and for more live situations it might have been better to have a few more controls visible in order to tweak the sound on the fly.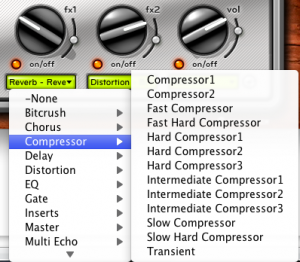 Beatstation seems to fill a gap in today's plethora of software music instruments, since it focuses on experimentation and your creativity in finding new grooves and rythms.
About Beatstation
Beatstation is a Windows and Mac, stand-alone and/or VST, AU and RTAS compatible virtual instrument. Beatstation plays Percussion Pads, Lead Instruments and Melodic Bass.

It uses a flexible and skinnable open playing surface, records samples, supports external samples (MP3 and WAV), MIDI Grooves and REX Files. The Beatstation expansion format, the BTX, contains high end sampled drum, percussion, bass and lead instruments with MIDI and REX files. Beatstation harnesses the power of percussion samples and melodic instruments in one virtual instrument and has been developed from the feature requests of the current Toontrack users in need of a completely open interface to create their own personlized sound-set as well as for a new generation of music creators.

Beatstation will roll out to stores in June of 2010. Up until store release Toontrack will build an array of videos and tutorials showing the products potential at the product site http://www.beatstation.com.