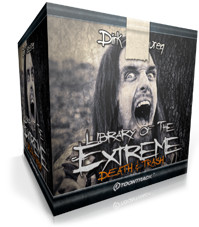 Toontrack has announced the release of Death & Trash, the second installment of Dirk Verbeuren's Library of the Extreme MIDI drum grooves.
The new "Library of the Extreme – Death & Thrash" has all the beats that youd need, meaning the Skank beats, the Carpet Rolls, the D-Beats, all the double-bass stuff, etc, etc. Together with "Library of the Extreme – Blasts & Fills" this pack makes a really unique encyclopedia of metal beats!

This MIDI pack is not for the faint of heart, or the musically meek. We're talking about a collection of MIDI grooves that will pummel your tracks into oblivion. This is the perfect marriage of speed and power.
Library of the Extreme – Death & Thrash is available to purchase for 15 EUR.
More information: Toontrack / Library of the Extreme – Death & Thrash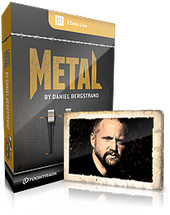 Toontrack has announced the release of the Metal EZmix Pack, a collection of presets for the EZmix plug-in.
When we created our popular EZmix plugin, our purpose was very simple. We wanted to make getting great sound as uncomplicated as possible – that's it.

So, in keeping with that theme, we have created a new expansion pack for EZmix that is sure to excite the inner metal monster in all of you… This time we went as cold and Nordic with our metal as we could, Meshuggah, In Flames, Nocturnal Rites, Scarve & Soilwork.

What they all have in common is Daniel Bergstrand – Producer, Engineer & Mixer of the metal elite. He has helped all these bands, and many more, to perfect their precious metal vision. Now, he's going to help you perfect yours!

Introducing the Metal EZmix Pack by Daniel Bergstrand. Tons of quick and EZ presets for Guitar, Bass, Keyboards, Vocals…and yes, DRUMS! If you make metal, this was made for you. Just open the EZ mix plugin inside your favorite DAW, pick the preset you like most and apply! Mixing your metal really did just get that much more EZ.
The Metal EZmix Pack is available to purchase for 25 EUR.
More information: Toontrack / Metal EZmix Pack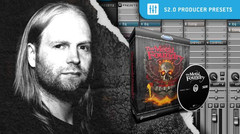 Toontrack has released Metal Foundry Presets – Andy Sneap, a collection of presets for Superior Drummer 2.0 and Metal Foundry SDX.
Andy Sneap is a world-renowned musician, engineer & producer – the "go to" guy for making great sounding metal records.

Andy has partnered with Toontrack to create a suite of Metal Foundry Presets for you, to help bring you one step closer to your ultimate metal sound. This package takes your mixes to the next level!

Just fire up your DAW of choice & insert Superior Drummer 2.0 as a virtual instrument. Load the Metal Foundry SDX and select the preset that sounds best for what you are doing. Mix your masterpiece. It couldn't get any easier.
Metal Foundry Presets – Andy Sneap is available to purchase as a download for 7 EUR.
More information: Toontrack / Metal Foundry Presets – Andy Sneap
Toontrack announced today their latest EZX expansion for their drum systems: Metalheads. The promo text goes like this: One world-renowned drummer, Tomas Haake, member of the extreme metal band Meshuggah. One in demand producer, Daniel Bergstrand, whose mixing and producing credits include the likes of In Flames, Strapping Young Lad, Soilwork and Meshuggah, just to name a few.
Two Incredible drum sets, assembled and recorded to metal perfection, ready to bring your metal productions to the next level. And, for the first time in Toontrack history, we've included Separate mix channels in the EZdrummer mixer, containing kick and snare drum samples designed by Daniel Bergstrand, that augment these already amazingly recorded drums.
Twelve classic Meshuggah songs, captured flawlessly via MIDI by Tomas Haake himself, organized both as full songs as well as song parts so you can customize, dissect and use his grooves and drumming brilliance to inspire or create your next grand metal composition.
This is the next step in the evolution of Metal drum production tools. SRP $89 (US).
Toontrack has annouced the release of the Modern Pop/Rock EZmix Pack, a collection of presets for the EZmix mixing tool for Windows and Mac.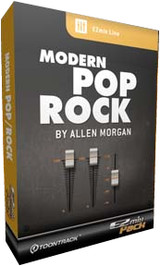 With EZmix,  you get all the tools you need to take your audio mixes to the next level. Just open EZmix as a VST, AU or RTAS plugin on a track in your  favorite DAW, scroll through the presets and find that perfect sound. It's really that EZ.
We here at Toontrack have teamed up once  again with music producer Allen Morgan. Allens Modern Pop/Rock EZmix  Pack contains meticulously created presets for drums, guitars, bass, keyboards and even vocals – all just a mouse click away inside the EZmix  plugin.
Since Allen has worked with everyone from Nine Inch  Nails, to Dolly Parton, we asked him to design a set of presets that  would offer you a wide variety of options
when mixing your projects.
Check it out here: http://www.toontrack.com/products.asp?item=90
Produced in conjunction with our good friend Allen Morgan, this pack of presets
for Superior Drummer 2.0 picks up right where Allen´s last pack left of. Giving
you yet another great set of tools to spice up your Superior Drummer 2.0 mixes.
Rock, pop, country or metal – whatever the project, these audio gems will help you
bring your drum mix to life. Just download, install and mix – it really couldn´t be
much simpler.
Toontrack continues to deliver high quality demos on their Beatstation product, if you are a Beatstation user, please let us know what you think of it. I did a review of it some time back as well
The latest instalment of Toontrack's Beatstation video series which explores how to use SDX and EZX expansion packs within Beatstation to enhance the already-huge bank of sound files.
Combining drums, bass and lead instruments with drag and drop, REX and MIDI support, Beatstation is your companion for quickly getting a full beat up and running or for diving into the smallest details of what you want your sound to be, to be able to realize your music, your expression. Just take WAV or MP3 files from any source to create unique and inspiring combinations.
You can combine and edit individual slices from your favourite REX files or create playable instruments from a single sound. All this can be done just with a few clicks of the mouse, making Beatstation a hugely powerful yet easy to use virtual instrument.
http://www.timespace.com/product/BEAT…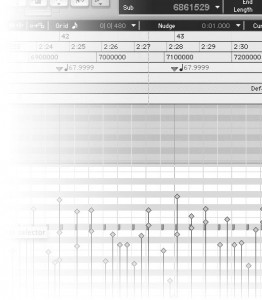 Toontrack delivers new stuff, here's what they have to say about it:
Does it ever get easier than dragging and dropping a few files and have a full, pro-played drum track to an entire song laid down in virtually a minute? For any songwriter or musician, be it the professional or the enthusiast, the answer is of course no!

After the success of the first two packs in the Songwriters Drumpack series, Songwriters Drumpack and Songwriters Fillpack, Toontrack is back with another highly useful library of complete song-structure MIDI, organized as separate songs featuring several full intros, verses, pre-choruses, choruses, bridges and fills! With its undeniable ease of use and musical diversity, Songwriters Drumpack 2 is sure to lend a helping and creativity-boosting hand to your songwriting and production.
· Played by studio drummer and Toontrack veteran Peter Fredlander (who performed on Toontrack's Monster MIDI Pack series)
· More than 450 individually played files
· Categorized in different songs
· Ballad / midtempo / uptempo / shuffle songs
· Full 4-8 bar intro / verse / pre-chorus / chorus / bridge / fill sections & variations in each song
· Different meters in swing and/or straight feel
Works with EZdrummer®, Superior Drummer® (optimized for 1 kick, 1 snare, 2 toms,
1 floor-tom, 2 crash-cymbals, 1 ride-cymbal)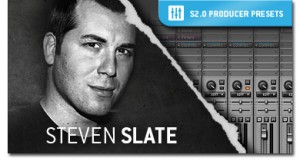 Toontrack Music has teamed up with Steven Slate to bring you premium producer presets designed by Steven Slate himself for the sample engine and core sound library of Superior Drummer® 2.0
The presets carry Stevens highly prolific signature sound into Superior Drummer and will give Superior Drummer yet another edge.
· Comes with seven (7) different presets (Basic Rock, Cranky Funky Rock, Fat Metal, Fat Rock, Lively Rock, Punchy Rock, Radio Rock), engineered and designed by Steven Slate
· Works with the core Sound Library in Superior Drummer® 2.0
Click here to check out the Steven Slate Presets
Don´t miss yesterdays review on Beatstation here at Stereoklang
http://stereoklang.se/blog/?p=3017
Ladies & gentlemen, we proudly present to you – Beatstation!
Part sound design tool and part audio engine, Beatstation brings the best aspects of musical creativity together in one EZ and powerful virtual instrument that is sure to inspire greatness in your next composition or project.
Offering drum, bass and lead instrument creation & arrangement with drag and drop simplicity, Beatstation is your "go to" instrument for quickly getting a full groove up and running in no time at all. As if that's not enough, we've also added full MIDI & REX file support. Couple those features with the flexibility of working in Beatstation as a stand alone instrument or an AU, RTAS or VST plugin inside your favorite DAW and Beatstation becomes a creative musical force to be reckoned with.
Beatsation comes standard with a 1.5 Gb core content library packed full of beautifully recorded instrument patches, loop ready REX files and even completely customizable MIDI arrangements.
If you can think of a sound, Beatstation can help you bring it to life.
Beatstation also lets you use and combine all of your existing Toontrack EZX & SDX drum libraries together to create one of a kind drum kits and sounds. From basic musical sketches to lavish complete productions – Beatstation gives you the tools and freedom to design your own musical agenda any way you want to.
Beatstation – sound design made EZ!
Check it out here: www.beatstation.com