December 27, 2012 · Posted in
Uncategorized
·
Comments Off

on Time machine: FARFISA SOUNDMAKER Analog Synthesizer 1979
"Synthesizer Demo of the analog synthesizer/string machine FARFISA SOUNDMAKER. I played the Soundmaker with a Roland DC-30 analog delay. The Farfisa Soundmaker came out 1979. It looks a bit like a Synclavier

It has a string section, a "poli" section and a monophonic synthesizer section. The keyboard has aftertouch. Also it is possible to run the polyphonic section through the filter of the monophonic section – like seen in the last part of the video."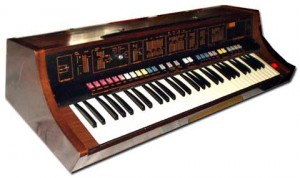 Built in 1979-81, the Soundmaker has Synth, String and Piano/Brass Sections. The Monophonic Synth section has 12 preset sounds (Tuba, Trombone, Trumpet, Sax, Clarinet, Oboe, Flute, Piccolo, Violin, Accordion, El Bass, El Guitar) and one Free patch which lets you use the controls to create your own sound. Basic controls for the filter, the one ADSR for the filter and/or the VCA, and the LFO are laid out plain and simple.
The Polyphonic Preset Synth section has Volume & Brightness controls for its four preset Piano type sounds (Piano, Electric Piano, Honkey Tonk, Brass).
The String section offers a fairly decent string sound with Volume, Brightness, Attack and Sustain controls for a choice of two preset strings (8″ footage or 4″ footage).
The Soundmaker is a bulky synth, weighing in at 27kg! Its keyboard may be split (at middle F only) and the Strings and Poly Synth sections play with the left hand and the Mono Synth plays with the right hand. The keyboard also has polyphonic aftertouch which can be used to control the Mono Synth Brilliance, OSC (vibrato), Synth Glide or Brass Brilliance. The String and Poly Synth sections can be switched to monophonic at the same time. The Farfisa is not the best String Machine you'll ever hear, but it is very rare and that alone gives these machines some serious vintage appeal.
http://youtu.be/JA5vw1aqa50
Quick demo of Synth Magics Polychrome instrument.
A synth based on the Farfisa Polychrome for Kontakt 4.2.4 and above including kontakt 5.
Available at www.synthmagic.co.uk
More interesting though is perhaps to read the comments to this video, and I must say I am tempted to agree:
Doesn't sound like a Polychrome to me. What was used for reference? Seriously. Maybe one of the demo tracks features something a bit like the choir section. Osc sync – what? How about recreating the paraphonic envelope? Isolate each section for a demo. If it's good, the sound itself will sell it alone – not polished tracks with other instruments. Where's the chorus ensemble effect – the phaser – tremolo? All hallmarks. Couldn't hear any attempt at that.
This video shows the Farfisa Polychrome played with a Roland DEP-5 FX processor for delay effects.
The Farfisa Polychrome from 1979 is one of the rarest Farfisa keyboards. It is a flexible string synthesizer / string ensemble with a very characterful, musical sound.
It has a PERCUSSIVE section, a STRING section, a ENSEMBLE section and a VOCAL CHORUS section. The most sections have VCF cutoff / resonance controls. It has a great phaser (with SPEED, EMPHASIS and TREMOLO controls), a noise generator, single outputs, an external input jack (for external signals, which can be treated with the Polychrome's chorus and phaser) and a lot more… It even has aftertouch! And it's fully polyphonic, too…