November 6, 2011 · Posted in
Uncategorized
·
Comments Off

on Sunday morning music treats featuring LOWE, FLA and more
The video for Lowe's new single "Berlin Night Express"
Front Line Assembly – Vanished
This is the classic EBM / proto-rave monster club hit by legendary Canadian Industrial Music group DIGITAL POODLE. This video was shot and edited on super 8 mm film by DION CONFLICT in 1992, but the track was originally recorded in 1991 for the CFNY-FM compilation CD "Modern Rock".
Plotslichmusik – Wasserliebe
November 19, 2010 · Posted in
Uncategorized
·
Comments Off

on Lowe on tour in the US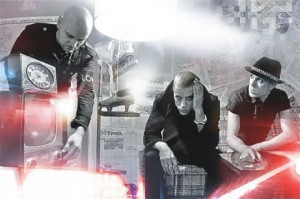 The synthpop trio Lowe has been asked to guest "The Real Radioshow" in New York City on November 22. The show is broadcasted live from Times Square, where Lowe will start their US tour. They will play new single "Breathe in Breathe out" from the upcoming album "Evolver" (2011).
Lowe have released several songs from the album digitally (see their web site).
After New York City, twelve more North American cities awaits the band that usually tours Eastern Europe.
June 24, 2008 · Posted in
Electronic Music
·
Comments Off

on Lowe releases new album
Although not really a personal favorite of mine (they have released one or two nice tracks :-), though), Swedish new wave act Lowe's sophomore album, Kino International, is available now from the Megahype label. Formed in 2002, Lowe received awards for Best Newcomer and nominations for Best Album and Best Song in the 2005 Scandinavian Music Awards. The group will perform in Sweden and Germany later this summer.
[youtube=http://youtube.com/watch?v=9zQ8bQWQHDM]