August 4, 2011 · Posted in
Uncategorized
·
Comments Off

on Korg Monotribe Mod / Illuminant Pitch Control
Background information:
I found a way to control the Monotribe's pitch. Checkout this example with a photoresistor.
So this is something what a lot of people have been looking for. An option to control the Monotribes pitch and gate via CV. While the Monotribe's ribbon controller is nothing else but a resistor, more to say likea pot, i soldered some cables to the spot where the ribbon controller is connected to the main pcb.
I first did some test with a 10K pot what worked very fine, because the ribbon controller is a 10K pot. Second attempt was a photoresistor. Final attempt was to build up a four step 4017 sequencer like the baby 10 type, but with slight modifications. I used the schematics presented on this site: FONIK.
I modified the cv out by adding a transistor, so that the cv out works more like a resistor and not like a real CV. The inspiration came from the midibix wiki (see Option 2 schematic) And that works excellent with the monotribe. The 4017 i used can be greatly clocked by the Monotribe's sync output.
If you need more information on the schematics… please leave a comment, so i will know that someone is interested and i have a reason to sit down and draw the stuff together.
March 25, 2011 · Posted in
Uncategorized
·
Comments Off

on Free Pitch-Correction plug-in that works as a VST effect
KeroVee is a free Pitch-Correction plug-in that works as a VST effect. It can pitch-detect and retune to specified scales or MIDI notes. 'Bypass' and 'SubTone' mix are also available.
New in v1.27
BugFix: In some HOST (especially Audacity), some noise is generated if invoke KeroVee twice or later.
Features:
Scale Buttons 'C' to 'B' specify the 'Allowed' note.
Speed: Tuning Speed. Maybe robotic if set to '100=MAX'.
TuneTo (If both are enabled the MIDI note gets priority. But scale tuning is effective after notes are "offed"):
– MIDI: Enable Tuning to MIDI notes.
– Scale: Enable Tuning to specified scales by scale buttons.
Calib: Maste1r tuning 430Hz to 450Hz. The default is 440Hz.
Output:
– Bal LR balance of output.
– Vol Output level.
Mix:
– Bypass Original sound mix level.
– SubTone -1 Octave of tuned sound mix level.
– Tuned Tuned sound mix level.
Visit: g200kg.com
January 4, 2011 · Posted in
Uncategorized
·
Comments Off

on All you need to know about BitSpeek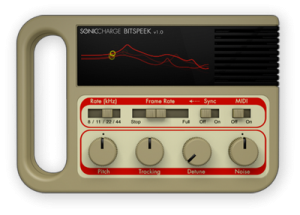 Sonic Charge Bitspeek is a real-time pitch-excited linear prediction codec effect. Right now you are probably thinking, "oh, another one of those"? Or perhaps not. Chances are that you have never heard about "linear prediction", although most of us use it daily when we talk on our cell phones. Linear prediction coding is a voice compression technology that appeared in commercial products in the seventies and was implemented in some well-known speaking toys of the early eighties.
We have applied this technology to create a VST / AU effect plug-in that analyzes audio, extracts a number of parameters (including pitch, volume and formant data) and then resynthesizes the audio using a simple oscillator, noise and filter architecture.
We have added a number of playback parameters that adjusts the pitch and tonal quality of the sound as well as support for MIDI and a beat-synchronized "formant freezing effect". Despite having only a few simple controls, this box can produce a broad range of sounds from cheap speaking toys to high-end vocoder and talkbox effects."
Samples and demo on site.