KORG Bloggers Meeting 2011 at G-ROKS, Tokyo. Demonstrater is a KORG engineer Mr. Ohta.
Two iPad are syncing.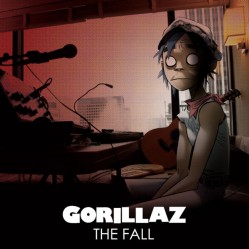 Gorillaz have released their iPad album, The Fall, as a free download for members of their fan club.
Gorillaz used a variety of iPad music software to recorde The Fall:
Speak It!
SoundyThingie
Mugician
Solo Synth
Synth
Funk Box
Gliss
AmpliTube
Xenon
iElectribe
BS-16i
M3000 HD
Cleartune
iOrgel HD
Olsynth
StudioMiniXI
BassLine
Harmonizer
Dub Siren Pro
Moog Filtatron
The Fall is available as a free download to members of Gorillaz' fan club. You can also sign up to listen to it for free at their site. A physical release is planned for early 2011.
The Gorillaz have announced that their new album, recorded on an iPad, will be released as a free gift to fans on Christmas day.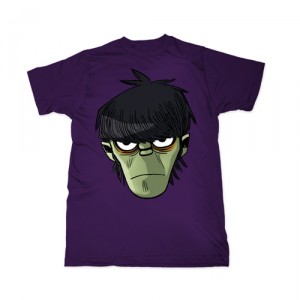 "At the moment we've got an advent calendar on our website and there is a daily door that opens to reveal a gift," says Gorillaz' Jamie Hewlet.
"On Christmas Eve, a video for one of the new songs from the iPad album will be released," he adds. "On Christmas Day, fans get the whole album downloaded to their computer for free as a gift."
Gorillaz' Damon Albarn wanted to create the world's first iPad album.
"I literally made it on the road in America over a month," explains Albarn. "I didn't write it before, I didn't prepare it. I just did it day by day as a kind of diary of my experience in America."
In calling their new single Doncamatic (All Played Out), Gorillaz are drawing attention to a vintage range of Korg rhythm machines. However, what's less widely known is that the song features a vocal sample of Korg founder and chairman Tsutomu Katoh.
Doncamatic (All Played Out) features British singer/songwriter Daley and will be released on 22 November. Gorillaz are currently on tour in North America, and will kick off their UK and Ireland dates in November.
The shown Doncamatic in the entry area of the headquarters of the Japanese company KORG and was restored in early 2001. The Doncamatic was one of the first products of the then young company Korg. This is a very flexible for damailige Verhälnisse and good sounding rhythm machine with built-in amplifier system. More similar videos are on the www.KORG.de! Between 1963 and 1966, Katoh oversaw the production of four DoncaMatic rhythm machines, and it's him that you can hear saying 'DoncaMatic' on Gorillaz' single. What's not clear is whether or not Damon Albarn and co used any DoncaMatic hardware in the creation of the track
http://www.youtube.com/watch?v=c9OsXRrUpus
Found this great interview with the Gorillaz, currently replacing U2 on stage:
Cartoon sensations Gorillaz returned this year with their third album, Plastic Beach. The album focuses on the cartoon band's retreat to an island made of washed-up detritus floating in the furthest place from land in the middle of the South Pacific. It enabled Damon Albarn and cartoonist Jamie Hewlett to continue the story of the characters Murdoc Niccals, 2D, Russel Hobbs and Noodle, while subtly commenting on the culture of celebrity and waste in society.

Co-ordinating an album starring a cast of cartoon characters and a host of celebrity guests is no mean feat, but to tour the album Albarn and Hewlett had to put together a live band capable of recreating all the sounds on the record. Key to this was Jesse Hackett on synth and sampling duties, using a Moog Little Phatty and a sampling keyboard.

Jesse met Damon while recording his second album with band Elmore Judd, on Honest Jon's Records, a label co-owned by Albarn. "I was invited to meet Damon and subsequently got involved with some projects with him," he recalls. "I went to Mali with him in 2006 as part of the Africa Exprez project and then the following year I went to the Congo, Kanchasa, then Nigeria to celebrate Fela Kuti on what would have been his birthday. We also played at the New Afrika shrine in Lagos and I'm lucky to have been involved for a number of years as a result of my musical friendship with Damon.

"More recently I was passing through the studio when they were working on demos for the new Gorillaz stuff. I did a little bit of playing here and there – he had about 80 songs on the go – and he asked me to be part of the live core band."

Touring with the Gorillaz has meant putting Jesse's other band on hold, but it's also given him an opportunity to flex his chops in front of many of the biggest crowds he's ever played to. "I've been doing that for the last three months, rehearsing and playing. We played the Coachella festival, two dates at the Roundhouse in London and we've got more coming up over the year."

Jesse's live rig is pretty simple: he combines synthesised sounds from the Moog Little Phatty with sampled sounds. "We've taken all the sounds from Damon's studio, from all his analogue synths and sampled them onto a massive sampler keyboard. I use the Moog for quite a lot of bass sounds." An example of this is on the track Empire Ants that Jesse describes as "a wicked acid-y rare-groove kinda tune with a great acid bass line." Interestingly, for the bass sound on this track Jesse found himself using one of the Little Phatty's presets.

As well as its great sounds, Jesse has been impressed with the Moog's reliability on tour. "My other keyboard has been a bit of a pain," he says. "At Coachella it froze – just one song in to the set, and starting acting weird. It was pretty terrifying, I was up there about to do the biggest gig of my life, in front of 100,000 people, with Jay-Z and Beyoncé in the front row and the keyboard went all glitchy. Luckily, we managed to work out what was going on pretty quickly and I managed to pull the gig off by the skin of my teeth. But the Moog Phatty has been completely reliable – I haven't had any problems with it at all. You just turn it on and get great sounds, it's very easy to use and manipulate, and the oscillators and filters are straightforward. The sound always cuts really well in the mix, the bass-lines always stand out and you can get really nice lead patterns."

Once the Gorillaz tour finishes, Jesse hopes to spend more time with the Little Phatty. "I'm working on a new album with Elmore Judd for Honest Jon's, and I'm also working on an album for Giles Peterson," he tells us, "an album of African music. I just got back from Nairobi and I'm doing an album for Giles's Brownswood label, which is a mix of Kenyan traditional Nyatiti music. It's traditional music from the Loa tribe – rootsy folk music – but with some musicians from the UK as well. I brought all the recordings back and soon we're going to start putting our own touches to it, putting more electronic elements into it. It'll be amazing to try and bring the Phatty into that."
Look out for Jesse on the upcoming Gorillaz UK tour starting in Birmingham on 10 September 2010 and taking in Newcastle and Manchester before finishing at London's O2 Arena.