December 7, 2012 · Posted in
Uncategorized
·
Comments Off

on Akai MAX49 Midi/Mackie CV/GATE Controller Review
A quick look at Akai's new Controller keyboard with touch faders, Mackie Control/HUI and MIDI CV/GATE.
January 22, 2012 · Posted in
Uncategorized
·
Comments Off

on Mix on the Fly – Mackie DL1608 16-Channel Digital Live Sound Mixer with iPad Control
For the full scoop, visit www.mackie.com/DL1608
See what happens when the sound guy for the Portland band Vanimal is introduced to the new Mackie DL1608. It's a trip!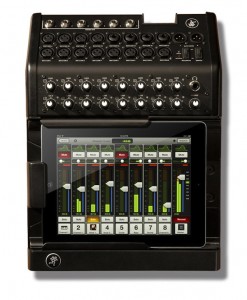 We live in a world where we have mobile control over everything that we love. We communicate, are entertained and use tools that drive both our personal and professional goals. The Apple® iPad® is at the forefront of this revolution, making it easier to accomplish just about everything. The Mackie DL1608 combines the intuitive control of the iPad with a full-featured 16-channel mixer that is ultra-powerful, professional and portable. It replaces racks full of gear, is built to be worked and offers a completely modern way to mix.
April 28, 2011 · Posted in
Uncategorized
·
Comments Off

on The Mush Orchestra – Live-Improvisation
A live improvisation jam by The Mush Orchestra. Recorded at Copenhagen Noise Lab on the 27th of April 2011. No processing, just straight out of the mixer.
Equipment used:
Nord Modular G2, DIY midi-controller, Elektron Machinedrum UW, Korg Kaoss Pad 3 and a Mackie 1202 vlz3 mixer.
Every sound is made with the Nord Modular G2, the Machinedrum UW is only playing samples from it.
The Mush Orchestra is a project by Rasmus Nyåker who is also oone half of the ambient duo FEJLD. Their album is availible as a free download – more info at:
kufrec.com/​webshop.html