November 8, 2012 · Posted in
Uncategorized
·
Comments Off

on Mouse on Mars: WretchUp, an Instrument for iPhone
WretchUp is a unique handheld effect and instrument for the iPhone that anyone can play. Developed by Mouse on Mars, it's easy to learn, but also sophisticated enough that it's heavily used in their live shows and new albums. Now with your help, we want to bring it to everyone.
"We're launching an IndieGogo campaign to support developing WretchUp for all iOS users. (With enough funding, we'll port to Android, too.) We'll share exclusive music, updates from the band and development team, and more with backers – plus, of course, the app. And the entire project will be open source, including iOS projects and a free Pure Data (Pd) patch for users of any OS.
Here, Andi and Jan explain what the app is about and how they use it."
See you on IndieGogo!
Peter KIRN, createdigitalmusic.com
Jan St. Werner, Mouse on Mars
Andi Toma, Mouse on Mars
Shot at Mouse on Mars' studio at the Funkhaus, Berlin; edited by Peter Kirn
April 28, 2012 · Posted in
Uncategorized
·
Comments Off

on Mouse on Mars – Live set up with Ableton
For the tour supporting their latest album Parastrophics, Mouse on Mars' three live members designed an interactive performance system around three laptops running Ableton Live. Learn more about their set-up in a new video feature.
January 26, 2012 · Posted in
Uncategorized
·
Comments Off

on New track from Mouse on Mars
Mouse on Mars "iMatch" (MTR022) – Out on Feb 24 by Modeselektor
This is how the new Mouse on Mars will sound like… (feb, 24th – release of the new album)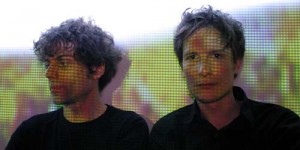 Here's a recent news item on the upcoming album:
Over the course of ten albums – not to mention an avalanche of side projects, remixes and collaborations – Jan St Werner and Andi Toma of Mouse On Mars established themselves as two of the most inventive and unpredictable artists in electronic music.
In 2012 Mouse On Mars's triumphant return comes in the shape of Parastrophics, a life-affirming and constantly surprising album which is crammed with ideas, exuberance and sheer kinetic energy. It's like listening to the entire history of pop music – distilled, refined and crystallized into a string of compulsive new shapes, full of glitter, intrigue and addictive detail. Atomised fragments from two lifetimes of listening flare and fade, tiny scraps of memory shrapnel hover, tantalizing and insubstantial, before being whisked away by the next impatient idea.
But despite all that restless curiosity, Parastrophics also demonstrates a peerless command of pace. Whereas some previous Mouse On Mars releases have bordered on the frenetic, their latest displays a subtle but persuasive sense of control. Even when tempos climb, 303s squirm and kick / snare patterns snap to brisk attention, there's an elegance to the way that each element slips in and out of the mix which speaks, whisper it, of maturity. Parastrophics is as a playful as ever, but it's never throwaway. The closing "Seaqz" is the perfect illustration, a frenetic romp which is perfectly held in check by gracefully undulating melodies; it brings into focus the beguiling sense of confidence that suffuses the whole record. All of which is a roundabout way of saying that – after six years away – Mouse On Mars have come back with their best record yet.